This post is waaaaay overdue, but I want to give a heartfelt thanks to my friend
Paypabak Writer
and her friend
Ghanie Lane
for letting me use one of their parcels to call home for a while.
I'm trying not to horrify them with my typical amusement park style of decorating, but it's
MY FAVORITE HALLOWEEN TIME
so it's hard.
I became a fan of Pay's waaaaaaay back in the day when I lurked around regularly on the former slFIX/Moonletters blog. Through that blog, she and writer
Shauna Vella
helped me immensely in getting my bearings when I was a noob. I was always too socially awkward to introduce myself in person though, beyond leaving occasional comments.
You can check out Paypabak's Tumblr blog
HERE
. It's awesome.
OK, so HALLOWEEN!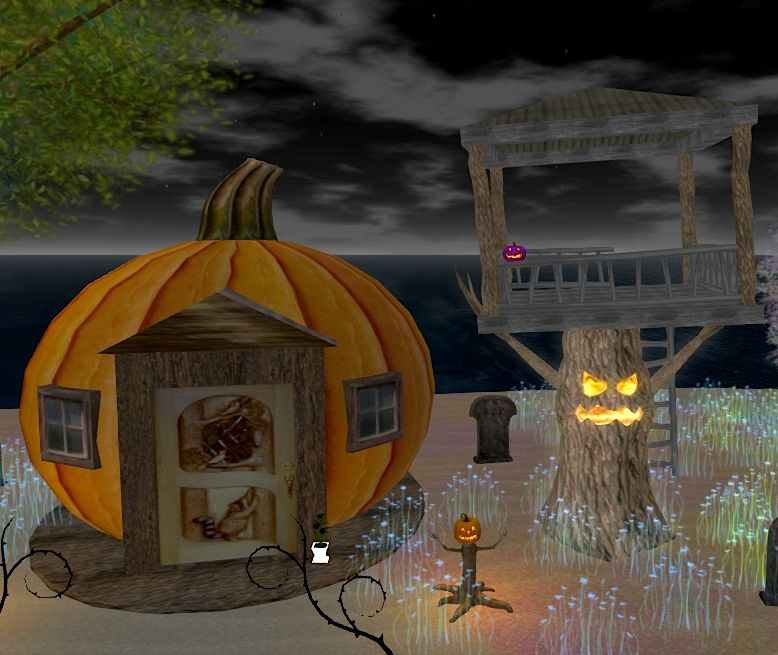 Even though my inventory tops 200K, I didn't have the energy to dig around in it for some of my older Halloween stuff, so I hunted on Marketplace for some cheapies. I found that
pumpkin house
(actually, it came in a set of two – one with a wide door, shown, and one with a smaller door) for 50L, along with that
Halloween treehouse
for 50L, both by creator
Rod Eun
of
RE Blueprint Designs
. Sure they're a little old-school, but they're cute and they work for me. All the rest of the stuff scattered around is stuff I acquired during recent 50L Fridays.
JACK-O-LANTERNS GALORE!
I haven't checked out any of
SL's haunted attractions
yet. Right now I'm playing the
TAG! Gacha
Halloween game and trying not to go too nuts with the whole gacha thing. Gawd damn, it has drug habit potential though. Feed those machines money and mainline
ALL THE CUTE LITTLE THINGS!
I have no other news. The other day I read through some past blog posts here. They all seemed so full of a juvenile sense of joy and discovery. I don't seem to have that these days. Maybe I'll get that mojo back. Maybe not. I guess if the mood strikes me I'll write something. I write so much drivel all day IRL just to survive ("Five Things You Should Know About Seeing a Chiropractor!") that the keyboard seems kind of nausea-inducing when I have a few free moments to NOT write something.
Anyway, I hope everyone's having fun during this Halloween season. I am. No matter how far I wander from SL, it'll always suck me back in during the holidays. ;)