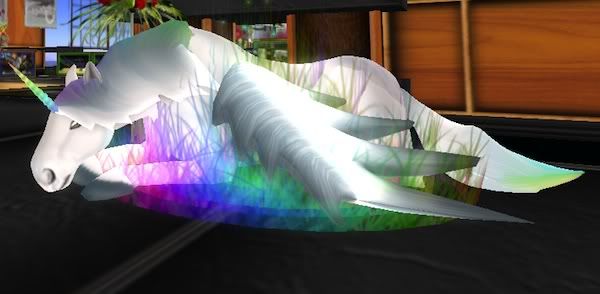 If you could've seen my real face yesterday, it looked like this:
O_O
(Actually the mouth should be round.)
Why didn't someone tell me that on very rare occasions Amaretto Breedables can breed
UNICORNS??!!
*does a little unicorn dance*
Throughout this whole
"Help, I can't stop paying real money for fake cats so I can make them have sex and have little fake babies!"
phase, I've consoled myself by saying, "Hey, at least I'm not one of those Amaretto horse people. Those people are nuts."
No offense, Amaretto horse people. But sometimes — wait, make that "frequently" — a TP will fail and I'll accidentally land in the middle of a big confusing OCEAN of Amaretto horses on some random sim. I will gape in morbid fascination for a few minutes and then go on my not-so-merry, probably-not-gonna-be-able-to-TP-again way. I never really got what the deal with those things are.
And then I found out they can sometimes breed unicorns. And the quest began.
Like an idiot, I thought I could just waltz into a horse ranch, throw some lindens around and leave with one. I searched in Classified for "Amaretto unicorn" or, as the breed is known, "charmed Amaretto." I found one place that advertised robocorns, unicorns, pegasuses, and demon. . . corns or something. I don't know. I wasn't really paying attention to those.
Let's pause for a random picture . . .
HAHAHAHAHAHAHA!
I didn't know we had SLayboy! How do I get to be a centerfold? Seriously. I'm putting it on my SL bucket list, right under "get unicorn." I'm not joking. Just tell me how you want my sliders, baby!
OK
I learned it's not that easy to buy an Amaretto unicorn. I searched all over the grid and I can't find anyone who's selling one. Many owners are renting out their male unicorns and pegacorns for stud service at 5000L a pop though. I'm on a waiting list.
So the best I could do was buy unicorn offspring.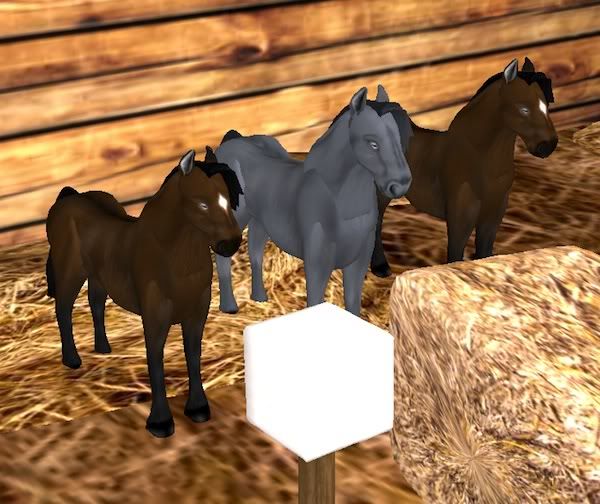 Behold, the children of unicorns! Nope, they don't have the horns, but they do have the traits.
Exciting. (Please grow up and have unicorn babies.) Don't ask me how much I paid for them. Please don't. (That's a salt lick in the foreground, BTW. I was gonna draw a face on it, but I didn't want to confuse you.)
I also bought these:
Yeah. I'm done drinking cheap merlot while I shop for fake horses. WOOOO! It looks like a coloring book exploded all over my farmland!
I have another shiny one with snowflakes all over her, and one that looks like a candy cane. Yes, they were expensive. When I was a noob, I was poor. I didn't have an RL job and I lived in the World's Ugliest Skybox and I wore a lot of Ronja Wear business-in-a-box stuff. I camped for money and shook my moneymaker at club contests and lurked around studying Zyngo masters until I became a Zyngo champion myself and saved and saved and saved and saved . . . just to buy one pair of Stiletto Moody shoes. When I finally got them, I wrote a blog post about it. Then some chick named Princess rained on my shoe parade and left a comment making fun of me for being poor. Now I wish I could track her down, throw her in a pile of really expensive horse manure and yell,
"HOW DO YOU LIKE ME NOW, PRINCESS? HOW DO YOU LIKE THEM HORSE APPLES?"
Sorry. Just having a twisted little fantasy moment.
OK, so I'm going to need all of you to sit down now. Are you sitting down?
This horse . . .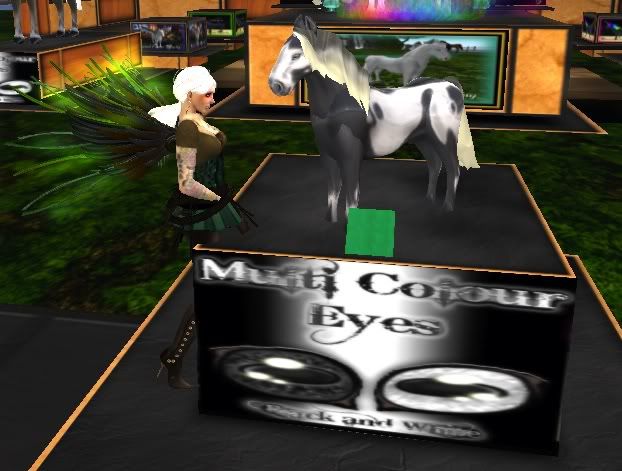 . . . costs 140,000L.
I don't even know why it's so spectacular. I was too busy straining my brain trying to translate 140,000L into USD. I finally went to my SL dashboard and typed it into "Buy Lindens." (Hey Linden Lab, I crash every five minutes these days, so at the very least you can do some MATH for me.) And then I had this HORRIBLE OCD moment where I got terrified that my fingers were going to get a mind of their own and hit "Buy Now!" Or that my cat would jump up on my keyboard at that moment and hit it on accident. Honestly, that is the type of comical disaster that happens to me all the time.
Anyway, 140,000L = $557.77 USD.
MY GOD, WE NEED SOME EXCLAMATION POINTS:
!!!!!!!!!!
Can you imagine? Can you imagine paying $557.77 for an SL horse??! I can't! Even with my wild, wild imagination and my very reluctant, yet deep and probably undying love for this place, I can't. Maybe $300. Maybe $320. But never $500!!
Do any of you know anyone who's paid $500 USD or more for an Amaretto Breedable? Because if so, I would like to interview him. And I say "him" because I'm hoping it's a guy. Then the interview could go like this:
Emerald:
So, you paid $500 U.S. bucks for a virtual horse?
Emerald's Future Sugar Daddy:
Yep. That's pocket change.
Emerald:
Why'd you buy it?
EFSD:
Because I felt like it.
Emerald:
Are you really a man in RL?
EFSD:
Yes
Emerald:
Do you have a wife?
EFSD:
No
Emerald:
Do you have a girlfriend?
EFSD:
No
Emerald:
Do you have a boyfriend?
EFSD:
No
Emerald:
Wanna blow this place off and go ride some real horses?
EFSD:
I live in Italy
Emerald:
I'll let you fly me there
EFSD:
OK
I don't have a way to end this story. I didn't find a unicorn. I'll try really hard to breed one. I did find a gunslinger, though. He was checking out the prices for the stud service on this unicorn (Robocorn? I don't know the lingo):
I wish I could have snapped a better picture of him. You can barely see him, but he's got that rough-and-tumble look I like. I wanted to say, "So hey baby, what do
YOU
charge for stud service?"
Wow.
Revealing my secret SLayboy centerfold dream. Fantasizing about beating the crap out of Princess. Lusting after a cartoon gunslinger. I must be ovulating.
One more thing. I got some of those new KittyCatS today. I received one blogger review pair — it made me feel special (They like me! They really like me!) — and then I bought three more pairs.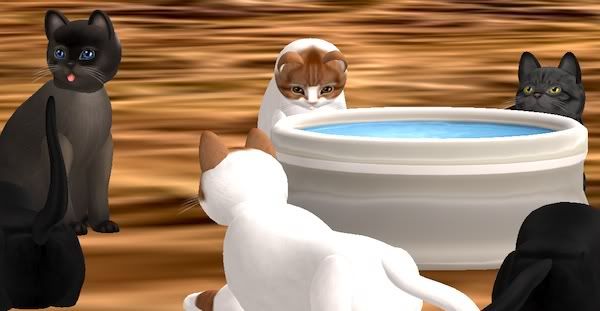 I wanted to hate them, only because I'm so financially and emotionally invested in the Wildwoods. But I'll admit, that little tongue sticking out is SO DAMN CUTE! So are the animations.
Prices
: 298L for a single cat, includes food for one week; 599L for one male-and-female pair, includes food for one week; 1500L for two male-and-female pairs, includes food and milk for two weeks; and 4500L for five pairs, includes food and milk for two weeks, as well as vitamins for love, energy, healing and breakup (?).
If only someone would pump me full of magic vitamins after all my breakups.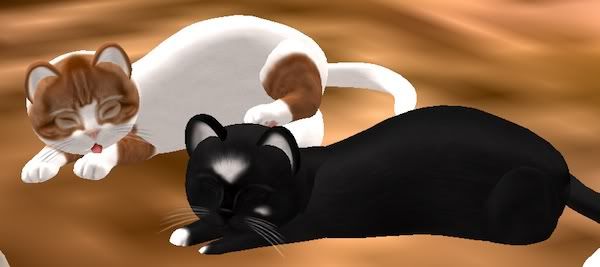 Aw!
I'm curious to see if their traits will be as varied and cool as those of the Wildwoods. And I'm hooked on the thrill of trying to get a Wildwood Elegant. It appeals to the gambler in me. *cue Kenny Rogers* But I'll breed these pairs and see what happens.
I was also going to pick up the new breedable dogs today, but that sim has been full ALL DAY. Wow.
Oops. I accidentally talked about procreating animals again. But I did throw some imaginary sex in there too!
Get Stuff In World:
SugarCube Ranch
(stud service from charmed Amarettos and offspring for sale)
Bright Angel Cove
(my new favorite place for finding rare Amarettos)
KittyCats
BioBreeds Dogs,
aka mission impossible
Emerald's Cat House
— shameless self-promotion, not mentioned in blog, sorry