Later, you can slap me for that headline. I give you permission.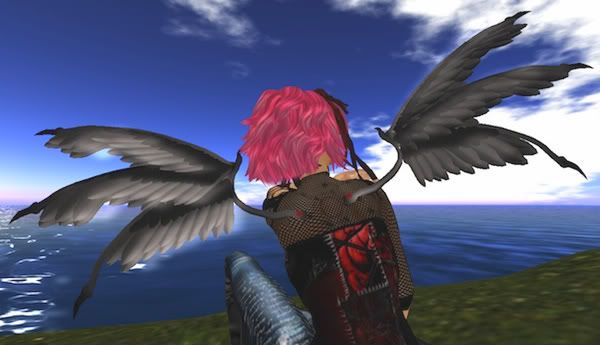 I wear these wings often in posts and I just realized I've never talked about them. MeKa is a niche-market store that's all about wings, and they're not your average run-of-the-mill wings — they're pretty bad-ass, with distinctive details and themes. I buy just about every pair that Mekaila Hinterland makes. These are her The New Daylight wings in Black and they're also available in several tipped colors (199L for a pair; 500L for a fatpack of five colors). To see a couple of the other colors, check these previous posts
HERE
(purple) and
HERE
(silver).
(
NOTE:
Since I purchased these wings, they've been removed from the store, but I got brave [I'm shy] and IMed Mekaila to ask about them. She said she'll be putting them back soon.)
She currently has some Valentine specials ($149L a pair: significantly less than their usual prices) that range from cute to striking at The Nightscape sim's Valentine Market, which has lots of sexy things there, BTW.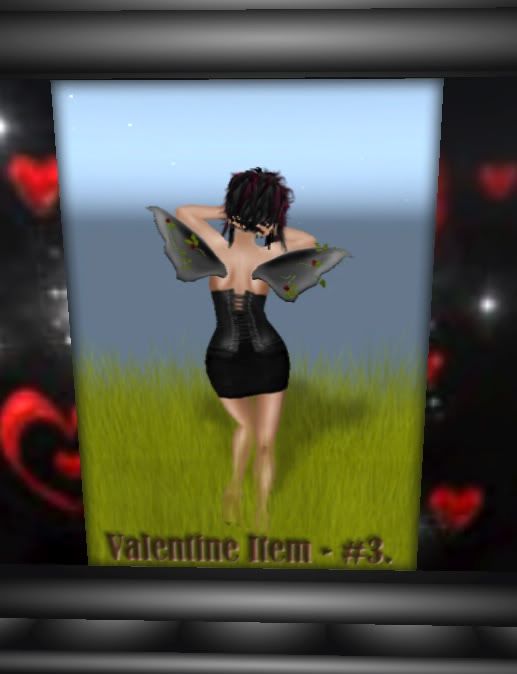 These are her Bounded Freedom wings in Red Thorned Rose. Open and closed versions are included in the set.
OK. Before I get into the not-so-juicy meat of this post, I want to reassure everyone that I'm not going to write about procreating animals in every blog post from now on.
I SWEAR I SWEAR.
It's just that I have writer's block. As such, I want to apologize to all the people who have dropped review copies on me lately. I love your work, but at the moment I hate my writing.
So. Breedable dogs, yo.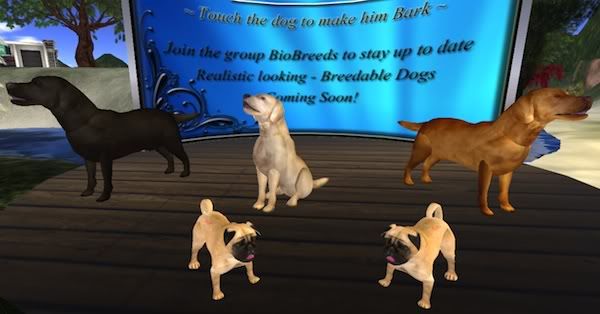 These BioBreeds dogs hit the breedables scene today. I saw them and felt an obligation to cover them for all you dog lovers out there.
The skinny:
People who are in the breedables loop (not me) apparently have known about these pooches' impending arrival for a while and snagged special vouchers in December to get theirs today. The rest of the unwashed masses — and I'm one of them — can buy them Feb. 7. Right now they're only available in labs and pugs. I wish I would have known about the limited selection before I got all eagerly proactive and rented a sales stall in the Furrfect Dogs marketplace. (Yep, you read that right. Furrfect!) Nothing against labs and pugs, but I would have totally gone for a pomeranian. Or a pink poodle. Or a terrier.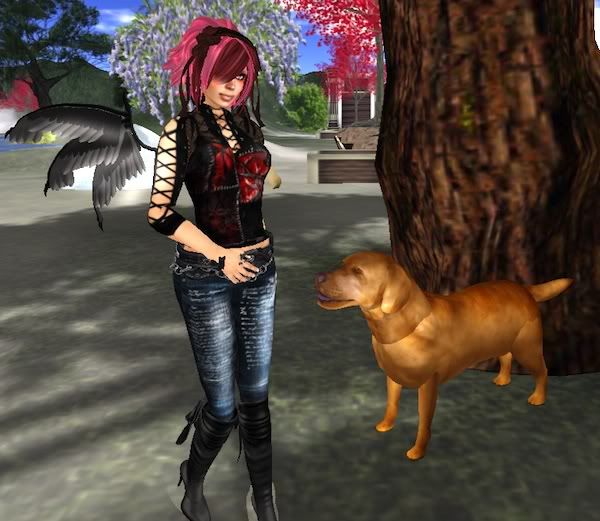 Maybe I'll get a lab and pretend it's a rabid Saint Bernard. ("Cujo? Is that you?")
Actually, if someone launched a line of
EVIL, RABID BREEDABLES
I think my life would finally feel complete. Seriously.
I don't know. I don't really like the way they look like someone Frankensteined the dog's head onto its body. They should put bandanas around the necks. I'll try out a couple though, even though I'm not really an SL dog person.
Speaking of breedables, I decided to give my landlady and my cat-hater neighbors some relief and rent an "agriculture-zoned" parcel just for my thriving (haha) cattery.
*rolls around with joy in a 933-prim allowance* (I wonder why this blog suddenly decided to stop putting BORDERS around my pictures? It's in the HTML code, otherwise known as The Bane of My Blog Existence. I need a new template.)
I'm the only one here with no horses. But hell, maybe I'll get a couple of horses. Because as you can see, I've got a lot of space. Sometimes when I'm waiting for a kitten to drop, I perv-cam my neighbor's horses.
Wow, that mane. He looks like an aging Fabio.
God, this post was really supposed to be about my comical search for this land and how a lot of SL land managers lost out on my business because their info notes were full of unbearable typos and lazy text chat.
"IF U BUY THIS LAND, YOU HAVE 2 CREAT A LAND GROOP N THEN AD ME 2 UR LAND GROOP!"
That was the very classy greeter notecard I got when I checked out a parcel that cost $60 USD a month. Wow.
IF U CAN'T TAKE THE TIME TO OPEN A DIXSHUNARY, TURN OFF ALL-CAPS AND SPELL THE THREE-LETTER WORD 'YOU,' THEN U DON'T DESERVE MY BIZNESS.
I don't wanna hear the "But there might be a language barrier" excuse. I've seen many creators go out of their way to have their notecards translated into several languages.
Dear Creators and Land Managers of SL - I'm happy to proof your notecards for you and clean them up, if necessary. You don't even have to pay me — I'm open to bartering.
Anyhoo, I'm finally selling some kittens. Not enough to land me on the cover of Time magazine as the next SL millionaire or anything, but enough to get my competitive spirit all revved up. Unfortunately at the moment, most of my male cats need Viagra. Nobody's getting it on these days. The ladies are all hot and bothered, but the men are all meh about it. Isn't that always the case?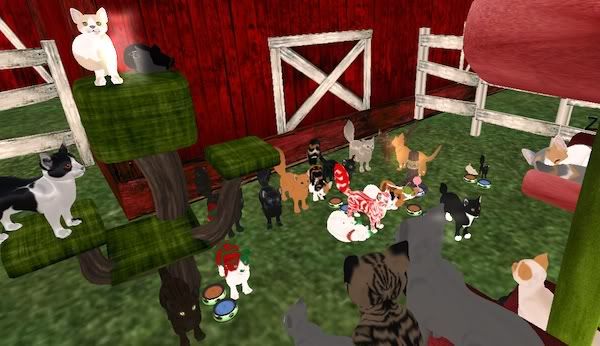 I guess I wouldn't be in the mood either if someone threw me in the middle of a big feline barn orgy. (Can you spot the cat with the big freaky tumor in this pic?)
A couple of quick notes just for you:
- The Valentine Rose hair I'm wearing in this post is
FREE
at Curious Kitties. I bought that PAtchS Lace Up Top (175L) there as well.
- The jeans I'm wearing are my new favorites. I'd never been to the store MIU before — I discovered it on The Serial Killer Hunt — but I love the textures and the vibe of those clothes. The jeans are *ZX* Urban Writer Jeans (225L, two versions of leg cuffs, and padlocked chain belt in male and female versions included). They make me feel like an urban writer.
- In my quest for cat-breeding land, I eagerly slapped down a month's rent on a huge parcel w/a 750-prim allowance . . . only to later read the fine print in the rental agreement and discover that breedables aren't allowed there. Oops. So here's the thing. I'm really not going to use that land. So if you're homeless and you need a place w/a generous prim allowance for three weeks, you can use it if you're the first person to contact me about it. I don't even want your rent. Just contact me inworld so I can get you added to the land group. It's an inland parcel, but prettier than most. Feel free to check it out
HERE
.
VISIT IN WORLD
MeKA
Nightscape Valentine Market
BioBreeds
breedable dogs store
Curious Kitties
MIU
Emerald's empty land plot that's going to waste
Shameless Promotion:
Buy yourself a cute pet (or two) at
Emerald's Cathouse!
(Please ignore the complete asshole who's letting all his cats starve to death in the stall next to mine. He's killing my sales ambience with his corpses, pardon the pun.) My prices are way the hell lower than anyone else's, even for the exotic ones — which actually has several cat people pissed at me for "undercutting the market," but
HEY!
What am I supposed to do when there are
HUNDREDS
of cats for sale out there? I can't help it if I believe in the power of competitive pricing.
Wow, this post is long. I'm going to call it a night.
Goodnight!
Posted February 5, 2011