Sometimes I feel sort of bad for hair designer
Truth Hawks
— he hardly ever gets any love in the blogosphere. I never see blog posts about his hair anywhere. Bloggers of all shapes and sizes seem to shun and neglect his work. It's a damn shame because he's got some rockin' new hairstyles at Truth this week. Like this Neve style (shown in Amethyst) with optional, color-changeable band.
Oh you like my trippy face tattoo? I do too. It's included in the La Ligne makeup pack that's Virtual/Insanity's 60L Super Bargain Saturday offering. You still have a few hours to grab it — and some creators are even cool enough to leave their Saturday stuff out all weekend. I love those types!
It's also Spruce Up Your Space (SUYS) weekend, which always makes my house
AND
my linden balance happy. As you probably know, once a month awesome designers put out awesome domestic-type things for an awesome 150L or less. Awesome. This month's SUYS theme is Life of Luxury. That's my kind of theme, baby.
*cue Sheila E and "The Glamorous Life"*
If you have to ask, you can't afford it (but you don't have to ask and you CAN afford it).
If you want to see everything you can snag this weekend, I'm going to point you in the direction of The Rumor blog, specifically
This Post Right Here,
which has all the pictures and SLURLs.
So speaking of sprucing up our spaces, let's get steamy for a minute: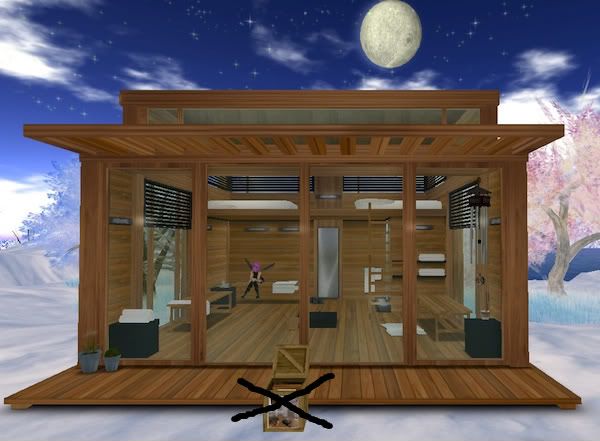 OK, the first thing I want you to do is ignore that rezzer box in front. In fact, I put an X through it just so you wouldn't look at it.
This is Belle Belle's SUYS item. Belle Belle never fails to make me shout,
"ARE YOU KIDDING ME???"
but in a good way. Because LOOK at this Sauna Zen-sation. After this weekend it'll cost 990L. This weekend, however, it's all yours for 150L. Damn!
DAYUM!!
It's got 10 animations for 10 avatars in it, which means you can have a big sweaty orgy in there, which reminds me that there's an adult version of this sauna for 1990L. The SUYS special is rated PG.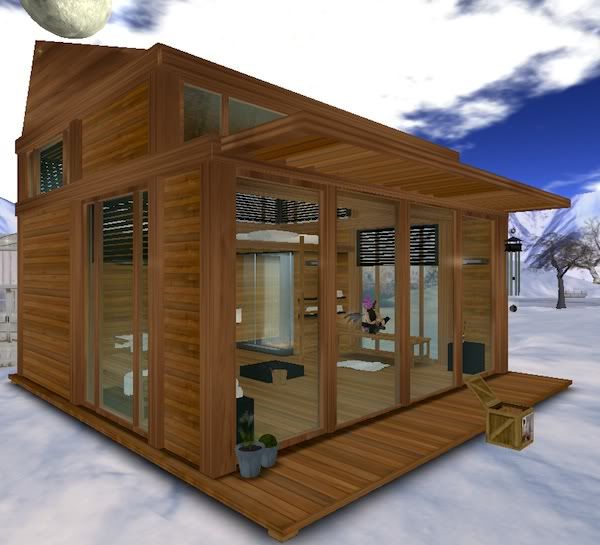 326 prims; includes interactive fire pit, steam, shower and water tray
I like to shower with my clothes on.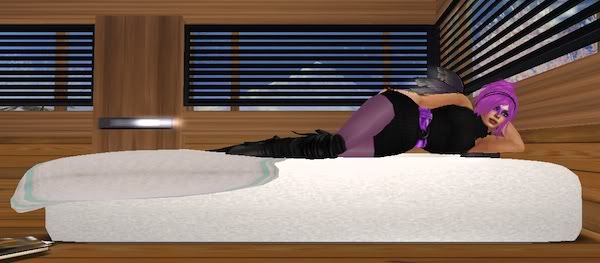 What do you call chillin' in a sauna? Steamin'? It doesn't have the same ring. And yeah, I'm all about the matchy-matchy today. The mini turtleneck dress is Acid & Mala's 60L Super Bargain Saturday item, and if you hate purple, it includes several colors of belts.
Sometimes I like to bring blog posts full circle when I end them, so let's get back to the new hair this week. I'm not sure what planet I've been on, but I just noticed a bunch of new Truth hair colors — colors like babyblue, coolmint, fairyfloss, granny and more. Many of them are nontraditional colors, which is fabulous for those of us who like to lean as far away from reality as we can in SL.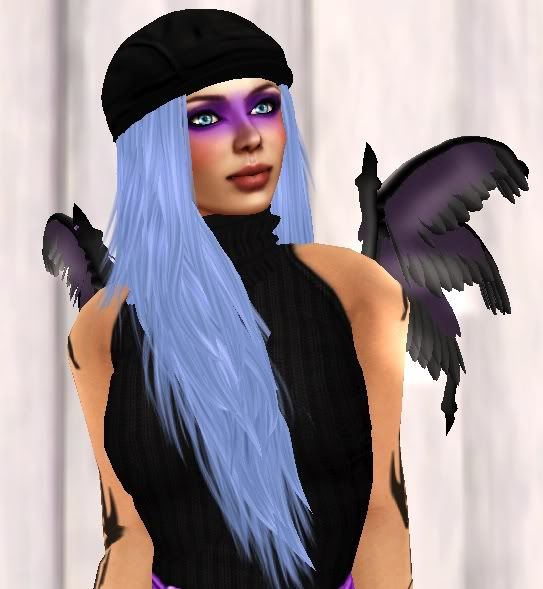 Billie in Babyblue with color-change hat (Eyes in both these pics by Acid & Mala.)
Odetta in Granny. Oh, you don't like bangs? That's OK, you can take them off.
OPTIONAL BANGS, BABY!
I like it!
GO, GO, GO!
Truth
Virtual/Insanity
Belle Belle
Acid & Mala
Posted Jan. 29, 2011