Hey, look at my fishtank!!!
If you've been reading this blog since the very early days . . . well, damn, I'll I can say is I'm sorry.
Ha ha ha! But seriously. If you've been reading this blog since the very early days (thank you), you've survived my longstanding fascination with SL aquariums. It started with a big boxy one I got at a yardsale and evolved into a lower prim one I could slap on a wall, and I think there were other fish tanks here and there, but THIS ONE KICKS SO MUCH ASS I HAVE TO TYPE IN ALL CAPS LIKE THIS WITH AN EXCLAMATION POINT AT THE END!
It's included in the Cy Haven skybox (compact version, 176 prims, 20x20x18m) from Xen Style. I wish I could claim the honor of discovering it, but I saw it over on
Exploring SL with Dido
and screamed,
"GIMME THAT!"
Go over there and look at Dido's pictures, because mine are surprisingly bad.
And yeah, I know it's a skybox, but whatever:
Now it's a kind-of-ugly-on-the-outside, very-cool-on-the-inside house. Don't be enticed by the swirly winter tree design. I covered the giant Xen Style logo with a couple of flat black prims and then covered those with a $1L First Christmas Tree etched glass prim from Q's Garden of Glass on Marketplace. I am nothing if not resourceful. And see! I
knew
my ability to make a prim would come in handy one day! I can build! I can build!
Besides the aquatic wall, this multilevel, texture-baked, massively detailed skybox is furnished with a dining counter, couches, shelving, central-control computer terminal, other sci-fi looking stuff . . . and a holographic boyfriend (or girlfriend, depending on your preference. Or you could have a holographic solar system. Or you can choose absolutely nothing. But why do that?).
Dance, bitch, dance!
Ambient sounds, visual effects and menu-driven material variants (that means the furniture is texture-change) complete your living experience. (Can you tell I had a brief stint writing for a real estate magazine in RL?)
The best news? Everything is LINKED! Thank God!!! I love you, (creator) Xenius Revere! (Oh wow, looks like he's pretty hot in RL, actually. Maybe I really do love him.)
Oh yeah, and it's a mere 4000L.
*passes out* I can't even read that sentence without feeling woozy. Let's pretend it only cost me 500L. I'm officially living on a budget from now on, kids, at least until March.
There's a larger version for 5000L (254 prims, 20x30x18m) and now I kind of wish I would have bought that one. It's roomier. Oh well.
The fantastic news for all you aquarium fanatics is that Xen Style sells the beyond-awesome fish tank separately for 500L.
We don't have to rip our house down to have a good time. Oh no!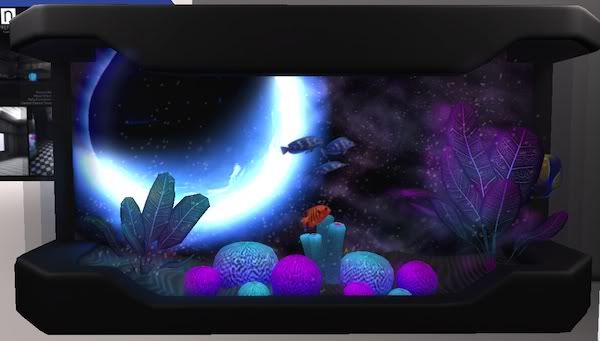 It's only 16 prims (!!!) with texture-baked light, particle-effect bubbles, low-lag animated fish and "relaxing ambient sound." (Yeah, I took all that info straight from the vendor.)
In other news, break out the champagne because . . . drumroll . . .
EVERYBODY'S PREGGERS!!!!!!
*looks around sheepishly* Yeah, I bought a few more cats. And now all the females are knocked-up.
Remember when we all had chickens? I wonder if this is going to be like the chicken thing, when my chickens kept procreating to the point where every new egg forced me to delete more furniture, until finally my parcel was just a lone chair surrounded by a bunch of chickens. And then one day, I poured myself a stiff vodka and soda (with two limes), tossed it back, shed a few tears and slaughtered what seemed like about 80 chickens. It was tragic. I vowed never to love another horny, pixelated animal again. And now this. Sigh.
Let's end this post with a plea:
I'm not kidding you when I say that I've been trying to win this Neon Frog zebra every time it's been in this board since 2010. (Look how dejected and defeated my AV looks.) It's my own elusive great white whale (wail). The board is only at 26/140 now, but the day is still young! If you have a minute, please go slap it!! Slap it
HERE.
GET IT INWORLD:
Xen Style
Q's Garden of Glass 1L special on Marketplace
Wildwood Breedables
Skin:
Lionheart skin in Bloodgeisha (Fable tone) by
The Plastik
Dress:
Tomoko dress in red by
FallnAngel Creations
Hair:
Jolie (my new favorite) in Chocolate by
Truth
Posted Jan. 15, 2011