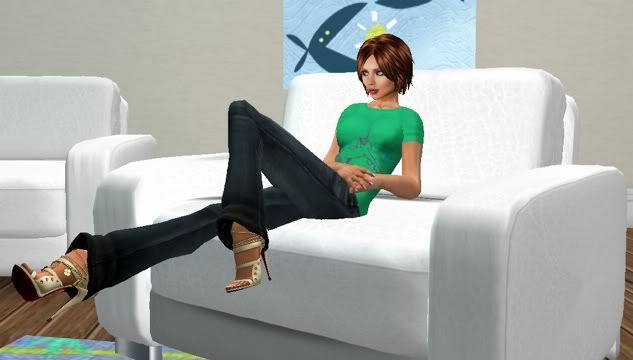 I finally barged my way into the new
Stiletto Moody Boutique
yesterday. The harder it was to get in, the more obsessed I got with getting through the door, until it finally had
NOTHING
to do with the shoes at all.
NOTHING!
By the time I got in, they could have been selling fish heads in there for all I cared.
IT'S A GAME! YES! IT IS A GAME! AND THE PERSON WITH SHOES WINS!
Sorry.
Way to push my competitive buttons, Stiletto Moody marketing team.
I was shocked at how freegin' expensive these shoes are, and then later, more shocked that I actually bought them. (*reads that sentence again and hates it*)
Behold my double-jointed ankle! Those are the Marlene shoes in Sand. You like those little charms dangling off them? If so, they'll cost you $1,295L extra. Yep, that was what boggled my mind about the BAREfoot collection the most. The shoes on their own cost $2,195 . . . plain. If you want more toenail polish options and a toe ring, you'll have to buy the BAREfoot1 Upgrade for $495L. If you want the whole shebang - toenail polish, toe ring, shoe charms, foot tattoos and maybe I'm missing something else, you'll have to buy the BAREfoot2 Upgrade for an additional $1, 295.
So basically I paid $3,490L for a pair of shoes yesterday.
*throws up and passes out*
I did it for the sake of journalism.
Wow, for that amount of money in real life, I could actually buy a real pair of shoes, albeit really cheap ones on sale at Target or something.
If it helps ease the pain, the upgrade comes packaged in this cute little table:
Letters from Stiletto? How nice! If only next month's Visa bill would come in a beautiful envelope like that, maybe I'd feel better about dropping almost $15 U.S. bucks on pixelated shoes.
With your shoes, you also get a free catwalk shape (not shown) and this classy SM Backup Bag:
OOPS!
Yes my friends, that's one reason why I've been so grumpy lately. Nothing rezzes for me anymore. I take a simple thing like a purse out of my inventory and it stays in the form of a grey lump unless I log out and log back in. It's so damn annoying, I can hardly stand it.
Please hold for a second . . . . . . . . . . . . . . . . . .
*logs off; logs back on*
OK:
Pretty!
Once you set your skin tone and other shoe preferences, you can store them in this bag and transfer them to another shoe. At least I think you can. I'm probably never buying another pair of these shoes again so I can't test-drive it for you.

By the way, someone asked me for my butt dimensions the other day, which was the most awesome question I've ever been asked in Second Life.

Hell yeah, it's fabulous! My real one is too! *smacks it*

So yesterday was a shocking day for me in terms of lindens. I had completely forgotten that I had bid a total of $7,000L on some rare Random Calliope jewelry in a Relay for Life auction. After spending almost $4K on one pair of shoes, it was really fun to get the news that I won two out of my four bids.

Yay. :\

*Emerald runs to the Second Life Web site and puts her hand over her eyes as she blindly pushes "Buy Lindens"*
*croaks, "but it's for a good cause!" as she falls*
I will not be shopping for the next three months. And if I were a really diligent blogger I'd model the jewelry for you, but I'm supposed to be working right now so I'm typing really fast. Sorry.
I also made the bold decision to expand my parcel of land. Here's what it'll look like from now on: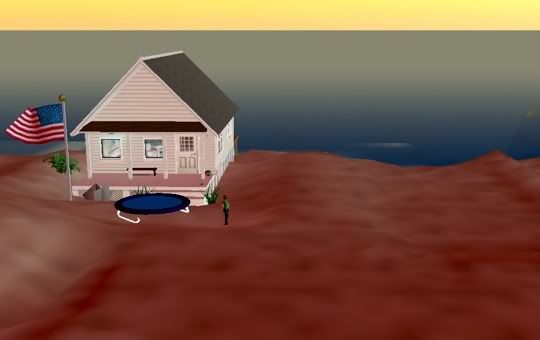 (Sorry, too tired for artistic drawings today.)
Get ready for your comeback, purple house.
Apparently I can stream my own music now. I have no idea how. But watch as I roll around in the luxury of almost 200 more prims.
*rolls rolls rolls rolls*
Um, so I've ticked off a few people with my blog posts during the past couple of days. That was not my intention. I'm sorry our opinions differ, but that's what makes this virtual world a beautiful place . . . right?
Another reason why I've been so grumpy is that my camera controls have been completely screwed up and I didn't realize I could fix them. I upgraded to the new SL viewer and suddenly everything looked like this: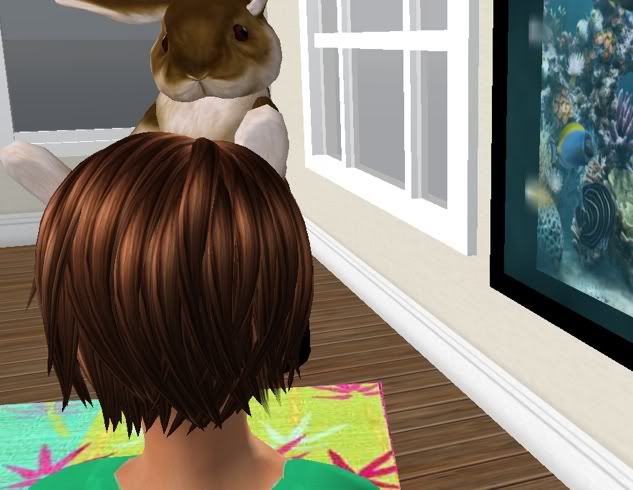 Yeah, zoomed in tight to the back of my head. I couldn't see where I was going. It was giving me a throbbing headache. I've actually been running around like this for days.
THANK GOD
I finally bitched about it to the lovely
Sai Pennell
of the most awesome store
Imperial Elegance
. She bopped me on my fat, close-up head and told me to adjust my Camera settings in Preferences.
(Preferences! What a concept!!)
BTW, I love that hair so much, I want to lick it. I got it from
JE*REPUBLIC
at Hair Fair. It's called Claire, in Cocoa. I'd never tried JE*REPUBLIC hair before. I'm glad I did.
I guess I'll wrap up this post by proclaiming,
"I found a new pose in Fluffy the Bunny!"
That's hot. Watch for us in the next Stiletto Moody ad campaign. (Where are my eyes???)
You ain't ghetto if you're wearin' Stiletto.
©