Right when I hit this hellish, hellish time in my real life where I'm sort of thinking a lot about my
EGGS
and how I haven't used them and how I maybe only have . . . I don't know, 5? 7? . . . years left to get knocked up at a socially acceptable and logistically reasonable age,
EVERYONE IN SECOND LIFE
seems to be talking about their eggs too.
They're talking about those bleep-bleep, bleepity-bleep, mother-bleepin' sionChickens though. (I'm trying to clean up my language.)
Which is a good thing, I guess. Because I think the grid would crash if we all started bitching about our ovaries as much as people are talking about their chickens.
I tried to resist. This isn't the first time I've had to stand strong against Second Life social pressures. It's lonely when everyone I know except me has a pixelated partner, but the bunny and I are hanging in there.
Singles, FTW!
*wanders off to check her eHarmony page . . . . . . . *
OK.
So the cracking started when I went over to my friend Aisuru's store
Beloved Custom Designs
this morning to pick up one of the glowy trees she does so well: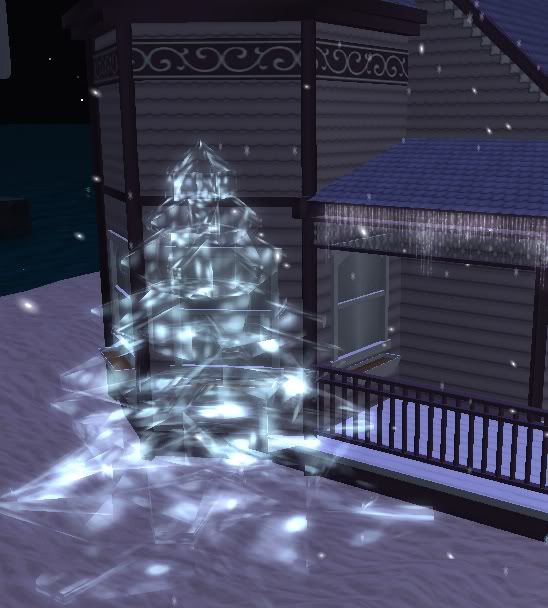 Emerald's Winter Wonderland is coming along really nicely, BTW. In fact, I know this is really uncharacteristic for this blog, but I have to digress for a minute. I bought
an ice skating rink on XStreet
that comes with winter trees that (oops) apparently emit 3,900 particles of snow per minute or something. And they're copiable. So I put them all over my land, since they're only three prims each.
I didn't realize they were snowing up the whole island. Probably lagging it too.
So I had my first homeowner (land renter) dispute the other day. Thank you,
Sehra
for letting me repost this chat. I've taken the liberty of correcting our type-os. (And I'm still laughing at the last sentence):
[2009/07/13 12:04] Sehra Kauffman:
Dear Emerald... I love you.... but two of your trees are particle-snowing pretty far into my yard. My palm trees look chilly.... is there any way for those two not to snow? :D

[2009/07/13 13:03] Emerald Wynn:
LOL I'm sorry - I'll move them. Sorry - I was outside drinking a beer with my dad. Sometimes I wander away from my computer and forget that I'm still in Second Life in one of the windows.
[2009/07/13 13:03] Second Life:
User not online - message will be stored and delivered later.
(oops - I said "beer")
[2009/07/13 13:34] Emerald Wynn:
OK I moved the two away from the side facing your house. I walked over to your land - I don't see any snow anymore over here. But let me know. Sorry bout that!!
[2009/07/13 13:34] Second Life:
User not online - message will be stored and delivered later.
[2009/07/13 13:56] Sehra Kauffman:
thanks friend :)
[2009/07/13 13:59] Emerald Wynn:
np - I don't want to be an obnoxious neighbor
[2009/07/13 13:59] Sehra Kauffman:
lol, I was just all.... sitting on my stump watching it snow softly around me and feeling like there was some kind of strange weather phenom going on
[2009/07/13 14:00] Emerald Wynn:
ROFL
Maybe you had to be there, but every time I read that "watching it snow softly around me" sentence, I start giggling at my computer like a sad, crazy person.
I removed all the snow emitter scripts from my trees as well as the snow textures (and I even deleted some trees) but it's still a blizzard over there -- even in my house -- although fortunately not in Sehra's yard anymore.
Uh, so back to the eggs?
I went to Aisuru's store to buy that glowy evergreen up there (100L) and I noticed she had an egg stand there. And since they were red and green, I took it as a sign and bought one of each.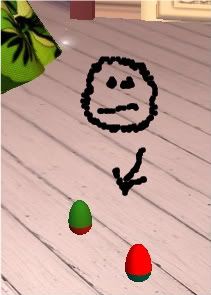 I'm tired of feeling left out.
Of sitting silently, smiling and nodding in ignorance while everyone chats about their chickens.

I'm tired of seeing chickens on almost every blog I read and feeling like I'm the only one who's not a member of some secret chicken society.
SO YES! YES, I CRACKED AND BOUGHT SOME EGGS TODAY!
But I promise you this one thing:
THIS WILL NOT BECOME A CHICKEN BLOG!!!
Not that there's anything wrong with people blogging about their chickens. It's just, you know me, I'm a defender of the weak. I don't want to inflict the same eggless anguish on people who are still holding out against the Chicken Revolution.
so . . .
What the hell do I do with these things now?
There's no instruction manual!
I looked for a Web site, but if you Google "Second Life" and "sionChickens" or "sion chickens," you'll just find about 19 pages of "chicken diaries."
I took them out of their egg protectors and put them on my porch. I watched them for a while but they didn't do anything.
Finally I got bored and logged off.
And yeah, I realize I'm blogging a lot these days. I've got Lemania Indigo down there slam-dancing around in my Prozac comments and I just want to write and write and write until I get that post off the front page.
I never wanted this to be a Lemania-bashing blog. In fact, I was gonna show some of my favorite gowns of hers today just to be nice . . . but I'm still a little PMS-y.
I'd rather write about my ovaries.
If you like that dress way up there, it's called Flower Dress-Mary(Green) from
Mayuki Nozaki
. It does a girl named Emerald proud.
I bought the 300L set, which includes two top options, two skirt options and two belt options. You can also buy the dress in just one of its two styles for 200L, but I liked the top from Dress One and the belt from Dress Two, so I just said, "What the hell?" and forked over the extra 100L to buy all of it.

It comes in other colors. I struggled with the decision between this one and the blue one. Struggled, I tell you!

And yeah, I like to give the prices in my blogs so you don't go all the way over to a store and end up crying or fainting if you're broke.
OK. I have to go clean out my turtle tank and pop-in on my own personal water aerobics class and swim-up pool bar (translation: a couple of water leg weights and a cooler of beer in my backyard).
(oops, I said "beer" again)
I was supposed to spend a day of shopping, drinks and a movie with my friend, but she called and canceled this morning with:
"Sorry, I guess I have to take my dad to get a new leg today."
:\
That's gotta be the most . . . well, that excuse just totally fits my Twilight Zone life right now.
Happy Bastille Day, my French friends!