If you're like me and you take sort of horrible photos, don't really have a decent photo studio/backdrop, and hate digging through all your unsorted poses for the perfect ones, then maybe -- like me -- you collect posing furniture and props, which frankly still don't guarantee decent photos but at least take the edge off the bad ones . . . a little.
WOOOOO!
That was a long sentence. But you liked it! I know you did!
If so, you'll be excited to know that
Baiastice's Behavior Body
store currently has three fun posing seats out for a whopping $1L each. That stool up there -- with 14 sits in it -- is one of them. Yeah, I picked kind of a weird pose for that photo . . . but I think Tyra Banks would approve.
This post really isn't about furniture though. It's about the awesome store
Thusoras
.
[
UPDATE:
Whoops - looks like the L.A. Street Scene store is closed for renovations. Try the
other location at the Cupcake sim
if you want to check it out.]
In fact, that "Total B8be" Golden Girls T-shirt from Thusoras is one of my favorite articles of clothing. If my prefab were on fire, I would grab the bunny, the aquarium, my Random Calliope pieces and that shirt and run. Yep, Sophia from The Golden Girls makes my list of "top five things I would pull from a burning SL building." (I haven't figured out the fifth thing yet. Maybe my chicken named Pradella.)

I love designer Alexandria Paine's sense of humor and I think I own just about every T-shirt that Thusoras sells (50L each). She'll also make custom T-shirts, according to her notecard.
Dolly Parton is another fav:
The back says, "My heart belongs to Dolly." And that's another $1L Behavior Body posing chair. I think the fact that I just tossed the chair on the beach really gives the photo a carefree air. (That was a joke.)
Laugh out loud.
Ironically, if I scoot my boob slider too far to the right, Dolly's face gets a little distorted. And
HEY,
I finally found an SL hairstyle that looks like my RL hair: the new Julie by
Dernier Cri
, shown in these photos. (That's "Julie II." Just "Julie" with bangs also is included with purchase.) Do you love it? I do! I'm starting to love my RL hair as well. Being broke brings out the sexy beast in me, apparently. Maybe it's an inherent survival mechanism.
Here's the third chair from Behavior Body and another Thusoras T that cracks me up:
Nope that's not an internal organ -- it's a corn dog, as in Corn Dawg. I have no idea why Alexandria (whom I've never met) wanted to put a corn dog on a T-shirt but it worked, because when I saw it I giggled madly and bought it. And you guessed it, that's the third $1L chair from Baiastice. The legs are white. A better photog with more masterful camera skills would've gotten the whole chair in the pic, but I never promised you a rose garden here.
Speaking of gardens, I'm sick of watermelons. You know me -- at the very last minute I cracked and got all competitive about embarking on and finishing the
Slice of Summer
gridwide hunt. It took me about 24 hours total (not nonstop, I'm not that big of a loser) to finish it, even with my Treasure Hunt Radar and a (shhhhh!) um *help* sheet. I gave up on Sway's Creations -- yes, I clicked all the watermelons by the photo booth. If anyone knows what the hell is going on there, please let me know. My life just doesn't feel complete with that hole in my hunt folder.
This hunt is worth the time though. Every participating store is quality. There are some
REALLLLLLLY
cool prizes, like this Watermelon Summer Pavilion with swing and waterfall from
The Sea Hole.
(OOPS! Did I just give you the direct Slurl to the prize location? Maybe, maybe not -- use at your own risk.)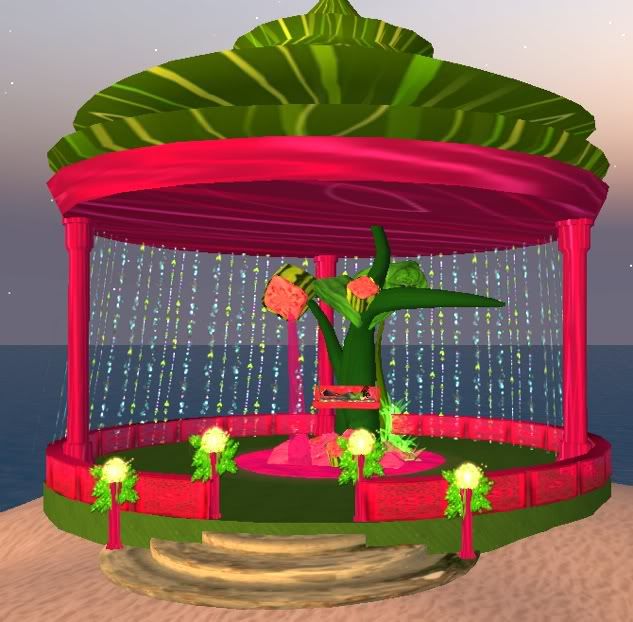 I like it in here.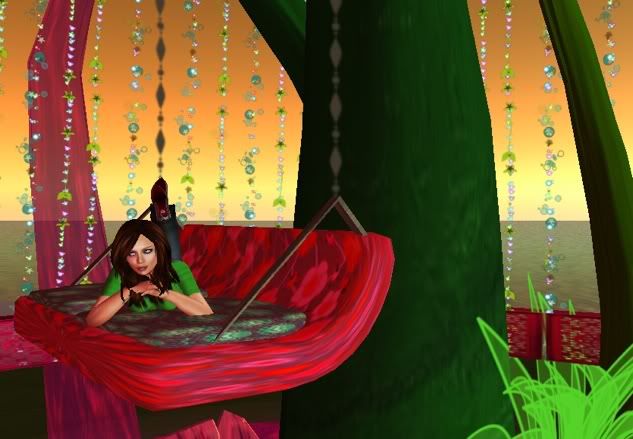 If you're pickin' watermelons and you need my "help sheet," let me know.
I have a wild urge to try to finish the
Cinderella's Lost Slipper Hunt
AND
this month's Gone Fishing hunt, although by my calculations it'd take something like four straight days without stopping. I doubt I'll pull it off.
I don't have much else to say except to give a shout out to my friend Heidi, who killed me yesterday when I ran into her at the new
Doux Petit Dahl
mainstore location.
[9:51] Heidi Halberstadt: I'm sorry, hun, but my babysitter is in jail, so I had to bring the baby...babies...offspring.
Laughter.
You rock, Heidi, seriously.
OH and hey everybody, if you're reading this post before midnight SLT on July 26 and you have a free minute, could you swing by
this MM board
(follow the beacon) and give it a slap?:
I want that wedding chapel. If I ever get the damn thing (I've been slapping that board for days), I might tear down my icy kingdom and rent out my parcel as a beachy romantic wedding spot. Ha ha!
But seriously, I'm an ordained minister in real life. Should you need it, I can baptize you, marry you and bury you. And I'm pretty sure my spiritual powers translate across virtual boundaries.
So holler if you need an exorcism.
(Lemania Indigo)