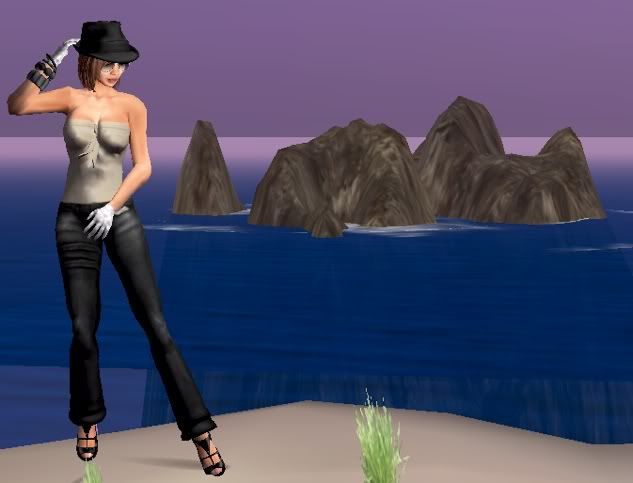 Hat/Hair:
Fedora Hat/Mystic Bob in Copper by
Argrace
Sunglasses:
Designer Aviator Glasses in Silver by
Pacadi Jasha
Top:
from Anouk Jumpsuit in Beige by
MichaMi
Pants:
Wild Angel Leather Pants in Black by
League
Shoes:
Virtue in Patent Black by
Maitreya
Gloves:
Crappy Michael Jackson Gloves by Emerald Wynn; glove bling, not shown, by
Alicia Chenaux
Bangles:
Grey/Black (previous hunt gift) by
Malt
Skin:
Misty - Fuchsia in Medium by
League
Yeah, I couldn't find a Michael Jackson glitter glove, so I made some. Well, I took a pair of full-perm gloves that I got as a noob, retextured them with silver glitter (uh, at least that's what the texture was named, but it really should have been called "little grey blotches"), and my friend Ali helped me make an optional (and very tasteful!) attachable bling prim. I couldn't figure out how to make just one sparkly glove . . . I'm not that smart. If something like that exists, let me know. And if you want a pair of my Crappy Michael Jackson Gloves, give me a holler.
Today's memorial service . . . hell, I don't really know what to say. I watched most of it. I bawled during some of it. I thought some of it was a little over the top. I wondered where all these caring celebrities were when he was going through all those hellish, controversial times during his life. I wondered, if he would have received such an outpouring of love and support when he was alive, would he be dead -- the probable victim of an accidental prescription drug overdose -- right now?
I'm not a fanatic MJ worshipper. I expressed my conflicted emotions in my
Please Rewind
post on the day he died. Like many people, I watched the memorial today because he touched my life and, as such, I paid my respects the only way I could -- by watching the TV broadcast of what turned out to be a surprisingly tasteful celebration of his life.
Like many people, I also needed closure from the three-ring circus that was his life and death, although I doubt the media frenzy will stop soon. There will be mudslingers who will emerge from the woodwork, there will be court battles, there will be controversy -- just as there were when he was alive.
Rest in peace now, Michael Jackson. That platitude gets tossed around a lot whenever we lose someone, but this time it seems so very, very relevant.