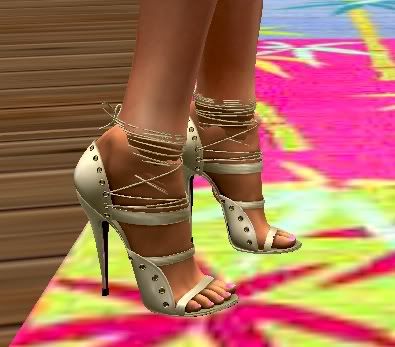 Insert a big irritated sigh here.
I've been screwing around with the new Stiletto Moodys for a couple of days now and maybe it's just me, but they look like hell on my feet.
Let's skip the fact that my skin from League is so meticulously shaded and highlighted that there's really no way to get prim feet to match it perfectly, even with the "Control Freak" direct input skin color menu option. The pic above was as close as I could get.
And if those feet are fake, why are they still eating the tiny straps of the shoe?
YES,
I've adjusted my RenderVolumeLODFactor (or something like that) in my Debug Settings. In fact, I've bravely ventured into places I've never gone before in my Advanced menu because of these bleepity-bleeping shoes. No matter what I do or which size I wear (each folder comes with small, medium and large), they look like a huge tangled mess on the end of my bare legs. I'm going to have to skip the ankle straps and reserve these shoes for pants only, which in my humble opinion renders them
SO NOT WORTH
the money I forked over for them.
A friend suggested that I mod the invisible prims, but ugggggghhhhh, I've tried it before and it has left me in virtual tears.
Shoes that cost $3,500L shouldn't require a Master's degree in modding.
My advice: If you buy something from the new Stiletto Moody line, skip Marlene. They're too intricate for our borked virtual world.
So I'm back on the freebie circuit for a while because I'm a little *cough* broke these days. My friend Eliza, queen of the oh-so-awesome Free Finds for Men group and
blog
, told me about this fabulous Kouse trinket hunt -- which, by the way, is
NOT
for men -- and I got all giddy.
I was going to make the hunt the focus of this post, but I had no Internet yesterday (which was actually kind of nice), and now I see that
Free*Style
and
Fabulously Free in SL
have already blogged it. Oh well.
If you read those blogs, you know that Kouse's Sanctum has eight gorgeous gowns for you to find at
its Sea Breeze location
: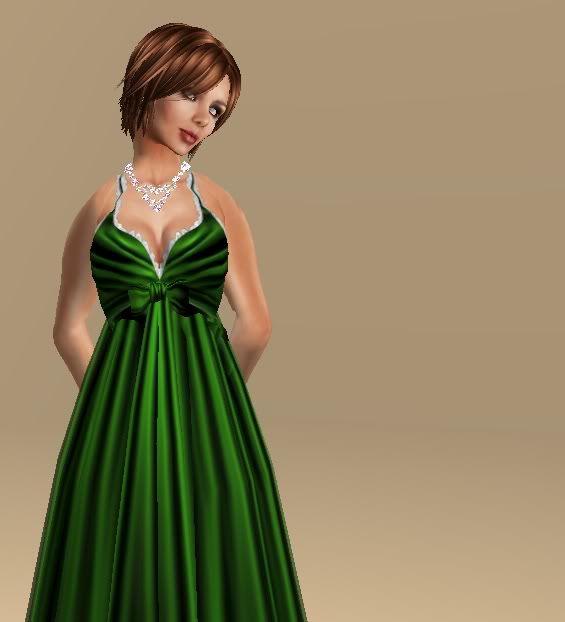 Hey everybody, I found a photo sphere studio in my inventory! (Laugh) And that's one of the prizes -- the Allegra gown in Emerald.
That Ode in Princess Pink necklace is also free, but you have to tap the right butterflies flying around Random Calliope's
Wanderstill
sim before they'll cough up the goods. There's a butterfly pendant that goes with that necklace, but when I put it on, my skirt fell off. I could have attached it somewhere else, but I'm lazy. And to be honest, the Princess Pink butterflies are
HARD
to catch, so I gave up and bought this necklace (and the eight other pieces in the set) at an RFL auction. <--- Cheater
Sorry for that digression.
So speaking of royalty, I always go to Kouse's whenever I want something that makes me feel like a princess. The gowns are luxurious. The colors are rich and delicious. Kouse's Sanctum is my happy place.
If you're hunting there, you're looking for eight of these trinkets, which cost $1L each:
Yeah, my rug is getting a lot of PR in this post.
Each trinket holds a token as well as a prize. Send all eight tokens in a folder back to Kouse Singh and you'll get a most-awesome ninth prize. Be cool and include a thank-you note telling her how fabulous she is too!
If short and sexy is more your style,
DYN Clothing
has this cute little free outfit on its catwalk:

Tiny skirts really aren't my thing, but I like that tube top! It reminds me of a Duran Duran album cover!! *bursts into a bad rendition of "Rio"*
I look befuddled in that picture because I'm standing on my new bigger parcel of empty beach and thinking of all the work I have to do. I'm considering just slapping down a giant rollerskating rink. Seriously.
That outfit includes adorable white wedges with little flowers on them, but I was still messing around with my Stiletto Makes-Me-Feel-So Moody shoes when I took that pic.

And that's my three-pronged PSA for the day: consumer report/hunt/free stuff.

The End.