(This blog is on a feed now. I'm not sure if I'm allowed to say 'asses' in the headline.)
I'm pretty appalled at some of the so-called Fourth of July "fashions" I've seen today.
My grandfathers were WWII veterans. My father was a military police officer (surprise, surprise). Brave men and women have fought and died for the values that the American flag symbolizes. I love my country. I love our flag.
So for the love of God,
STOP WEARING IT AS A LOIN CLOTH.
I've seen stars and stripes today in places where only gynecologists dare to tread.
I've seen way too much patriotism in way too many cracks and crevices.
I've seen the American flag splayed out in a GIANT EYESORE OF A BALLGOWN.
I've seen it sliced up and refashioned into little more than nipple tape and a G-string.
I've seen women running around looking like Uncle Sam's skank-ho bikini brigade: Stars on their boobs, stripes on their butts, trying their best to make men salute.
It makes my eyes hurt. It makes my heart hurt. Betsy Ross must be
FLIPPING OVER
in her
GRAVE
right now.
So before I slap myself hard and tell myself to stop taking things (especially Second Life) so seriously, I just need to yell,
"ENOUGH!"
Please leave our flag where it should be, which is proudly displayed with the utmost care and respect. And if you're a citizen of another country, for the record, I for one would never run around wearing your flag as a toga either.
I never thought I'd be championing the drama mill that is Shopping Cart Disco here (although hell yes, I read it every day), but I couldn't agree more with
Tenshi's Fourth of July post
. If you feel so inclined, please check it out and catch up on your flag etiquette.
There are a million ways to express your patriotism in a tasteful manner without violating the U.S. flag.
Earthstones has this really beautiful Flight of Freedom set on sale today for 299L (half off its regular price):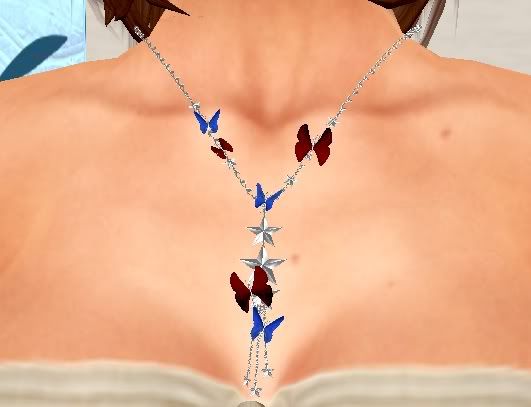 The set includes matching earrings. But if this were real life and I were your publicist, I'd tell you not to wear the earrings with the necklace. You don't want to match that much. Small silver hoops would be a great alternative.
And no, that wasn't an excuse to run yet another shot of my cleavage.
If you really want to turn heads with your red, white and blue, I love this Bubble Dress by Callie Cline. She's selling this patriotic version today for 150L at
caLLiefornia
. See how she created a striking interpretation of American pride without literally taking the flag and sewing it into a battleship of a gown? Thumbs up.
It's got little white pearls sprinkled in it, and the hat is included. And yeah, I'm standing on my couch. All my controls suck today. I can barely move, let alone walk or take a picture.
There. There's two out of a million ways for you.
And this has nothing to do with the Fourth of July -- but hey, it wouldn't be this blog without some random digression -- but Kosh at its
new location
currently has this furnished two-story New York City Graffiti skybox out for $1L. Or maybe it's free. They're supposed to be the same thing anyway, right?
There's graffiti on the other wall. And try to imagine a bedroom loft upstairs and a bar at the other end of the room. I learned today that it's really hard to shoot the interior of a skybox.
I have to go now. My three-year-old niece and I have to run around with sparklers and eat hot dogs.
Thanks for indulging my rant-of-the-month, and have a glorious Fourth of July!