Hey, I bought a mermaid today! She swims around! And she scares the bejeezus out of me!
But we'll get to her later. To be honest, I just wanted to start this post with something other than a picture of my upper torso. Like this one:
The Frost Queen dress (800L) and (FREE!) Winter Spirit Azil skin (several tones included) are from Curious Kitties. The hair (crown included) is a group gift from ploom.
For the fashion, home decor and landscaping alone, winter is my favorite season in SL. I'm going to look icy until March, kids, for I am Empress Emerald of Emerald's Iceland! Bow down in servitude and suck my icicles!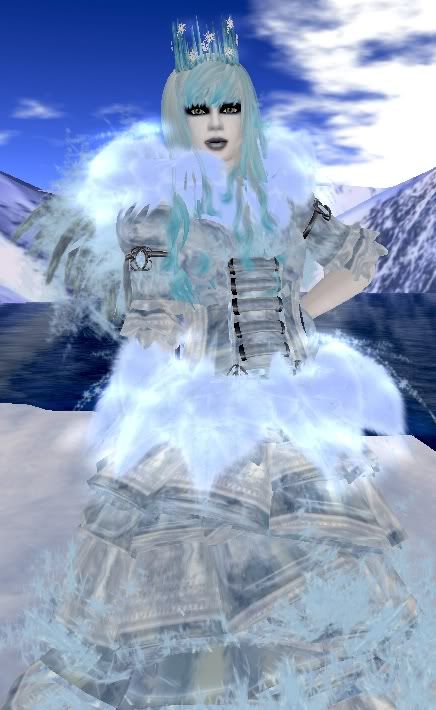 I think taking a picture in an icy dress, icy hair and icy skin against an icy background is the best idea I've had in 2011.
:-\
Oh, Happy New Year, by the way! I haven't blogged in a while because I've hated my last few posts. So whoops, I didn't write a Christmas post. And speaking of Christmas, today I started clearing my yard of all the holiday stuff so I could transform it into a winter wonderland . . . but then I quickly lost interest and decided to go shopping instead. As such, my yard is currently rocking a Chronicles of Trailer-Trash Narnia vibe. Oops.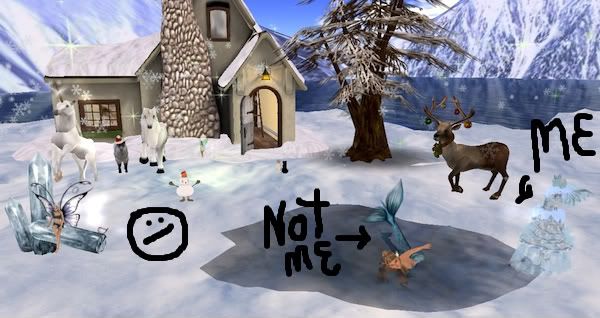 Fairies and unicorns and goats, oh my!
Can you find the rearing unicorn in that picture? Back in the day I used to inspect people's clothing, but these days I find myself inspecting more objects. I'll see some cool decor in a store or a yard somewhere and want it for myself. So when I saw the unicorns in Copley Square today, I screamed,
"WHO MADE THOSE THINGS?"
and checked. It turned out to be Kim Lefavre of Sa'ng Fori Design.
I hustled over there and bought this riding unicorn (1100L) -
YEEEEEHAW!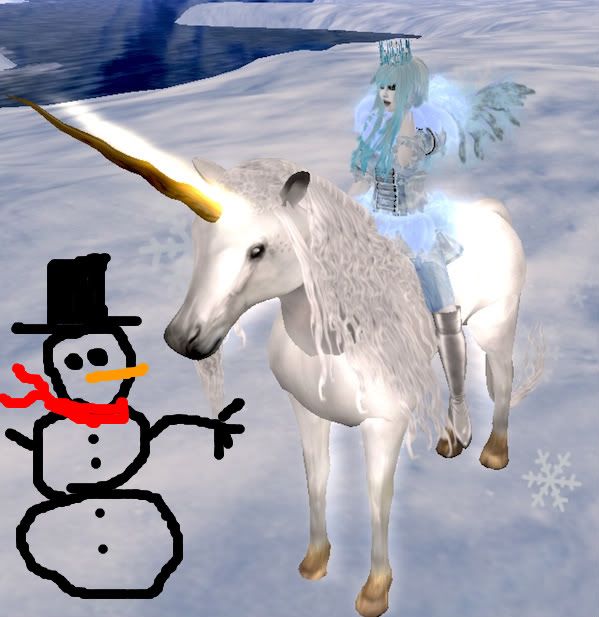 Hey, that snowman is not that bad, considering I drew it with my finger on a mousepad. (That red thing is a scarf.)
I also bought this Ice Fairy (fairy is 18 prims, ice is 3 prims, 500L) and the aforementioned rearing unicorn (16 prims, 450L) behind her.
God, I feel like this is
one of those haul videos,
but in long droning prose. "Look at this and look at this and OMG look at this other stuff I bought!" Sorry. This is why I don't blog very often anymore.
If you happen to be a holiday slacker like I am and you're still gathering up some very, very, very belated Christmas presents, Sa'ng Fori's small Light Fairies (15 prims, 450L) are trans and fly around shining a lovely light. They're available in green and white. I bought one for my friend Gwen because she lights up my life. *insert the wailing of Debbie Boone here* And then I bought the green one for me.
Pretty. And thank God, she doesn't look a thing like Nicole Kidman.
And now, cue the 'Jaws' music and let's get to the mermaid.
HELP! I want my mommy!
To clarify, this is not me. It's a prim person that moves. A little unsettling, huh? Don't get me wrong — she's 17 prims of pure win or I wouldn't have spent 500L on her. If you go over to Sa'ng Fori — and I highly recommend that you do, if only just to look at the vast selection of fantastical creatures, fantasy AVs, all kinds of animated and static people, Gorean animals (I have no idea), domestic animals, everything you need to make a medieval village and so much more — you'll see that this mermaid looks kickin' in the lake there. I'm just not coordinated enough to get her to work in my lame, homemade pond.
And unfortunately there's something about her face and her wobbly "I just clawed my way out of a watery grave and I'm on my way to kill you" swimming style (my fault for not rezzing her properly) that gives me the heebie-jeebies.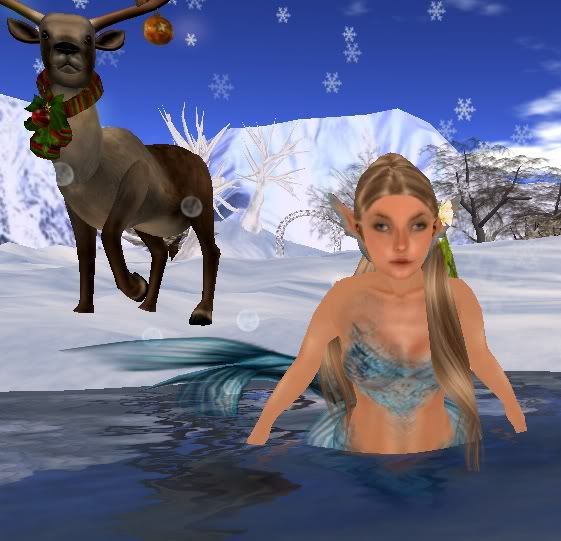 Look at that face. It's the face of a creature who wants you to die a horrible death. She looks like Heroin-Addict Mermaid, rising up out of the water to bitch-slap me with her tail, slit my throat and run off with my lindens in search of her next fix.
However, some of my neighbors saw her from a distance today and thought she was
ME
flopping around my yard as a mermaid AV. That alone was awesome enough to make up for the creepy factor.
I think I'll keep her. (She has trans perms, BTW.)
ALL THIS AND MORE CAN BE YOURS
Sa'ng Fori Design
(inworld)
or browse
Sa'ng Fori's store on Marketplace
Curious Kitties
, and the free skins are
HERE