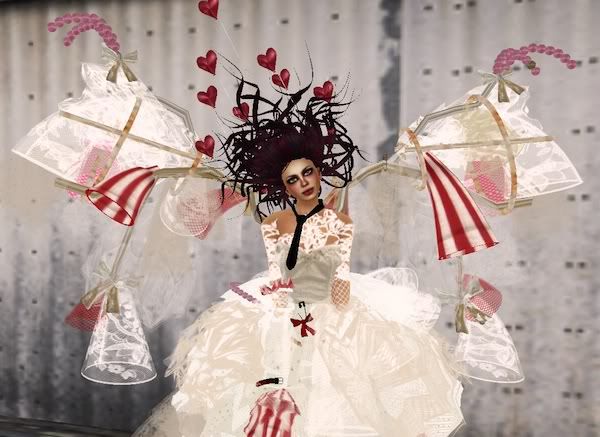 "Dear Second Life, Happy Valentine's Day! Love, Helena Bonham Carter!"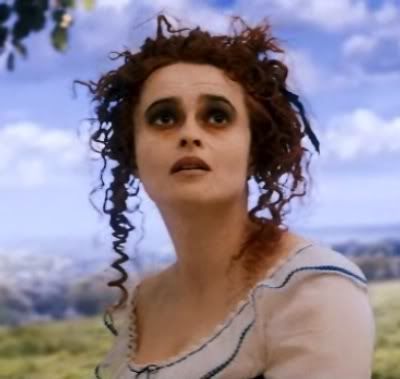 Ha ha ha! I didn't do that on purpose, but what a happy accident. She's awesome.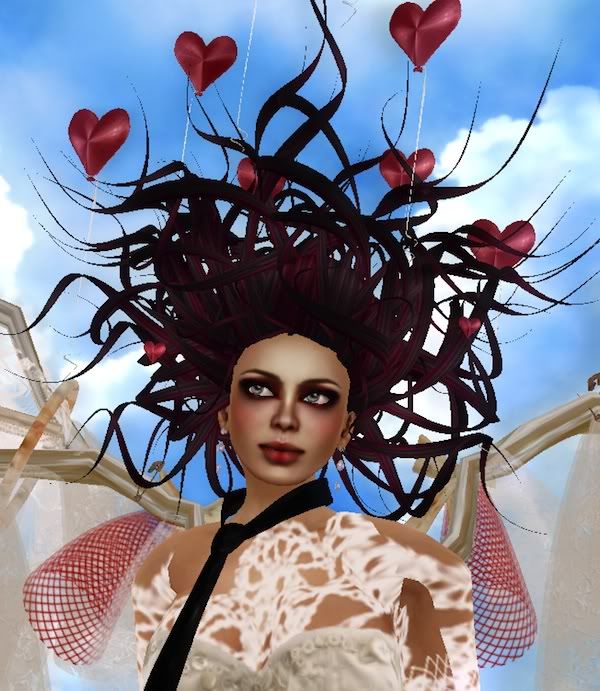 This Plume Valentine hair is magnifico. You have until the end of 2/15 to grab it as part of the Valentine's Hunt at
Fellini Couture.
Find six hearts to make a complete outfit (dress, hair, jewelry, face tattoos). They're not free though. The heart with this hair in it is 100L, and I'm so not telling you to look for it on the wall of hair in Plume. (Lionheart skin in BloodGeisha by
The Plastik.
)
For Valentine's Day fashion, I choose to blog this Tribute to Emilie dress (650L) and matching Lace Rag Wings (250L) by
Aliza Karu's AngelsDemons Creations.
This outfit has been in my inventory for almost a year. For the next month, I'm following the tough-love instructions of my friend
Alicia Chenaux
and only blogging things already in my inventory. I'll add freebies, hunt items, lucky chair/board wins and blogger review items to that list. I'm spending way too much money in SL, and it stops today. TODAY, I tell you!
Until March 13, I'm only spending lindens I make from selling horses and cats. And then I'm sticking to a strict budget.
Anyway.
If you haven't been to the store AD Creations, you should check it out. It's full of exquisitely detailed whimsical, gothy, through-the-looking-glassish stuff for the Helena Bonham Carter in you.
Don't try to tell me that's not
FREEKIN' GLORIOUS!
I won't believe you.
The MM board at that store is always awesome. I also love this cute little Gothic in Red dress (350L) I bought there: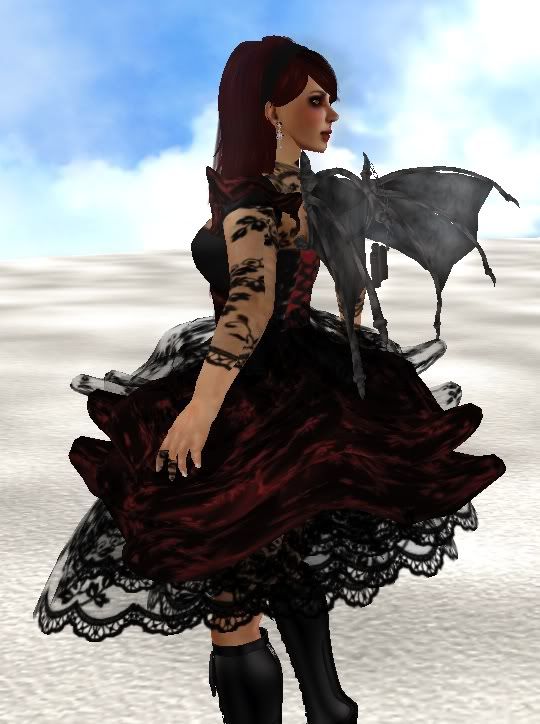 DAMMIT!
My head keeps spinning around like a scene from "The Exorcist" whenever I get on a pose stand these days. Between that and frequently logging in to an imaginary balance of only 20L in my account, I'm getting highly irritated with this place. As far as I'm concerned, Linden Lab owes me a Big Damn Discount on my Premium Membership rate at this point. I didn't sign up for this chaos.
That's a new hairstyle by
Truth,
BTW. It's called Sandra and it's going in my "Favorite Truth Hair" folder. Thank you, Truth, for getting the lyrics, "Look at meeeeee, I'm Sandra Deeeeeee!" stuck in my head all weekend. My friends thank you as well.
Here's a front view, but because my hair is Burgundy and the cute color-change headband is black, I advise you to look at
THIS BLOG
or my friend
Joonie's blog
for better pictures: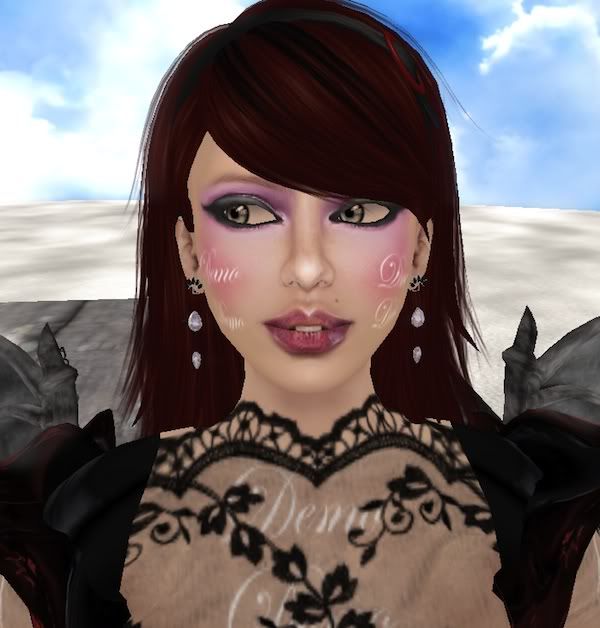 (Ummmmmmm, I don't think I'm gonna buy this Las Petits Details skin, 90L, at
Chic Boutique.
I've seen it looking cute as hell on other people though, so I'll put the SLURL below.)
The Sandra hair includes two versions of bangs and a streaked option. Awesome.
So, it's Valentine's Day tomorrow (no, really?), and I'm really proud of the SL community for not overdoing it this year. I really haven't seen as much sickeningly gooey, cheesy stuff as I usually do. And since I've started entertaining myself with virtual breeding experiments, I've been amused by all the "Give your sweetheart the romantic gift of a [horse, cat, dog]!" advertising I've seen. It makes sense, though. A breedable animal is a gift that keeps on giving. Hell, long after your boyfriend has left you crushed and alone, your Valentine's Day horse could still be popping out many-traited and, as such, valuable offspring. Then you can buy yourself a new boyfriend. (Or girlfriend. Whatever floats your boat.)
KittyCatS
, for example, has some limited-edition SweetCatS in eight colors available at the main store through Feb. 19. (That seems random — maybe Feb. 20?) Unlike the competition, these kittens are available in-store — you don't have to breed and breed and breed your existing cats and pray that they'll drop a holiday-edition basket. (I'll get to that in a minute.) The only catch is, you don't get to choose the color, and these babies are 850L a shot. It's like a slightly insane gatcha machine. I wanted a pink or a red one or even a very rare rainbow coat. About 4000L later, I gave up. Needless to say,
one of the teal cats in this pic is now for sale at a discounted 500L
at Emerald's Cat House!
(Yes, I bolded it. I'm broke.)
They'd also make for a cute V'Day gift for your SL BFF.
"Happy Valentine's Day! I got you an 850L kitten! Now you have to take excellent care of it and keep it alive or I WILL KILL YOU."
Not to be outdone,
BioBreeds
has holiday-edition male (Valentino) and female (Valentina) labs for sale right now for 700L each until 4 p.m. SLT, Feb. 14: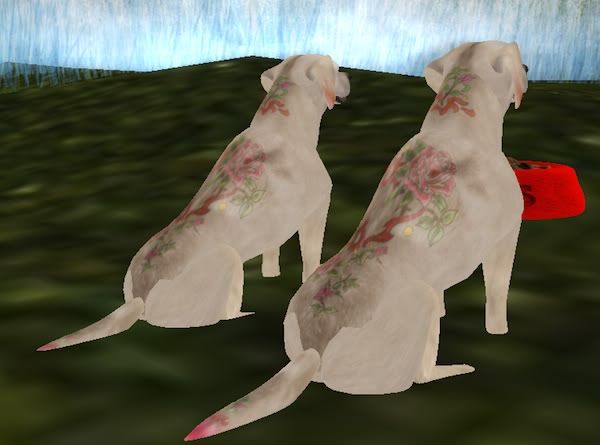 "Happy Valentine's Day! I took some labs to a tattoo parlor and got them covered in these slightly creepy floral tattoos for you! I just want you to know how much you mean to me and how much my life has chang . . . OMG LOOK OUT HERE COME SOME PETA ACTIVISTS RUN FOR THE LOVE OF GOD RUN JUST GRAB THE DAMN DOGS AND RUN!"
Wildwoods Cats
is a little more market-conscious. Through Feb. 15, our pregnant cats all have a chance, albeit a realllllly rare one, of dropping a limited holiday edition elegant kitten, like this Broken Heart Plushie:
Hell no, my cats didn't birth this one. I bought it from a really apathetic guy who sold it to me for not-that-much. They're selling in auction right now for around 7000L to 8000L. My pregnant cats that are scheduled to give birth tomorrow and Tuesday are my last shot at breeding my own. I feel like the bizarro-land version of "Willie Wonka's" Charlie — the one who DOESN'T get the golden ticket and bribes his way into the chocolate factory instead.
The same deal goes for
Amaretto Breedables
. Through Feb. 14, all pregnant mares have a chance of birthing a rare Valentine's Day horse, such as this That's Amour horse:
Or we can give up and buy one, in this case for 45000L at
TLC Ranch
. ("Hi there horsey! I'll see you in about five months when someone's selling you for 3000L.")
I have an oozing bump under my eyelid, so I think I'm going to wrap up this really thrilling post. I'll close with this random picture:
Lilac, forest, cobalt, crimson, sky: I collect black Wildwood cats with colored eyes. I will not rest until I have one for each existing eye color. (It's good to have a hobby). I named that little guy with the red eyes Lucifer. The Catholic in me has been wracked with guilt and fear ever since, seriously.
NOW GO FORTH AND GET YE THIS STUFF INWORLD:
Fellini Couture
The Plastik
AngelsDemons Creations
Truth
Chic Boutique
KittyCatS
BioBreeds
Wildwoods Cats
Amaretto Ranch Main
TLC Ranch
(That's Amour horse, 45000L)
SUPPORT MY VICES:
Buy my cats (Emerald's Cat House)
Buy more of my cats
Buy my horses
Buy more of my horses
(Coming soon:
Buy my dogs
)
Posted: February 13, 2011