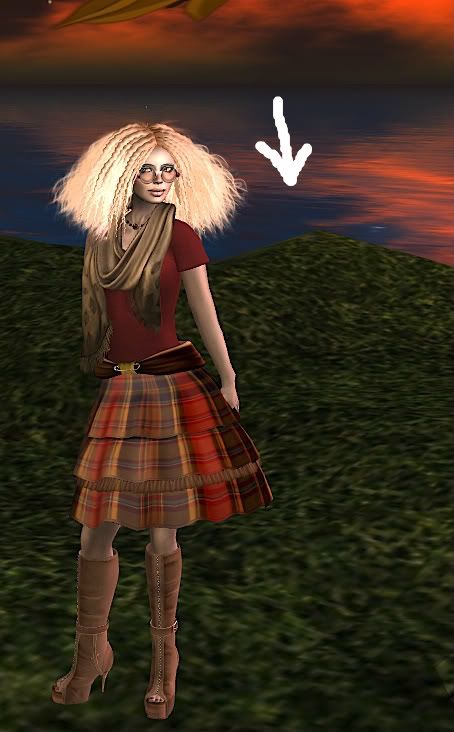 My yard is sexy looking.
I like to tell people that if you're feeling depressed about your photography skills, just come on over to this blog, and if you're feeling depressed about your terraforming skills, just come on over to my yard.
You'll feel much better.
My God, and when you put them BOTH in one picture, it's sort of like the universe implodes while your eyeballs fry!
Hey, have you ever done a search for "facelight" in your inventory? I haven't worn a facelight in years, but I thought maybe if I slapped one on in this photo, it would add some dimension to the lighting or something. (Fail.) Holy cow. I think I have about 3,000 facelights. I contemplated deleting all of them, but damn, that would take hours. My inventory is at 165K and counting right now. So I guess if you're feeling depressed about your inventory, you can come on over to my place and laugh at my 3,000 facelights and probably feel much better about that too.
Anyway, all day long, people have been saying to me, "Awww, you're just a white, glowy blob today!" That's mystifying because I'm not even wearing mesh. I hate it when I take the time to carefully dress my AV in a spiffy fall outfit, only to have people say, "I can't seeeeeeee youuuuuuu!"
Um, so here's some proof that I did in fact get dressed this weekend. Frankly, I wrote this post just to get rid of that gawd-awful Halloween picture at the top of the page. It was fun, but it becomes an eyesore if you look at it for longer than two minutes. Soon I'll write another post to bump down this newest gawd-awful picture. It's like the circle of bad-picture life over here.
Yay, we finally get to break out some crispy fall colors. Speaking of crispy, grrrrr, my photos look pixelly as hell. And when I turn on shadows, those glasses disappear. Trippy.
I'm loving this skin that's the
Very Important Hunters Hunt
(ends 11/30) prize at
The Plastik
. It includes several makeup options, a ton of tattoo layers and a couple of pairs of eyes. You're looking for a bow. Or a bow tie. Whatever it is, it's very important. Hints and SLURLs of participating creators are
HERE
.
Thank you, Aikea Rieko! That's lovely!
So, does anyone else get excited about "Dexter" on Sunday nights? I used to be pretty fanatical about that show, but this season seems to be dragging for me for some reason. I got really, really gleeful when I saw this Dexter AV at Death Row Designs though:
(Includes killshirt!)
OH MY GOD, YEAH!
Now I need to find a guy who'll put this thing on and SLex with me. (Complete Dexter AV, 700L)
I bought the laminated badges for 20L. It's not the same as the complete package (pardon the pun, *WINK*) but I can still wear it and pretend I'm Dexter's girlfriend: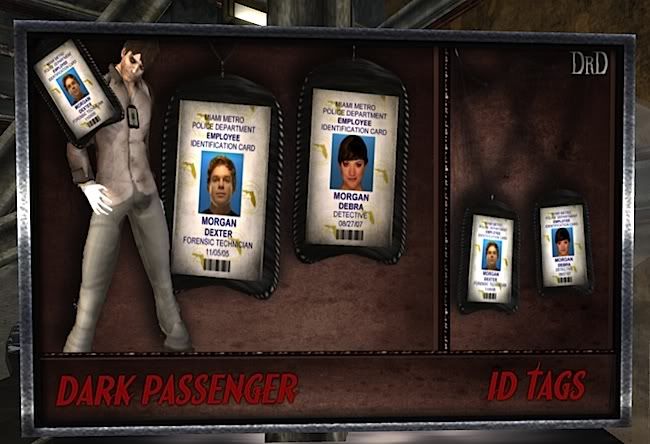 (Um, Debra Morgan? Hell no. She's soooo damn annoying.) Hey, yesterday was the sixth anniversary of Dexter's first day at work!
OK. I'm done. Have a lovely week.
STYLE CREDITS AND STUFF
Hair
-
LeLutka
- Rykiel in Marilyn
Skin
-
The Plastik
- Aleria Nightbringer's Breath in Flush -
*FREE*
Very Important Hunters Hunt gift #3
Eyes
-
The Plastik
- Senn (Vae Collection) -
*FREE*
Very Important Hunters Hunt gift #3
Glasses
-
Le Petits Details
- Lady Lord Glasses -
*FREE*
group gift, free to join
Necklace
-
Kunglers
- OGlam First Birthday/Crisis in the Horn of Africa fundraiser item, 200L, at OGlam Shopping
Scarf
-
Miel
- Fringe Scarf in Leafy, 245L
Top
-
Rezipsa Loc
- Brick Red T-shirt, 75L
Skirt
-
Les Petit Details
- Mina Skirt in Red, 75L for Project Themeory this weekend
Boots
-
Les Petit Details
- Lady boots in Coconut, 250L
And . . .
Dexter AV, Laminate Badges -
Death Row Designs
Very Important Hunters Hunt Website (Ends 11/30)