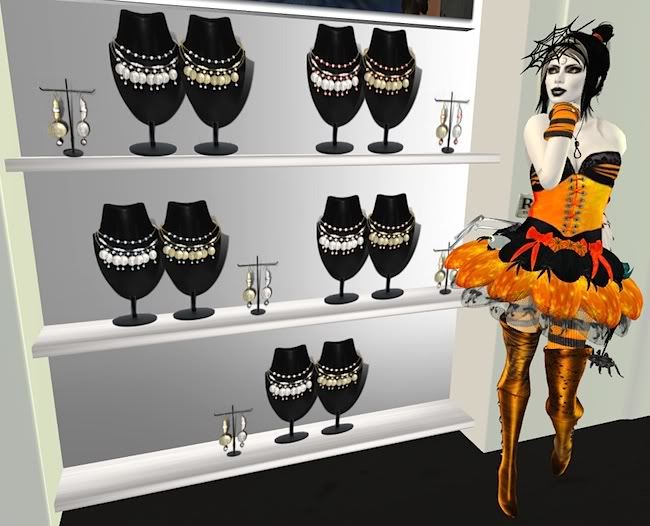 Whenever I feel lonely and sad, sometimes I'll go to Sigma or some other jewelry store and wander around drooling over all the beautiful things that I usually can't afford. It cheers me up.
That's weird, huh? To me, there's something really calming about cool metals and icy diamonds, or big vibrant gems that stay strong and beautiful even when the world around them is going to hell. And clarity — I love the clarity and the way the light comes alive in a room full of fabulous jewelry. I think Holly Golightly was on to something.
So yeah, tonight the real world is dressing up and going to parties and haunted houses while my pathetic AV is standing around in jewelry stores. Ugh, I'm lonely. Are you listening, Universe?
LONELY!
I suck at making friends in real life. The people I meet are either very married and glued together at the hip or very frenzied, as in "I'm going to desperately cling to my youth by partying the hell out of every weekend, and by the way, just call me Cougar!" Either way I feel like an oddball around all of them. And I cannot take many more of these holidays alone. I just can't.
GOD I'M FEELING SORRY FOR MYSELF TONIGHT!
Let's just STOP and look at my Halloween outfit this year. It leans toward the cheerfully obnoxious, and you know I like it like that! Plus, I noticed no one else is blogging about Halloween costumes or orange-and-black clothes, so I figured I'd fill that Halloween-shaped hole in your life.
I was fueled by nostalgia and a craving for whimsy when I bought this Halloween Supreme dress by
Fierce
, a store I frequented as a noob.
HELP, I SAT ON MY EX-BOYFRIEND AND HE'S STUCK IN MY ASS!
The spiderweb fascinator, tights and hand wraps are included in this outfit. Skirt can be worn with or without dead boyfriend. Guess how much it costs. A
WHOPPING
5L on Marketplace. Not 50. Five. Get it
HERE
.
Um, but Halloween is already pretty much over, so I'm bummed that I only just found out about it. (I'm totally failing in the "News You Can Use" category right now. Sorry.) Get it anyway. Get it just for the ex-boyfriend ass accessory. Attach it to your Santa suit next month. Or you can do what I did and stick the whole outfit in a folder named
"Really Cool 2011 Halloween Stuff — Use in 2012!"
Hahaha. Right. Next year there'll be a fresh new jam-packed folder of Halloween stuff, but hey, at least the intention is there. Recycling is good!
Now please join me in exclaiming,
"OH MY GAWWWWWW — THOSE BOOTS!"
I love them so much and they're
free
for
Miamai
group members. Find them outside the store with the pumpkins. I'm not sure how long they'll be there, so RUN!
RUN LIKE THE WIND!
They're not too Halloweeny to wear past the holiday. Yeah, they've got some spiderwebs on them, but so does my vagina these days and I still occasionally use it.
Oh oops, I failed to mention that they're mesh (the boots, not my bits). Some people, myself included, are on the fence about mesh, but I do LOVE IT in shoes. Yes! Mesh belongs on my feet! Gimme!
Speaking of latex (we weren't, but I needed a segue), you only have a few more days to pick up your limited-edition S&M Dominatrix Cats! Whip not included!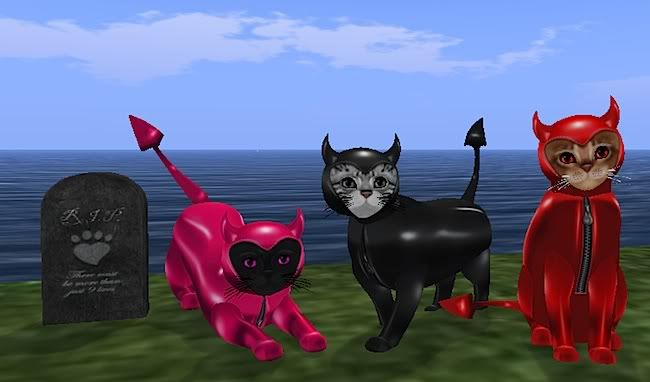 KIDDING!
I love them. These are the Halloween Devil Dolls cats from
KittyCatS'
Haunted Collection, which also includes SkeleCats and Love at First Bite vampire cats. They're available through Nov. 3. I'm too damn exhausted to write about all of them, so go look at the pretty pictures and read about them
HERE
on the KittyCatS Website.
I know some of you don't do the KittyCatS thing, but if a spooky cat strikes your fancy you can always buy one and feed it Perma-Pet vitamins, which'll transform it into a pet that doesn't need food.
I'm actually feeling a little bit better now. About 30 minutes ago I was on the brink of jumping in my bathtub with an extension cord and a running blowdryer, so thanks for listening!
And now I'm off to try to finish the Zombie Popcorn Hunt, which ends in a few hours. (Ooch.) I'm all about the last-minute thrills.
HEY EMERALD, GIVE US SOME SLURLS AND STUFF!
Sigma
Fierce Halloween Supreme on Marketplace
Miamai
KittyCatS
and: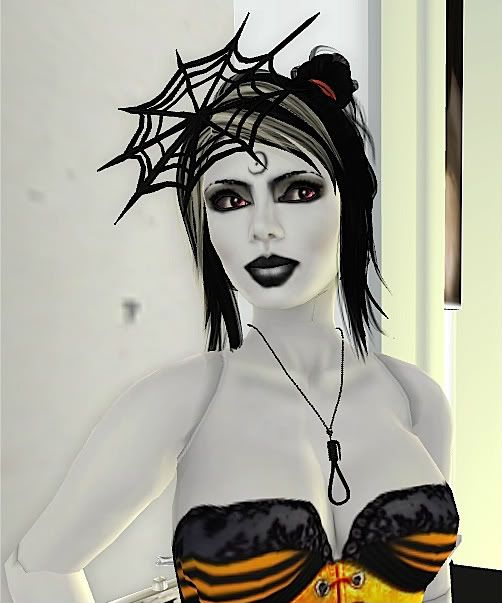 Skin
-
[sYs]
— Puppet - Dual Skin in Pure, worn with the included Rune tattoo on forehead
Hair
-
Truth
— Cate in Streaked Crow
Necklace
— Hangman (I shrunk the hell out of it, sorry) -
KOSH
, Zombie Popcorn Hunt Prize #23
Eyes
-
Sterling Artistry
— Starlight eyes in Fuchsia Nebula