I wish I had one of these things in real life.
He could teach me how to samba, I could teach him how to Dougie and then we could have hot, bony sex afterward.
I've been trying to do Halloween on a budget this year, but I did splurge on this Mr. Bones You Tease pose prop (485L) from LostAngel. He's got eight smooth Casanova moves, and when you're not making sweet skeletal love to him, he makes for quite a spiffy wall hanging.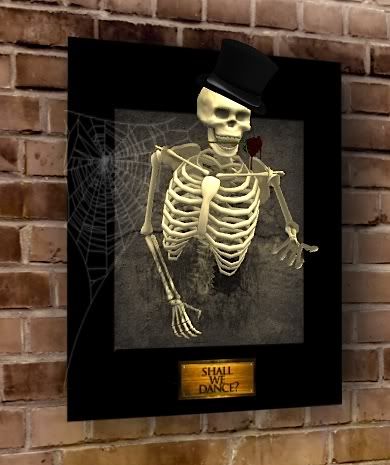 Whenever I use any pose from LostAngel it reminds me of an embarrassing noob story. Basically I spent my first year in SL just kind of running around making a complete ass of myself. I also liked to get gussied up in my blangin' high heels and snazzy full-perm duds and hang out at fashion shows. One time [in band camp] at one of these shows, I saw this smokin' hot guy and clicked on him to check out his profile.
But instead of clicking "Profile" I made that
OH-SO-EMBARRASSING
mistake of accidentally clicking "Add Friend" instead.
I was totally mortified when he accepted my friendship. He probably looked over at my badly modded hair and seizure-inducing shoe bling and took pity. Then I dug the hole of humiliation even deeper by saying, "OMG I'm sorry — I only meant to click Profile." ("Because I'm a total profile perv and I wanted to read all about you and possibly stalk you or at the very least fantasize about you.") But he said, "Too late! We're friends now! :)"
We never talked again after that (I'M SHY), but he never booted me from his friends list either, which was kind of awesome of him. He was Pier Tempel, and later I learned he was one of the original founders of LostAngel. And a model. And an admired photographer. God, I'm such an idiot.
I guess Pier has left SL, according to the
LostAngel Industries Web site.
But every time I use a LostAngel prop, I remember what a nice guy he was that day. (And his SL AV's ghost still lives on my friends list.)
Let's pause for a spanking.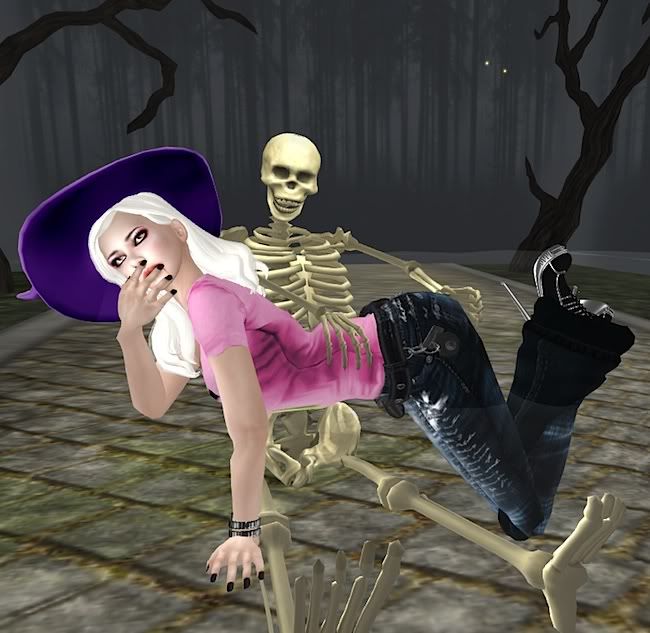 "Oh Mr. Bones, you tease!"
I'm bummed Halloween is almost over. I had so many things to blog, but my well of creative juices has pretty much run dry. [Or insert some other analogy here. I'm at a loss.] But it wouldn't be Halloween if I didn't at least muster up the will to tell you to go grab some free Halloween T's at
terri.tees.
This Pretty Witch tee ("I feel pretty! Oh so pretty!") is part of her prize in the
Half-Baked Mini Halloween Hunt
(through 10/31). It's hidden in a candy corn. (Hint: Look up, especially if you're feeling cornered.) She also has walls of free Halloween T's back in the Freebie Corner. This year she used images from a vintage monster version of the Old Maid card game. Awesome.
Also wearing:
You're a Witchy Star hair/hat (275L for a pack of five colors) by
Clawtooth by Clawtooth
. The hat is color-change.
I have to go try to finish the Zombie Popcorn Hunt now.
VISIT INWORLD
LostAngel
terri.tees
Clawtooth by Clawtooth