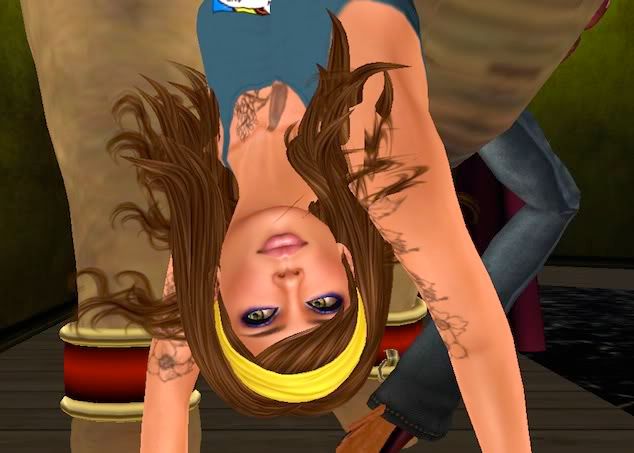 (Hi from my lunch break at work.)
This picture has no purpose, actually, except for the fact that I like taking big damn pictures of my face while I'm hanging upside down. (I think I'm hanging off an elephant's trunk. Getcho minds out of the gutter.)
I'm not going to talk about that Belleza Elle skin because by now you've probably read about it on a much better blog. Yeah, I like it. Not as much as Alyson, but it's a'ight. (I have no clue how to spell that word.)
So I've been gone for a while.
It started with getting rushed to the hospital -- OK wait, that sounds melodramatic, try "swiftly driven to the hospital" instead -- a few weeks ago because I thought I was having a heart attack. And what's funny is, all I was really thinking during that rush was, "Oh my God, I'm gonna end up being one of those 30-something-year-old chicks who have a heart attack and, as such, become part of a little-known statistic in an American Heart Association pamphlet." (Heart disease is the No. 1 killer of women.)
Seriously.
Not "Oh shoot, my heart is about to explode" or "These could be my last moments on Earth," but "Damn, my legacy will be part of some doctor's office pamphlet that no one is really going to read."
Nice.
Oh the things we think about when our lives are in potential danger
But it wasn't a heart attack. It was a panic attack -- a bad one. Gee, that's not embarrassing or anything.
The whole experience made me worry about what would happen if we really did have a zombie war.
Like, I always thought I'd be one of the "kick ass until I get chomped" zombie fighters, but now I'm worried that I might be one of those chicks that, you know, scream, cry, fall down a lot, freak out, hyperventilate and basically annoy the hell out of everyone until somebody says, "Just throw her to the zombies as a distraction and then let's all haul ass."
Um . . . I'd better follow the rules for being a good blogger and break up this text with a picture:
Neigh.
(Try a high-res pic next time, Emerald.)
This is what my viewer looks like these days: distorted and stretched. I look like a forlorn horse.
The only things that save this pic are the hair (Giada in Almond by
Truth,
with texture-change script for the headband) and yet another one of
terri.tees' ROCKIN'
T-shirts. This one's called Hooked and it's a free gift in Terri Wardell's store right now, along with two other hilarious tees in separate boxes.
"I'm hooked on sex!"
"And drugs!!!"
Chortle. I love that store, seriously. I've never met Terri -- she's like this T-shirt fairy who occasionally drops awesomeness in my inventory for possible review -- but if I ever do meet her, she will get glomped.
So yes, these days my face looks all horsey on my viewer and The Bunny isn't doing so well either: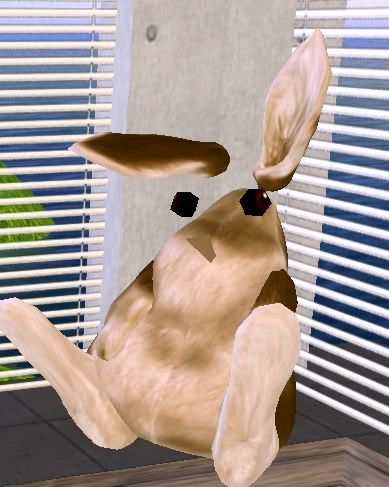 Uh. Yep. I sleep with the lights on now.
OK so back to panic, because I'm really low on SL material at the moment, but
OH SO RICH
in RL adventures. I'll try to blend them though. *gets out the mixer*
That case of the Mean Reds eventually landed me in the office of an Executive Development Counselor. I'm pretty sure that title is a euphemism for "a shrink who deals with corporate working stiffs who are loony but not loony enough to get out of working altogether."
Apparently my company has a running
ACCOUNT
with the guy. Hey, presidents of companies across America, if your work environment is so damn stressful that you need to retain the ongoing services of a local shrink, maybe there's something wrong with your company. I mean, it's not like we're first responders or police officers or firefighters or heart surgeons. We're just PR flacks.
So, um, yeah, I got hooked up with a package deal of six sessions with Dr. Tell Me About Your Childhood. I've made it through two of them and I'm already having a really hard time keeping a straight face. He's pretty woo-woo, and not in a "Can you woo woo woooooooooo?" Jeffrey Osborne-kind of way. For instance, in just two appointments:
-- I've pretended to be hypnotized while I pretended to travel back in time and give my eight-year-old self a big hug. (She told me to screw off.)
-- I've tapped vigorously on my chest for what seemed like an hour to open up my heart chakra. (Ask me to show you my bruise.)
-- And, my all time favorite, I've collected
ALL MY ANGER
in my
MOUTH
and
SPIT IT
far out into the ocean.
Never mind that there's no ocean in Tennessee. We created an imaginary one.
"Do you have a problem imagining a place that only exists in your head, a place where you can always go to heal?" he asked.
(Dude, I'm currently paying
RENT
for some imaginary
LAND
so I can live in an imaginary
HOUSE
that only exists on my
COMPUTER SCREEN
, so I really don't think we're gonna have a problem with that one.)
I'm done spitting though. For all I know, he's filming me and that sh*t is gonna show up on YouTube any day now. Plus, I'm worried that he's gonna ask me to
POOP
out my anger next time. And possibly throw it at someone. Like a monkey. You think I'm joking, but I'm being dead serious.
There will be no more anger excretion. I'm putting my foot down.
In fact, I want a new shrink. Surely there must be some other "Corporate Development Counselor" out there. I want a kindly Jamaican grandmother-type instead, with reggae playing in the background instead of dolphins wailing in disgust because someone stuck them on a New Age CD.
Or a wise old karate master.
"Wax on, wax off. Mind clean, car clean, The End. You're fixed. Now get out there and bust some bricks with your bare hands."
STOP!
Bad picture time!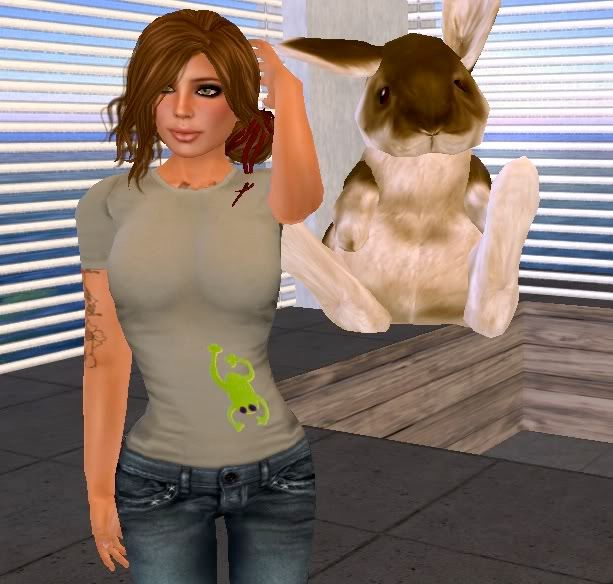 That hair is the new Emme (in Almond) from Truth and I'm partial to it because that's a happy name. My SL friends call me Em or Emmy and it always makes me smile — in my case it makes my life seem not so, well, green. And
NO,
that's not why he gave it that name, but
YES
I'm totally diggin' it. I'm all about the sloppy sexy look.
You can change the ribbon color. And the only reason it's slicing through my shoulder is because I'm magic. (And too lazy to mod it.)
The Froggie shirt is another terri.tees creation (25L) and proves that Terri can do simple and charming just as well as she can do hilarious. The jeans are League's Garage Jeans in Turquoise. The skin is Alyson 7 by Belleza, cleavage option of course.
There's been a lot of talk about crediting the pose creators in blog posts lately, and I totally agree that we should do that. I'm not posing (no, reallly????), but that "hold on a sec while I brush my hair away from my face" move is courtesy of Trin Trevellion's Play AO at
SINDecade
. I love it so much, I will never ever ever give it up. Strangers always ask me where I got it. That's where, kiddies!
That sausage arm hanging down like a butcher-shop bargain is courtesy of Emerald Being an Idiot.
(LOOK!
The bunny got camera-ready all of a sudden! So nice to see your furry face, Bunny!)
Finally, I feel like I need to address some recent and somewhat disturbing . . .
SHOOT HERE COMES MY BOSS!!!