Hey, I got a boob job in real life!
(Let's see if prudish PhotoBucket kills this picture.)
(Do I win the award for Most Random Way to Start an SL Blog Post?)
I didn't do it to be a sex bomb. I just got tired of being a 32 AA. Yes, AA. As in "Ain't Anything (There)." I wanted to be able to wear pretty tops and lovely lingerie and grown-up swimming suits. And I hated that moment of unveiling in front of a man — taking off my bra with four inches of padding and yelling, "FOOLED YA!" So I got some very proportionate C's. I marched into the cosmetic surgeon's office with a picture of my avie and said, "I want THIS rack right here!" (Kidding.)
As soon as they settle down, I'll be able to wear bustiers and bikinis and outfits like - dot dot dot - The Primrose Path outfit, which is
Sn@tch's
prize in The Platinum Hunt Deux, which started today.
Whew, I knew I'd get a segue in there somehow. All the pertinent details about the hunt are at the bottom of this post, in case you want to skip the babble.
Anyway, as for the new and improved bosom, I'm going through the post-surgery misery phase right now. Damn, these things are kind of cumbersome and uncomfortable as hell and my nipples are throbbing like a toothache and I have to wear this BDSM-style strap around my chest because the implants (saline! smooth! round! high-profile!) still haven't "dropped and fluffed" yet. In fact, the surgeon says it could take a month or two or even three before they drop and fluff. If you understand that sentence, you understand my misery, so IM me in world and let's talk fake boobs!
But enough about those things! Let's chat about a topic that nobody else is talking about: The Platinum Hunt Deux. I know many people, myself included, are on a tight budget and may take pause at the thought of paying 10L for a hunt prize. I bribed my way into the blogger preview room though, and I can attest to the fact that — depending on your tastes — most of the prizes are well worth it.
(
UPDATE:
Oh my GAWD, those insane girls over at The Rumor blog took pics of tons of the prizes! So see them
HERE
and decide for yourself.)
For instance, hell yeah I'd pay 10L for
Sn@tch's
Primrose Path:
It includes pink, blue and yellow versions of the cute bodysuit, the awesome netted hoop skirt and the stockings. (Also shown, not prizes: "You Lookin' Twice" pose from
(pda)
's Dracula set; Belinda pumps in Rose by
Berries, Inc.
)
More prizes: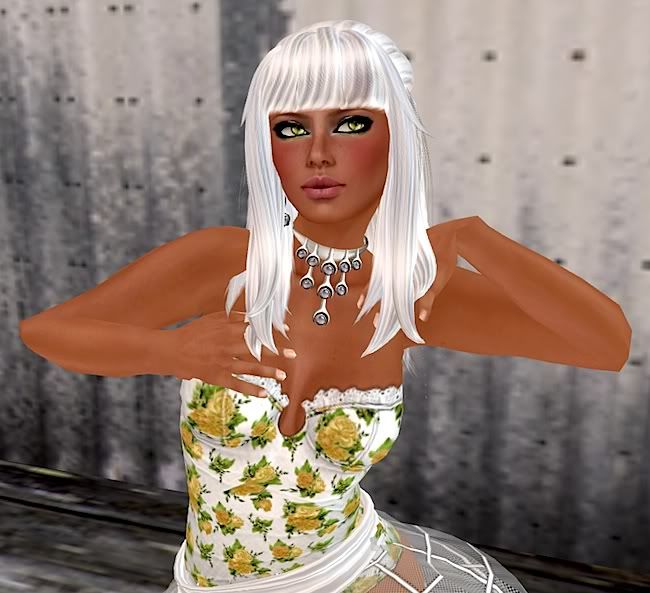 (My left elbow and wrist look awesome in this picture.)
-
Barbarella necklace
(set includes matching earrings) at #38
Donna Flora
-
Platinum skin
at #78
Filthy Skin,
includes a cleavage option in a tattoo or undershirt layer (shown at top, fried eggs not included). WOW! I'm not used to being this tan, but I do love the lips and rosy cheeks. And the nose. I'm picky about my pixel noses. This one passes muster.
-
Platina eyeshadow
in Khaki at #41
Rozena
(prize includes a set of six colors; the pink version is shown in pic No. 2)
(Also shown, not prizes: Tussilago eyes from the Herbalist collection at
Vision - Eyes by A:S:S
; Eliza hair by
Rezipsa Loc
.)
I'm also digging the Platinum Model pose prop, one of two prizes at #68
*BOOM*
. DIGGING IT, I tell you!
Menu-driven with seven poses and six background textures.
Well. Sometimes you just have to flat-out admit that you don't know how to end a blog post.
I don't know how to end this blog post.
JOIN THE HUNT
- The Platinum Hunt Deux starts today and runs through Aug. 31.
- You are looking for a small, blue Tiffany-style box with a white bow.
- Each prize costs 10L. Prizes are guaranteed to be worth at least 400L.
- According to the Website, there are 102 stops on this hunt. The starting point is at
Di's Opera
.
- For more information, including a list of participating creators, their SLURLs, hints and a picture of the hunt item you're looking for, check out the Website
HERE
.