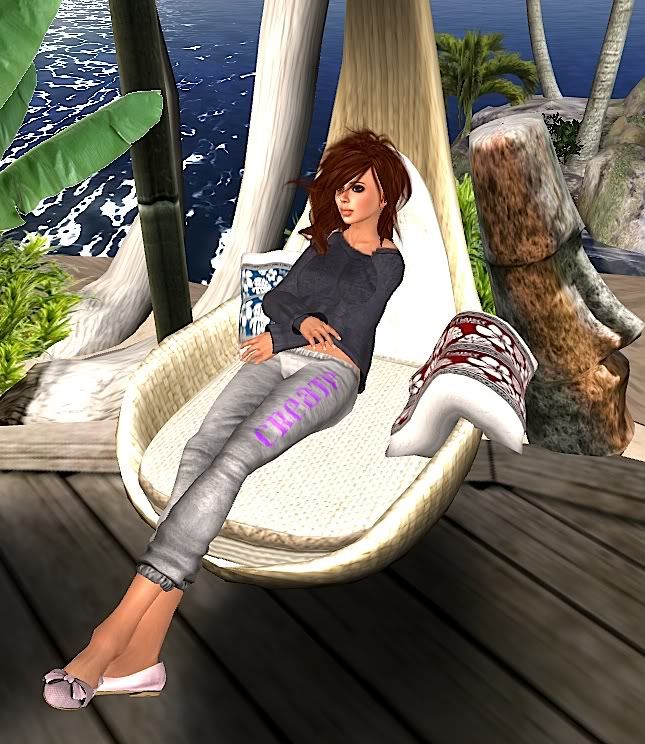 Lately I've been trying to be more adventurous and break out of my comfort zone, primarily in RL but also in SL. For instance, I'm saying "yes" more when I'd usually say "no," particularly when it comes to social invitations. At least that's a start.
Here in SL, I was delighted to discover that
Doppelganger's
new vintage sweatpants put kind of an ironic twist on my quest to break out of my comfort zone . . . because they're comfortable and I've been wearing them a lot these days. But it's not just that — they also have inspirational and encouraging words on them! Create! Dance! Live! Be! Breathe! Smile! Peace! Love! Relax! Chortle! (Just kidding — they don't have "chortle" pants. I wish, though.)
I kind of agonized over these pictures. For instance, in that top one up there, my pants are telling me to "create," yet it kind of looks like I'm sulking over my miserable life. The pic needs to be more joyous. Like this:
Create!
OK, so that just looks painful. Whatever. I tried and that's what counts. I should also be smiling, but ever since that time when I used that emotion HUD and my face got frozen in that huge, Stephen Kingish-killer-clown grin for a month, I don't use those things anymore.
Let's just Be instead.
Be.
That's my meditating "Be" picture. The "Be" is kind of hard to see, so I circled it for you. I guess I also took a trip to Fail City with all the Be pictures, and this one was the only one that didn't make me laugh and cringe at the same time. What, you don't believe me?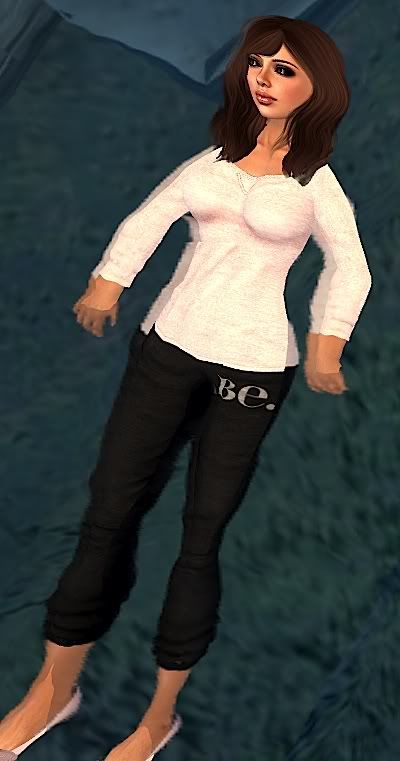 Trying to relax in soothing water. Yes, fully clothed. Cropped out a foreign naked guy who was bothering me. Ended up looking like I was trying to Be a bloated, drowned corpse.
I have no idea. I think that's a really bad waterfall animation. Or an anguished prayer for more lindens. And I guess you also don't need feet to Be.
Let's breathe?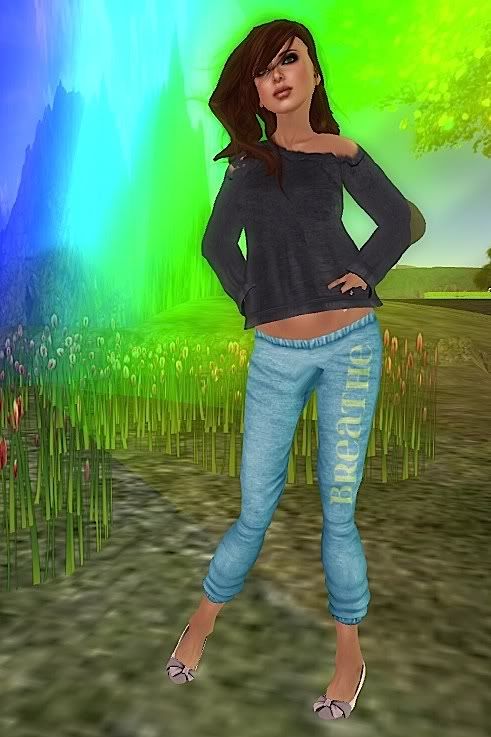 Breathe!
Wow — a little bit of attitude there. "I'm gonna breathe and then I'm gonna slap you upside the head." Oops. Remember, it's not about the model; it's about the clothes. Look at those pants. We love them!
This is my cheesy little 512 parcel that I always forget about. I put a big damn rainbow on it because my neighbors and I are apparently having a "who can be more obnoxious on their horrible inland parcel" contest. But I guess the rainbow humidity really jacks up my hair. Oops.
So, it's time to talk about Live. I'm kind of digging the new suggestions that SL offers on the login screen now. I realize some of them are lame, but at least they provide an alternate to spending lindens and perhaps even some blog fodder. On Sunday I dutifully trotted over to the suggested Art in the Park event, which encouraged me to "take a stroll through the Village" and check out some SL artists' work on display.
"The Village" turned out to be a small shopping square, and even though confused noobs were scattered all over the place, I still managed to discover a couple of artists I liked and buy several paintings.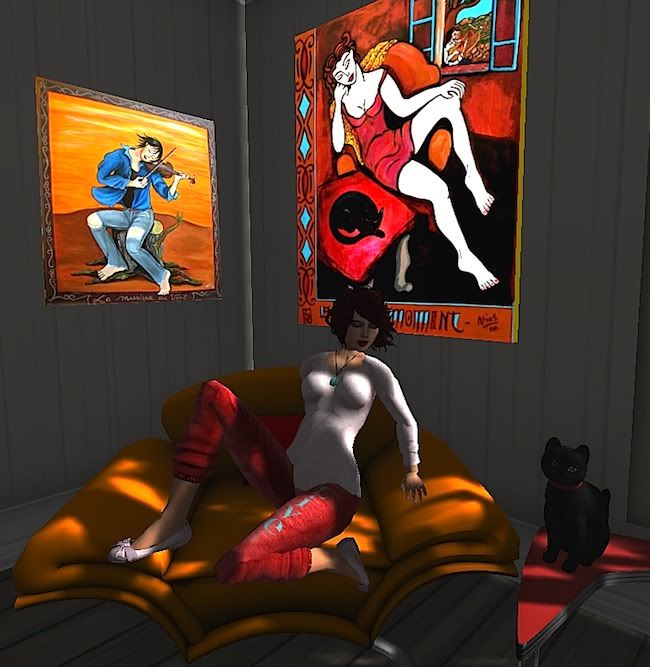 Live!
These paintings — "the magic of the moment," above my head, and "the music of the wind," on the side wall — are by RL/SL artist
bachi Cheng
. A mere 350L each and I love them. Note that I tried to put my own interpretative spin on "the magic of the moment." I'M COOL!
I sat like that until the sun came up:
Sorry. Just thought you should see it without the brooding darkness. Just when I start mastering shadows in pics, the latest viewer update turns it all upside down. Sigh. The cat looks crusty-eyed.
Anyway, bachi's RL Website is
HERE
and one of her inworld galleries is
HERE
.
Let's take a good hard look at my face for a second and then wrap this thing up.
I'm wearing a skin I won off a Lucky Board at
Mother Goose's
(out of my comfort zone!) and
Truth's
new short, curly (out of my comfort zone!) Claudia hair, not to mention a different shape - Allie by
Embody Shapes & Poses
- that I found in my inventory (out of my comfort zone!). The Salvia eyes (haha I wish) and the awesome Narayan necklace (50L at My Second Wardrobe) are by
A:S:S
. See credits below for SLURLs.
Doppelganger didn't pay me to write this post, but in some of these pics, I'm wearing their pink Boyfriend Sweatshirt (120L), which is one of my favorite things to wear when I'm shlepping around SL, which is almost all the time. It's exactly like something I'd practically wear to death in RL. And the unisex vintage sweatpants featured in this post (150L each, 1050L for the fatpack) are available in nine colors with a different word printed on each. Each color also includes a plain version in case you don't feel like wearing vocal pants.
I'm gonna go put on some real sweatpants now and go try to create something in RL. Like a nap.
GET THEM IN WORLD
Vintage Sweats, pink Boyfriend Sweatshirt at
Doppelganger, Inc.
Rad Sweatshirt in Slate (first, second and fifth pic) by
Tres Blah
Shoes:
EcoPois No Leather Shoes (100L) by
Les Petits Details
Hair:
In first two pics, Fair in brown/coffee by
[kik]
; pics three and four: Glowing Review in Girl Next Door by
Clawtooth
; and Claudia in Streaked Burgundy by
Truth
Necklace:
Narayan necklace (50L) at
My Second Wardrobe
Skin:
HENA(2), free from the Lucky Board at
Mother Goose's
Eyes:
Salvia eyes from the Herbalist collection (400L for fatpack) at
Vision - Eyes by A:S:S
Shape:
Allie (249L) by
Embody Shapes & Poses