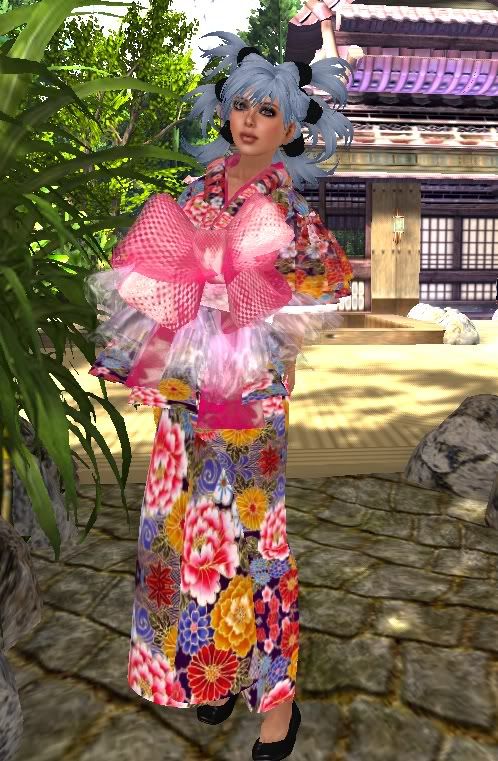 You don't usually see me running around in a kimono, but I'm all about busting out of my comfort zone these days.
I'm wearing this awesome yukata (summer kimono) for a few reasons:
1.
I saw some of my friends wearing it and I wanted to be JUST LIKE THEM!
Kidding, sort of. They did look fabulous in them, though, and I wanted a slice of that fab. ("Gimme a slice of that fab on a silver platter, please!")
2.
It's really pretty and kind of glowy and just a tad bit funky with that big glorious bow in the front.
and
3.
It's
FREE,
if you have the patience. Pinky*Gals has three styles of this yukata with matching hair accessories in its lucky boards. HURRY if you want to try to snag one, because I think they're only out for a limited time. And get your friends together because the boards flip every 30 minutes. Yes, I said 30 agonizing minutes. That's why when I close my eyes these days, I see this:
Yeah, see that Q and that Z? Nice. (I couldn't get the third board in this pic - sorry.)
WOO! After a day-and-a-half of off-and-on board stalking, I won the yellow one and the pinkish one I'm wearing. Then I finally caved and bought the dark one. My patience only runs so deep. The best news is that these kimonos only cost 125L right now, so it won't be too painful if you just decide to buy one.
So go go go! You know you want to unleash your inner funky, glowy geisha! Give me a shout inworld if you need someone to flip an E. Those 30 minutes can feel like an eternity.
Here's your private jet:
PINKY*GALS LUCKY BOARDS
NOTE:
You'll need to join the Pinky*Gals group to slap them.
Much thanks to my friends over at the
Lucky Kitty Crew blog
for the initial heads-up on these things. They always know where the cool boards are. ♥
(Hair: Bumblebee in Ash Sky by LALA Moon)