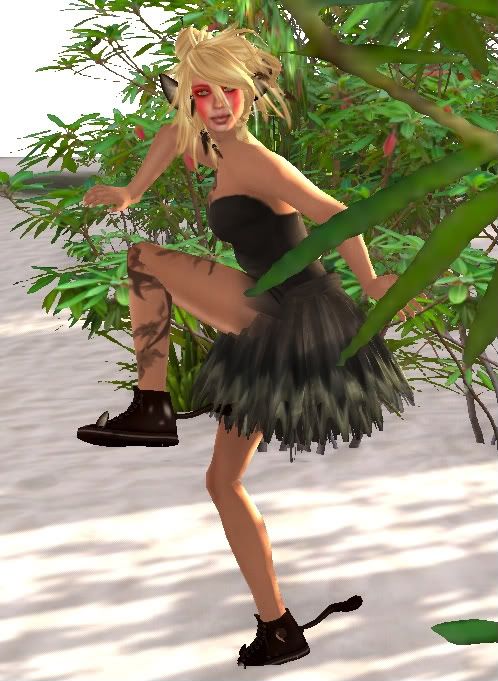 Be very quiet. I'm hunting Meeroos.
I have a love/hate relationship with those little bastards. They're sucking my lindens dry, and I feel like I need to have Master's degrees in math and husbandry (yay, I used a farming word) to successfully breed any kind of impressive and/or profitable offspring. Frustrating. But the gambler in me loves the mixing and matching and the "maybe this nest will finally be a rare one!" suspense. That's all I really want to say about them.
No matter how you feel about Meeroos, you might want to swing by the
Mee & Roo Festivale
this weekend. I love it when SL creators share their individual interpretations of one particular theme. It's like our own little version of "Project Runway." And in this case, some very talented designers were asked to create things inspired by or specifically for Meeroos.
So let's stop blabbing and look at some of this stuff. I'll try to keep the commentary to a minimum. (Keep your fingers crossed.) And while we're at it, let's knock out some more
Hair Fair 2011
styles too. You still have all day July 15 to frolic around that place. Unless noted, everything shown in this post is from one of those venues.
Up top:
Vanita's Vesture
's Quixotic Party Dress in Ursine is only 150L and can go from crawling through the jungle during the day to a hip, happening shindig at night in a snap. It's fierce with a capital F, kids. And speaking of fierce . . .
I love this
(red) Mint
Hair No. 11 so much, I want to shellac it and hang it on my wall. If I could run around in RL with totally jacked-up hair and a bunch of feathers stuck in it, I'd be in heaven. Heaven, I tell you. And I'm holding a very rare, newly discovered traited Meeroo — the mystical No-Ear, No-Feet Meeroo. I heard that only one in 50,000 people will be lucky enough to breed one. I named mine Hulk Smash.
Makeup:
Masked Makeup Set, 100L, by
la petite morte
— please note that the fuzzy lips are my computer's fault *kicks it*
Ears:
Meeroo Ears and Tail set, 100L, by
Jolly Farm
.
Tattoo:
Jungle Vine tattoo by
Para Designs,
not at festival
Meeroos sneaks by
Jolly Farm,
200L. Win.
I guess I should have mentioned that I got to preview this event today while it was still a work in progress. I was so excited to see
Evie's Closet
there that I jumped up and down until somebody told me to quit it.
Bug-A-Boo Berry Fairy in Blue Berry, 175L, but there are four color variations of this bubbly little happy happy fun dress, so you might want to snag the fatpack for 350L. And yeah, we're kind of ghetto over here. We don't have a magical sparkly forest. My Meeroos live in a stable and sleep on hay. But so did Jesus for a while, so don't hate.
Shoes:
Silk floral booties in Rose by
Duh!
,
not at festival
I'm a big dorky, shy fangirl of Evie, but I gathered my courage and got really brave today and asked her for a picture of her Meeroos for this post:
*dies laughing* WOW. And that, my friends, is yet another reason why she is so damn awesome. Now let's all go over to her place and play Jenga with those things.
So anyway, I broke a major fashion rule and matched my hair to my wings: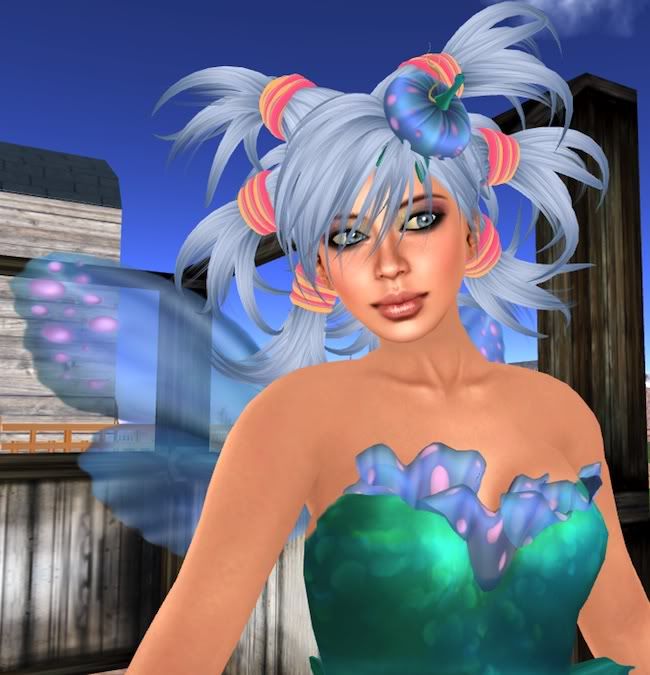 (Look at that little hat that comes with the Bug-A-Boo outfit! Awwww!)
Hair:
Bumblebee in Ash Sky by
LALA Moon
. Each color also includes a version with black bands.
Eyes:
From the Bootiful Blue set at
Re.Birth
,
not at festival
Makeup:
Vamp Rose eyeshadow, 25L, by
Star Salt
. Creator Anarya Elderslie has several shades available at Mee & Roo for this very awesome price. Here's another one: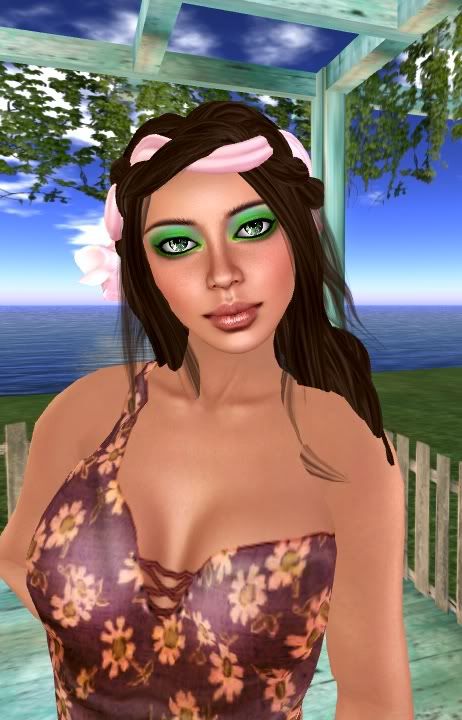 Star Salt
makeup in Clover, 25L. I like the way it also changes the shape of my eyes. And it matches my Clover Meeroo!
Eyes:
Forest from the Sparkles in your Eyes III set by
A:S:S
.,
not at festival
Hair:
Gemma in Espresso by
Aoharu Hair
. The headband is color-change. I like Aoharu's hair at Hair Fair this year, but their colors need a little oomph, in my humble opinion.
Top:
From
SySy's
limited-edition (only 50 available) GypsyLady Dress, 250L, at the new
B.Unique shopping event.
I just checked — there are still some left.
As long as we're on the subjects of Aoharu at Hair Fair and eyes:
Eyes:
Like a 'Roo Eyes in Orchid - Clear by
HooT
, 25L. I liked them so much I went back and bought the 200L fatpack.
Hair:
Color-change hat with attached Megan hair in Maple Brown by
Aoharu
. Cute!
Necklace:
Gift to Meeroos Beta testers who preordered family packs; unfortunately it's no longer available. I would sell it to you but it's no-trans.
You'll also find Meeroos habitats, garden items and pose props at Mee & Roo. I would show you all of them, but this post is getting tedious and I know you like a little mystery in your life. Suffice it to say I loved this Summer Pergola (Beach Blue edition, 100L, other colors available) by
HooT
and these mushrooms — available in the Meeroo Display Set, 65L, and Land Deco Set, 55L, both shown below — by
Little Boxes.
They're all copy, so you can fill your whole yard with them.
Well, that was fun.
Can we do it again next weekend, but with Dodos?
VISIT IN WORLD
Mee & Roo Festivale
(runs through July 17)
(red)Mint at Hair Fair
LALA Moon at Hair Fair
Aoharu Hair at Hair Fair
Complete list of Hair Fair designers/SLURLS
(runs through July 15)