(When I get all mopey with the blues and stuff, I listen to Missy Elliott. *points up at the random title*)
My inventory finally loaded! My inventory finally loaded! Let's put aside the emo and the lame attempts at humor and just talk about hair and clothes for a change. Sweet, sweet sigh of relief.
So, there's this thing called Hair Fair 2011 going on right now. I pretty much missed all but the last 20 minutes of Blogger Preview Day (was it last week? I've lost all track of time), so I'm just straggling over there now. One notable detail is that ALL hairstyles are donation styles for Wigs For Kids this year. So get over there and go wild! You have through July 15. (SLURL info is at the end of this post.)
So far I'm loving this Cynth hair by
SugarSmacK
, so much so that I may go back and buy the fatpack: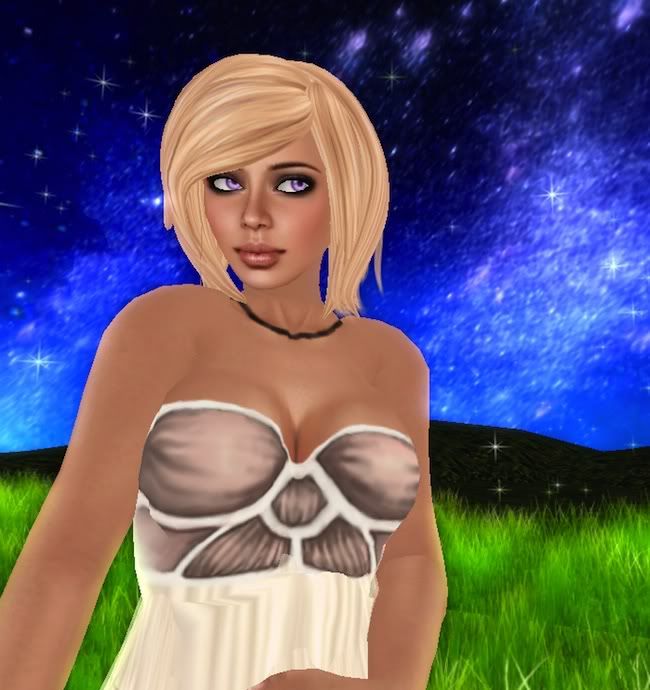 Cynth in Maple-Berri Blondie from the Bombshell Blondes pack (four colors). So damn sassy I can hardly stand it! I'm wearing it a little big, to be honest, because I'm from the South and hair bugs me in both worlds if it's not huge. I'm being serious. Plus, I have baby-fine hair in RL so I like to live vicariously through the +20 button on resizer menus.
Anyway, I don't know what I love more — the hair or the name of the designer. I want to make up a new karate move now called sugarsmack. Then I want to put on some pink spandex and hit somebody in the face — but without breaking a pink fingernail — and yell "SUGARSMACK!" when I do it. But I want it to be in a spiky cartoon balloon coming out of my mouth like a comic book.
. . . totally lost my train of thought. Oh yeah. Check out the cute back: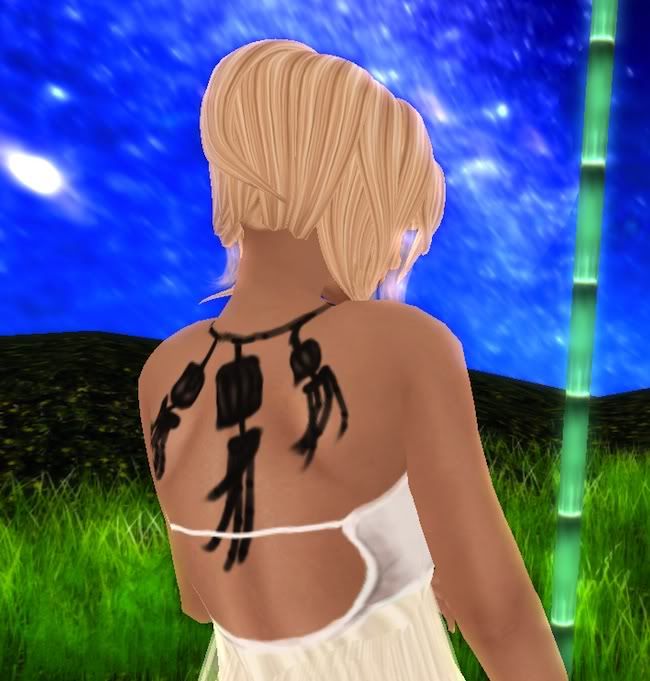 Kicky! If I got this hairstyle in RL, I'd end up looking like a "I'm trying so hard to be hip but I'm kind of failing" soccer mom. Trust me. I've already lived it.
You like that tattoo? It's by
Mees
, at
Twinkle Night Bazaar
in celebration of Tanabata (traditional Japanese star festival), and you still have until midnight to get over there! Fabulous affordable Japanese stuff. I bought almost everything there and didn't even cry. That's how affordable it is. Look at this Eve dress, also by Mees:
It's 90L. You've got that in your back pocket in pocket change! I know you do! And what the hell— I guess I only took that one picture of myself in that dress. Oops. Dislike. I look like I'm getting ready to go off on somebody. ("Now listen, you!") But wow, I love the top of that dress. It pays homage to my awesome cleavage.
I'm posing in the TSB Sky Room, 100L, by
nocc.
, also available at Twinkle Night Bazaar. I bought it, rezzed it and then I had no idea how to get in the damn thing: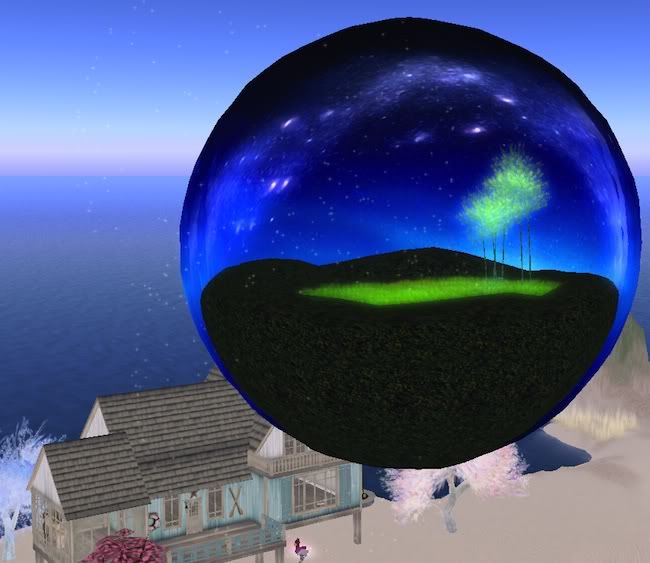 I flew around slamming into it like a mentally challenged moth for a while and then I finally rezzed a stool in there and sat on it. I am nothing if not resourceful. It's pretty, with glowy grass and tall bamboo and beautiful animated night skies. If I had something like this in RL, I'd never leave it. I have no idea how many prims it is, but it can't be many or my parcel would have bitch-slapped me when I rezzed it. (Or sugarsmacked me.)
Next picture:
Don't look at that one boob. I just noticed it. I don't know what it's doing. Or why. It's making a statement. Or pointing at something. Whatever. But do look at that Isis 2 hair by
Calico Ingmann Creations
at Hair Fair. And the MilkyWay dress, 77L, by
Fall Into Decay
at Twinkle Night Bazaar.
The bottom of the dress is particularly striking. That sounded pretentious. "The bottom of the dress is cool." It's got luminous wisps hanging from the hem:
Those Sequin Flats are part of a 100L two-pack at
A.D.D. Andel!
for La Venta Eventa this weekend. You have until midnight SLT to get them at that price. There's also a green pair in that pack. Another pack has red and yellow pairs. Each pair comes in two versions: bow or no bow. I'll be honest, I felt kind of meh about them (but of course it didn't stop me from buying them) until I put them on. Then I went, "Ooooooh! Cute!"
As for the hair, I wait in eager anticipation each year to see what Calico Ingmann's going to do for Hair Fair. Her work is always so detailed and fantastical. She didn't disappoint this year, IMHO.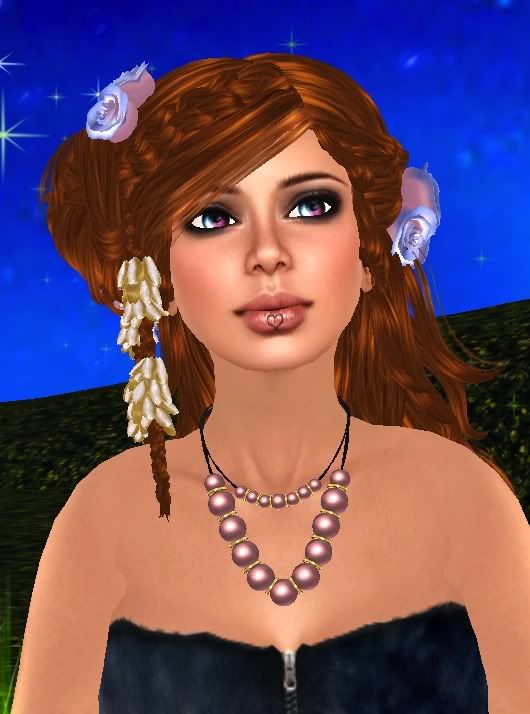 Isis 2, Dark Reds pack — includes a HUD with seven colors, as well as optional streak HUDS in seven palettes.
See! Look how dreamy I look. And yes, that is a tattoo on my lip, thank you for asking. I got it for 1L at
Brit. Store. + Cappuccino Bar
. Cute store. (Eyes: Tears in Your Eyes in Orchids by
A:S:S
. Skin: Kianna in Smokey by
Mynerva
. Necklace: Sunset necklace by
Your Skin & Your Shape
for The Dressing Room. No longer available, but the rest of their jewelry at the main store is just as awesome.)
Side view: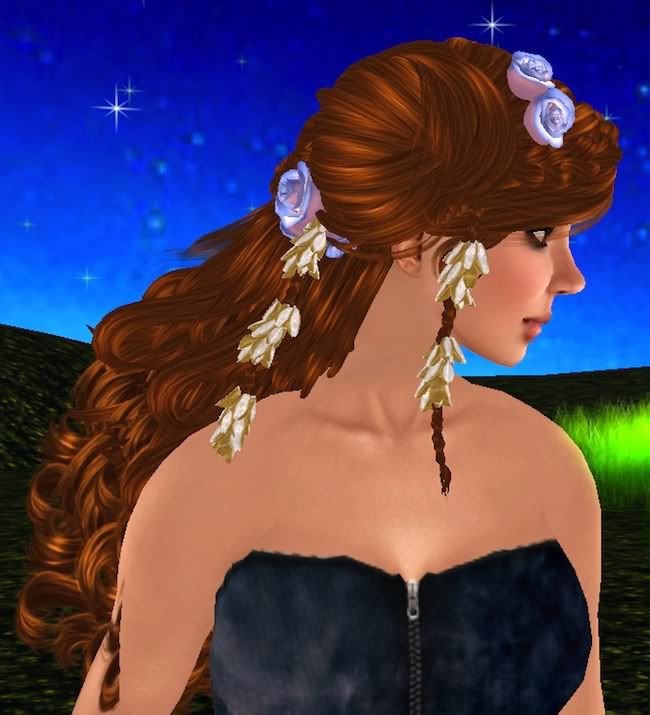 The shells and the roses are HUD-controlled texture-change with many color options. The braid is detachable. There's a mirror version of the style if you prefer the bun and braid on the other side. It also comes with a beautiful headpiece (not shown). Wow!
There's a great list of all the designers and SLURLs
RIGHT HERE CLICK HERE
on the Hair Fair 2011 blog if you haven't found it yet. I've read it and re-read it and I can't find Curio Obscura though. WHAT? NO! If Curio Obscura isn't releasing any wild and wacky hair this year, it's going to be the ICING on my SUMMER OF SUCK CAKE.
Sigh. Oh well. Stay tuned for more great hairstyles in the next few posts.
VISIT INWORLD
Hair Fair 2011 SLURLS
(on four sims, runs through July 15)
SugarSmacK at Hair Fair
Calico Ingmann Creations at Hair Fair
Hair Fair 2011 Blog
Twinkle Night Bazaar
(until 12 a.m. SLT July 11)
A.D.D. Andel!
Brit. Store + Cappuccino Bar
A:S:S Deluxe
(new eye store by A:S:S!)
Mynerva
Your Skin & Your Shape