"Emerald attempts to take a photo in Suicide City."
Every time I TP there I end up screaming like a little bitch.
It's a mother-effing zombie clown!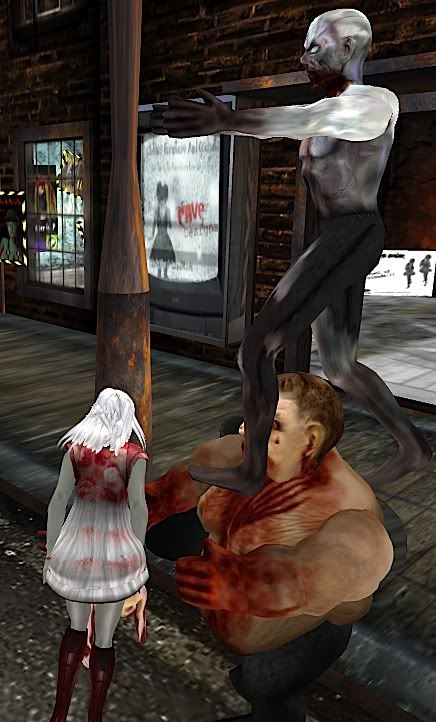 FYI: They can jump. And they will push you around.
So much epic fail I can hardly stand it.
I like that estetica pose a lot, but I never want to see it again. (Bollywood!)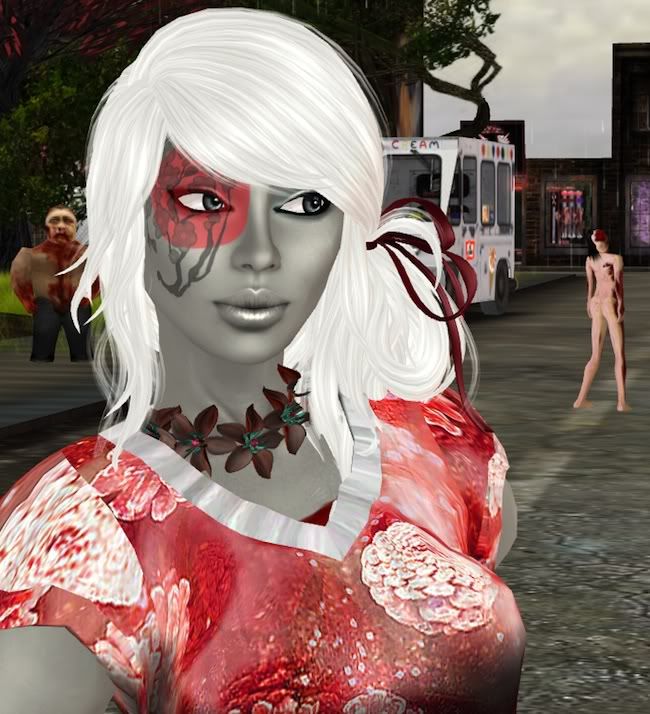 Visit Inworld:
Suicide City
This was my first time messing around with mesh (the dress and the boots). It was interesting but kind of a hassle. I screwed around with my shape for about an hour to get it to fit the dimensions of this dress and still failed. The included alpha layer was helpful, but there were still places where my shape was bulging out on the sides at first. For instance, I'm just now noticing that my arm is cutting through the sleeve when I pose. Oops. I finally shrunk all my dimensions down to zero (except my arms, apparently) and also had to add a red tank top underneath and blah and blah and blah and blah. Sheeeeeezus this paragraph is boring. Sorry.
That Nocturnal choker is ROCKIN' and it's from one of my favorite places,
Bliensen + MaiTai.
It'll be available at the upcoming Jewelry Fair 2011, which starts Sept. 16. (See link to the Website below.)
If you want that dress — which was a group gift from Baiastice (thank you, Sissy!) — I checked and it's still in group notices. I have no idea if you have to pay to get in that group because I've been in it since I was a little noob. It's kind of impressive that it has survived the test of time, actually. And on that note, I think we all need to post a "How to Check Group Notices" tutorial because I hear people wailing, "HELP MEEEE! I DIDN'T GET THAT NOTICE!" like the world is ending or something almost every day.
Dress:
Runa_First Mesh Dress -
Baiastice
group gift
Boots:
Madison Boots (Mesh) -
Deco
Hair (except in photos 3, 5 and 7):
Abigail in Pearl -
Truth
Necklace:
Nocturnal - coming Sept. 16 to
Jewelry Fair 2011
- by Bliensen + MaiTai
Eyes:
Dreamer eyes in Moonlight -
Vision - Eyes by A:S:S
Skin:
Layla in Grey -
Glam Affair
for TDR
Makeup:
Sakura -
Vita's Boudoir
for Help Japan
Pose:
Bollywood 5 -
Estetica