(This is a repost -- with updates -- from my previous blog [you know, the one I smashed with a wrecking ball]. The cause means a lot to me, so I wanted to post this info again. Thanks to the lovely and talented
Asha Brim
for helping me find the original material.)
My friend
CeN
recently introduced me to a place called Garden for the Missing. Since I'm only seven months old here I was previously unaware that such a place existed in SL, but then again, SL never ceases to surprise me.
The
Garden for the Missing
features 170 posters of missing adults and children throughout a three-story greenhouse garden, which includes outdoor areas, a beach playground and places to sit and reflect.
All posters are clickable for more extensive background info on each case. There's a New Cases section to keep the garden current, as well as donation kiosks throughout. Each floor of the garden is decorated in a distinct theme.
SL resident Ronnie Rhode opened the garden in September 2007 and updates it with new cases frequently. As I learned when working on this blog post, she's happy to answer any questions if you IM her. She covers land costs with the donations she receives at the garden as well as with all profits from her stunning home decor store,
Bright & Shiny Moving Art.
Here's an example of some of the striking pieces at Bright & Shiny. Many of the works include the added sensory experience of subtle motion in the design: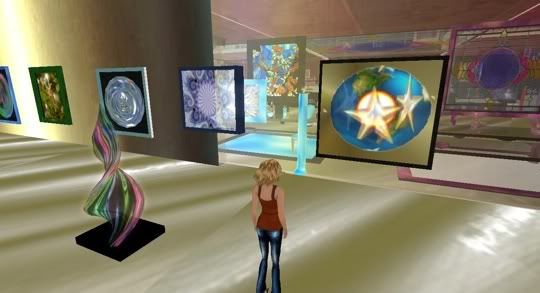 Rhode also supports the SL
Project Jason
center, named after Jason Jolkowski -- who disappeared at age 19 in 2001 from Omaha, Neb. -- and the RL nonprofit organization Project Jason, which aims to support the families of the missing.
You'll find Ronnie's dedication to this project also reflected in the Jason's Angels section of her Bright & Shiny store, which includes angelic pieces such as this Jason's Angels Gold Star Angel Fountain. Again, all sales proceeds go to these nonprofit causes:
There are angels to fit every budget (I bought some smaller versions of the fountain) and most pieces have reasonable prim counts. You can also pick up $99L Jason's Angels necklaces in gold or silver in the store:
(BTW, sorry for this quick digression but I'm wearing the BP* Update Group's latest free gift . . .
PRIM LIPGLOSS!
. . . in that pic. It's like body oil for lips! Whaddya think? Fug or not fug? That group is tricky to find in Search but if you want your own free lipgloss, search for "BP* Update Group" verbatim in Groups -- or just steal the info from my groups in my profile. Yes, I'm giving you free rein to pillage my profile. If you read my blog, you deserve it.)
Anyway, after my initial visit to the Garden for the Missing with CeN, I've returned there on my own a couple of times. It's one of those places that you can't really absorb in just one visit.
During my last visit, I was shocked to see a poster for a kid I knew as a child, Johnny Gosch:
Johnny Gosch vanished at age 12 in 1982 from my grandparents' neighborhood in Des Moines, Iowa, while he was on his daily paper route. He was older than I was and I only knew him vaguely through family, but when this tragedy happened it was shocking, obviously. And as time stretched on and police were unable to locate him, the situation became increasingly sickening. It was the first time the dangers of being kidnapped became a reality for me as a child.
Even now, his mother is still searching for him -- I believe he would be 39 years old today.
When I saw his poster in the Garden for the Missing, my stomach dropped all over again. I can't imagine anything more horrible than going to sleep every night without knowing where your child is. I don't know how I would breathe.
Kudos to Ronnie for her hard work in keeping these cases alive and in the public eye. I encourage you to visit, drop her a few lindens if you can spare them and share the location with your friends. 
As the Garden's welcome note says, "The more people who see the garden, the greater the chance that some family will finally get some answers."