Sorry I haven't been blogging much. I've been haunted by inner turmoil. I have a huge decision to make. Maybe I'll hit you with a philosophical question later.
Anyway . . .
Some days I log in to SL and say, "Today I'm going to do everything that Beanie Canning tells me to do."
I love her
Beanie Loves Japan!
blog so much, I would be lost and crushed without it. And I'm so so so so so glad I read
her post about the Gatcha Gatcha Festival at Cioccolata in Albero
because that fest is now officially one of my all-time favorite things in Second Life. Period.
I hope they do this thing every year, and I'm so damn happy that this one lasts through Oct. 31. The festival is
HERE
and I want more gatcha prizes!
Maybe by now you're asking, "What the hell is a Gatcha Gatcha Festival, Emerald?" Well, a gatcha is a random prize machine that looks like a gumball machine. Even today, in my RL Flirty Thirties, I can't resist gumball machines with toys in them. So imagine how yay-inducing it is to have this everlasting childhood love manifested in such a celebratory way in Second Life.
That's why I love Second Life. Unicorns, wings, steampunkety stuff and gumball machines, oh my!
So picture acres of gumball machines, each one sponsored by a fantastic and fun creator (more than 60, actually, listed over on Beanie's post). Take that photo up there, for example. That's me pouting next to the Pididdle gatcha. I want those tank tops. Unfortunately all I have right now are about 50 brooches and hair dangles instead. So if you'd like one, holler at me
PLEASE!
I'd love to give one, two, or 14 to you.
Here's another one of my favorites, the Rebel Xtravaganza gatcha:
(I look so damn excited.)
Get those dollies, either in standing form or as a necklace, in that gatcha.
Oh, and another important thing about gatcha prizes — they're trans. So you pay usually 10L to 30L (although some furniture- and high-end creators are charging 100L) for a random prize. If you get several of the same prize, you can give them to your friends. For instance, I just dumped about 10 katat0nik Kitty Pop purses (15L each) on my friend
Aisuru Rieko
.
And speaking of Aisuru, it was her birthday this weekend and we had an Asian-themed party for her, which is why I'm dressed like a geisha. You know me, I love to buy clothes, and then once I get them on, I hate to change out of them. I'm "That Girl Who Always Wears the Same Outfit Four Days in a Row."
That's about all I've been doing: having gatchorgasms and plodding through hunts. I'm probably not going to finish the Twisted Hunt (unless someone drops me a cheat sheet, hint hint) and I've been working my way through the Pretzel Hunt because there really are some decent prizes in that one.
Oh, I got booted (albeit with a very fashionable boot) out of the Vain group for making a joke about some talking nipples on a Midnight Mania board, but I'm not bitching about it. I did break the charter by mentioning an MM board in group chat, so I deserve it, and I accept the consequences of my nipple-tootin' actions.
But speaking of Midnight Mania boards, here are two that you need to slap the hell out of. It's probably too late to lock them down tonight, but try tomorrow. I'm going to. So now for a part of my blog that I like to call, "SLAP IT LIKE YOU NEED IT!"
"SLAP IT LIKE YOU NEED IT!"
YES!
I want to bang the drums like Ringo and you secretly do too! You know you do! This drum set comes with animations, and we all need to
GRAB IT
before SL yanks it for The Beatles copyright infringement! So slap that board
HERE
at Guitar Palace!
Next:
Ever since I saw this board in the Toastyville Mobile Park (awesome place BTW), I've had this wild fantasy of running up to people and
THROWING CANDY AT THEM!
We need this in our lives, if only for the LOLOLOLOL factor. So
PLEASE HELP!
(And hey Prad, I totally would've bought this thing and not begged for the freebie, but I couldn't find it.)
Slap that b*tch-candy up
HERE!
Getting back to the whole Vain topic: Before I got kicked out, a lovely lady in group chat offered to sell her 512 mainland parcel (did I get that lingo right?) to a premium member for $1L, provided that person wouldn't sell it.
Hey, that's me!
So I bought it. I've kind of kissed my Chicken Disco Art Installation fantasy goodbye for lack of talent, but I started to set up the parcel so I could at least try to sell my miraculous chicken eggs there, if anyone's still buying them. I have some gorgeous scarce eggs and a bunch of ancient ones. So I gave it the all-American try, and wow, my little parcel looks fug with that badly layered winter backdrop and no eggs in sight yet: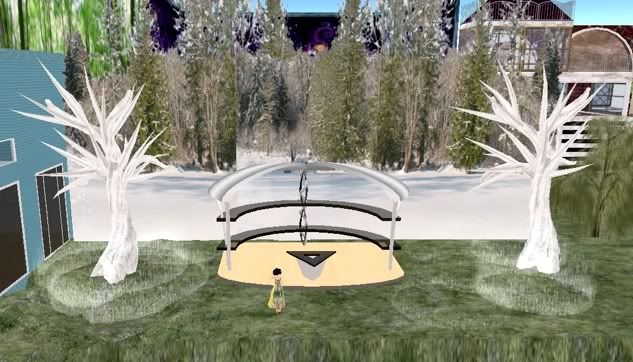 I really need a builder who can help me put some wintery walls around the thing.
Otherwise, it just gets crammed in with all the other little parcels.
*sends out smoke signals for help*
All that aside, I'm eventually going to put up a little house there, I think, once I'm done trying to sell my eggs. Not for me, but for whoever might need to pop in and use it.
And in the meantime, I want to invite all my blog readers to use that parcel for rezzing things, changing clothes, hiding from stalkers, chilling out, or whatever else you may need it for. I've set it to public access. Just clean up after yourselves please, and if you're SLexing there, please wipe up all bodily fluids. I'll make a land group, once I figure out how, so if you homeless people need to set it to Home, you can drop me a note and request membership. And if my creator readers want to set out gifts there, let me know. We could transform it into a hip and happenin' little spot someday.
Visit Emerald's Chicken Wonderland
HERE
and please don't laugh at my initial and total
FAIL
attempt to do something with it. It's a work in progress.
I have to go work on my portfolio now, for a job interview in another state later this week. As such, here's my RL deep question: In this economy, when times are tight and bills are piling up, would you rather
a)
take a six-figure job at a swanky resort in a lonely, desolate, celibate desert town where you've already sort of crashed and burned once from sheer social isolation earlier in your career (which is why you originally left that place), or
b)
continue living in your childhood bedroom in your parents' home at age Flirty Thirty-something, panicking every month about credit card payments and barely making enough to scrape by . . .
YET
surrounded by friends, family and *GASP* men who want to date you?
Seems like an obvious answer, but if you think about it, not really. Factor independence and peace and quiet into Option A too. And shopping. And health insurance. And five weeks of vacation. And a better computer with a more powerful graphics card!!!
Have a lovely evening. ♥