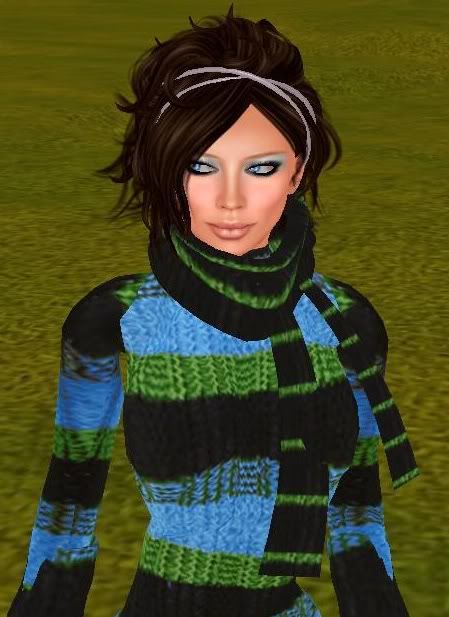 But first:
In the real world today,
a gunman went on a shooting rampage at Fort Hood, Texas,
killing 12 people and wounding 31 others. I am ashamed that it took a tragedy like that one to put some bullsh*t SL drama — as well as some frivolous real stuff — in perspective for me.
And now, back to your pixelated world of perfection:
The fact that I'm blogging today doesn't mean that I don't support content creators in
T
he
W
ar
A
gainst
C
ontent
T
heft.
(At this point, I feel like we need to capitalize it.)
-- Read designers' thoughts on content theft on Achariya Rezak's rockin' blog
HERE.
-- Check out a tutorial on how to verify an object's creator over on the Fab Free blog
HERE.
-- Find a Step UP! (against content theft) event tonight and/or get yourself educated over on the Step UP! blog
HERE.
-- Go over to
Sway's Creations
and grab this free Step UP! bear (also distributed in the Subscribo). Don't forget to open it and take the supportive materials inside.
Nobody does bears like Sway Dench does. That thing blinks too. It took me nine tries to get a photo with its eyes open.
Actually everyone in the Subscribo got it, not me personally. I'm not that special.
If you look to your right on this page (under "How I Roll"), you'll see a link to Kiva.org, an initiative I've supported for a while.
I can't explain it better than the organization's
Web site
:
Kiva is the world's first person-to-person micro-lending website, empowering individuals to lend to unique entrepreneurs around the globe.

The people you see on Kiva's site are real individuals. When you browse entrepreneurs' profiles on Kiva, choose someone to lend to, and then make a loan, you are helping a real person make great strides towards economic independence and improve life for themselves, their family, and their community. Throughout the course of the loan (usually 6-12 months), you can receive email journal updates and track repayments. Then, when you get your loan money back, you can relend to someone else.
A while ago, I lent money to
Kwasi Agyei,
and hell yeah, he runs a bar in Ghana. I've gotten about half the loan back already. When I get it all back, I'll lend it to someone else.
Anyway, today I was excited to read that several content creators have formed the We Can Do Better team to support the Kiva cause. The proceeds of specially marked items will go toward loans to Kiva-sponsored entrepreneurs. You can track the progress of the We Can Do Better team's loans on the Kiva site
HERE.
This great sweater and shredded jeans outfit (150L) is A.S.S.'s contribution: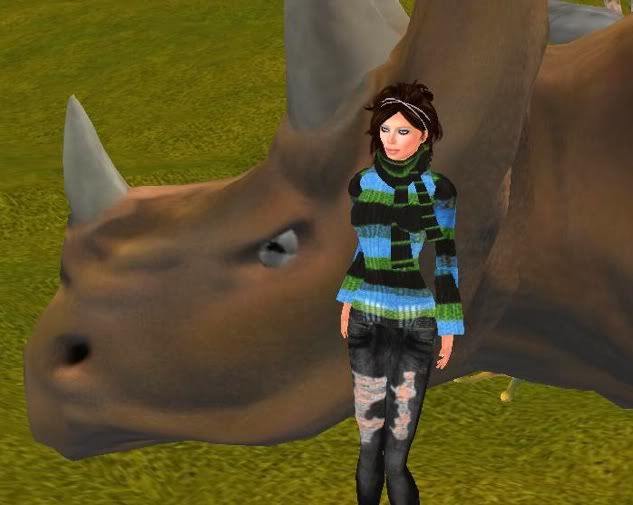 Welcome to Emerald's half-rezzed dinosaur park. (I decided not to buy my new computer until next week.)
The sweater comes with tucked and untucked options, as well as a bottom prim for a baggier look (not shown because I'm not a fan of that look). The jeans come with rolled-up cuffs. You can't see mine because I've given up trying to get my feet in photos.
I'm getting all excited for winter, so I paired it with Ryker Beck's new Sienna skin in Snow (Soleil) from
Exodi.
I'm not gonna get all gooey about the Sienna skin like a lot of bloggers are. I'm just gonna say that I like it. It's not my usual face and that sort of trips me out a little, but I like it. For a better look, you'll have to scroll all the way back to the top of this post. (Sorry.)
This winter in Second Life is a little bittersweet for me. To my delight, last year I discovered that Second Life really magnifies my holiday spirit times 10 (um, even though I took a break around Christmas last year), possibly because I was living in the desert in real life at the time and also because it's so damn easy to decorate my fake house and wrap fake gifts in SL.
Fake snow is fun. It's why I want it all year long.
This year, two of my favorite friends are gone. I thought for sure that my friend Opheila/Galene would cave and come back (no offense, O/G), but she totally stuck it out three months after canceling her account and now her AVs have vanished. She's designing purses in real life now. Trust me, they will get pimped out here when she's ready.
My Italian friend Holden has left too, in a manly and valiant pursuit of a better real life.
/me waves at both of them, since they sometimes still swing by here.
Ironically (yeah, that's my word this week), I exchanged e-mails with the real people behind both of those AVs today, but it's still kind of . . . lonely in Second Life.
*sniff*
On top of all that, all my chickens are dead.
<---- loner