My friend
Fricker
walked up while I was rolling around in the snow taking this picture. That's not embarrassing or anything.
Hell yeah, I got milk.
Camp for 15 minutes at
Cutie Honey
to get this whole cow ensemble, minus the shoes. The shoes are from
Anexx
. The cow (ACTUALLY, it's a BULL!) hat with hair is included though! So is the darling little purse. And those eyes on the hat are animated. Cutie, honey! That skin is in the Tasha2 fatpack at
LAQ
. And that's my bullish Look of the Day for you.
I love my friends because they tolerated me in this outfit for a whole day.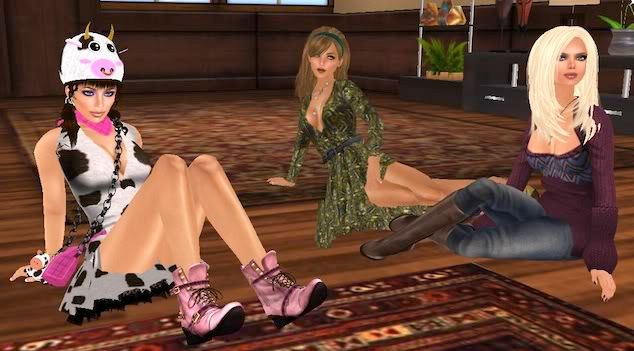 That sexy chick in green actually is a male friend of mine in his female alt. It irritates me to no end when a man creates a female AV that's hotter than mine -- with better clothes, nonetheless. Sheeeeeesh, I am a complete failure as a woman in all worlds. *weeps*
As long as we're on the topic of friends, I have one in real life who tends to drive me insane. (And I hate the fact that I have to distinguish "real life," especially in this particular post.) I'm not going to psychoanalyze her or anything, but I do think she's the type of person who can't be alone with her thoughts -- mainly because she calls me about 35 times a day. I can only take her in small doses because she's a little clingy and Never. Stops. Talking.
Even at our age, which is crawling reluctantly towards 40, she's still really big on going to bars and picking up men, and she'll pretty much go home with any guy who gives her the time of day. Then she wails all week about why he's not calling her. It makes me sooooooooo damn tired. And hell no, she doesn't seem to have any other friends. I wonder why.
The one thing she simply cannot compute is why, if I'm not doing anything on the weekends, I sometimes don't want to go out. And these days, "sometimes" is a lot of the time. It's cold outside and I'd rather stay home in pajamas with hot chocolate and goof around with my friends in world than go to a lame bar and sit around dork-watching. I'm perfectly content to hang out in Second Life, and when I do, I don't feel like I'm missing out on anything. I don't feel socially unfulfilled. I probably laugh harder at things in SL than I do in real life . . .
. . . like at my friend
Soph
and her creepy, creepy
Zooby
baby: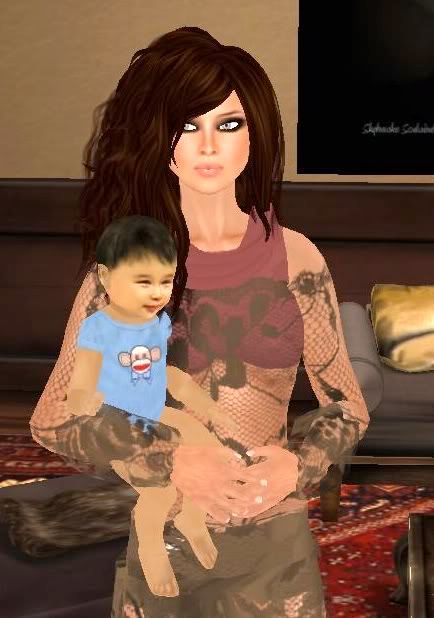 That thing is disturbing and expensive.
(runs and hides)
Meanwhile, I bought a cheaper one for 200L at a black-market baby store: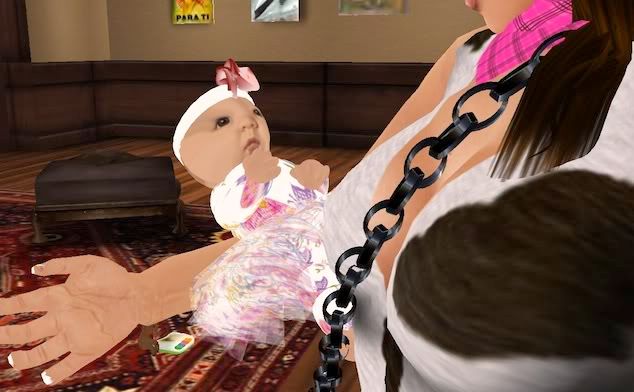 The stuff horror movies are made of: that baby and my ugly hand.
Back to my friend -- I finally broke down and came out of the SL closet one night when she was being annoyingly insistent in demanding an explanation about why I wouldn't go out. I gave her the whole "sometimes I hang out online with my friends who live in other states. We use this forum called Second Life. It's like a chat room but a lot more fun. I just feel like doing that tonight instead of the bar thing" spiel.
I gave her the Second Life Web address. I encouraged her to check it out. She did. Later she called me complaining about it. She didn't understand it. It stressed her out. She thought it was stupid. She couldn't figure out how to do anything. It seemed weird. Was I being serious? Why didn't I wanna go get sushi?
I started wondering if any shrinkish-type people have done any studies on what type of personality embraces and thrives in a virtual world and what type of personality shrieks in protest and runs from one. Demographically, my friend and I are the same: We're both single professional women in the same age range who are pretty much hanging out with each other by default in a land of married people. Almost everyone else we know here in suburbia is part of a couple. It can get lonely, so I choose to seek solace in a virtual reality while she strives to create one that looks like everyone else's. We both look at each other's recreational lives and balk.
When I first logged into Second Life, my initial reactions were those of delight -- "Oh cool, look what I can do!" -- and curiosity -- "How can I do this? What happens if I go here?" But meanwhile, the majority of my friends who have checked it out have reacted with "This is stressful" and "I feel stupid and weird." Even my younger brother -- a Sims fan who also worships his PS3 at age 30 -- "doesn't get it" and thinks "it's for losers."
My friend gave Second Life a whopping 15 minutes before she returned to doggedly plugging along in pursuit of her ideal reality, which boils down to some resemblance of a social life and a husband. If I don't go out with her, she goes out alone. Although I want fun and a husband too, right now I'd rather stay home in flannel pajamas than get prettied up and go out and hunt for them. I'm tired. At the moment my job is kicking my cow tail.
But notice how I described my very determined, no-nonsense, "Second Life is bizarre" friend in this blog -- I made her sound as dysfunctional, lonely and unappealing as possible. Did I subconsciously just do that to make myself feel better? Flip the scenarios around so giving it your all in real life is annoying and weird? She kind of is annoying and weird though. SHE IS! Maybe I'd rather be alone on my laptop in a fantasy world than plummet to that depth of desperation in the real one. Maybe WE ALL need help.
Does the fact that I'd rather hang out in Second Life these days mean that I'm lazy, scared, unmotivated, introverted, depressed, unable to function in normal society and/or a geek? Or does the fact that I take to a virtual world like a duck takes to water mean that I'm more open-minded, technologically advanced, forward-thinking, imaginative, a better communicator, a curious explorer and/or a creator by nature? Am I embracing a boundless and futuristic concept or am I hiding from the real world and its challenges? While I'd like to think it's the former, sometimes I worry that it's the latter. Truthfully it's probably a little bit of both.
I guess the bigger question is do I care?
Usually I don't, but occasionally when I witness such a visceral unpleasant "what the hell is this" reaction to the concept of Second Life, I worry that maybe I'm the one who's not normal.
Then I wander off to camp for cow outfits.