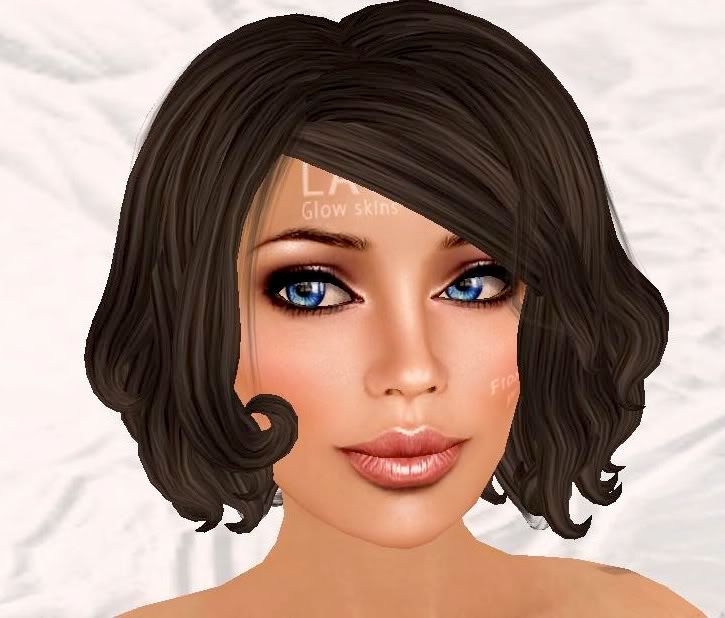 This'll be fast because I have to go to work!
Tasha by RaC was the first skin I ever bought as a noob. And since we've all been reflecting on our noobish looks lately, I'll admit that any time LAQ updates Tasha, I buy the skin purely out of sentiment. I actually liked the last update and I'm wearing it in my current profile pic (that really needs to be updated).
I just wanna say the word "update" again: Update.
I logged in this morning to find a note that Tasha2 is now out at LAQ, so I ran over there like Flo Jo and grabbed the demos.
Ummmmm . . . what do you think about that face?
Wow, the lips seem really huge to me. I'm not a fan of the big-lipped, blow-up doll look. (Oops, I just ticked off a bunch of big-lipped people.)
I love those free Aurora eyes by
Poetic Colors
(they're out now, go get them!) but I think they're also kind of distracting me from making a skin judgment. It doesn't help that I'm wearing the light prim that comes with them.
(Prims on my eyes! My eyyyyyyyyyyyyes!)
If I didn't have to jump in the shower right now, I'd act like a professional blogger and show you the rest of the Tasha2 skin and more makeup options, but I must pound coffee and fly like a briefly escaped parakeet returning to its dirty cage of captivity.
Apologies — as you can see from my post below, I went to bed feeling tired and overloaded with emo last night. I found out that they're probably going to shut down my account at work and lay off me and my team. We're kind of on death row right now.
Sigh.
I hate working anyway.
But I don't wanna get all mopey about that here! So here's a picture of something that makes me happy!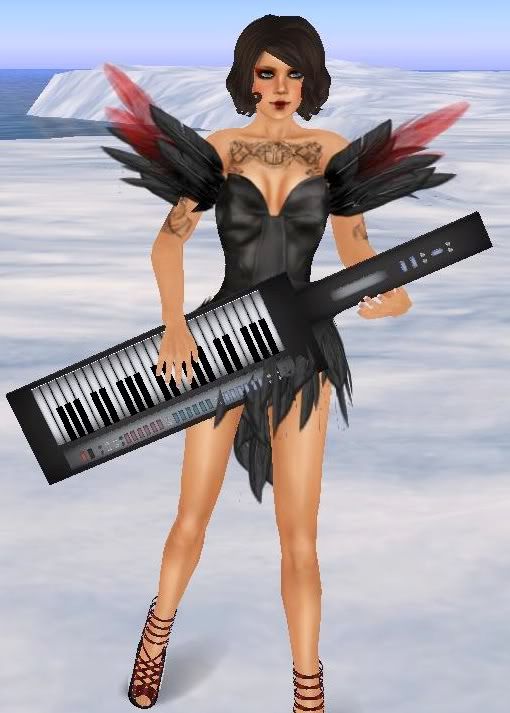 I got this Keytar for 100L (I think) at
Miyoko Magic
after I saw my friend Ali post a pic on Plurk. It looked like my kind of thing and
it totally is
. It has an animation that makes you look like a little Keytar star when you wear it.
That dress is the new release at
Vita's Boudoir
, called La Fenice, and I'm so not doing it justice in my Keytar star pic. As much as I love the dress, it's kind of a bitch to mod the skirt to fit my shape. I ended up giving up and modding my shape to fit the skirt, but it still looks a little wonky. I'm never buying a skirt made entirely out of feathers again. (No offense, feathers of the world.)
That cute (yet blurry) dolly-looking skin is the Tres Blah Hiccup skin from the Designers United 3 event. Everyone was talking about it so I didn't mention it here at the time, but
NOW I WILL!
I like how it makes me look like a character in a book.
I'll come back and edit in the name of whoever makes those shoes, but they actually are
SO COOL
in that they come in a prim-toe version and a non-prim toe version. Since I'm banning most prim toes from my life, I'm rocking my feet au naturel right now. Go ahead. Laugh at my ugly toes. I don't care. You have them too!
I have to go -- have a great day!