I don't know where to start this post -- with this hair or my current hellish situation.
I guess we'll go with hell.
Two days ago I ventured over to Bug Tussle presented by LVS & Co. and Sher's Garden. It's a cluster of cute shops in a cute garden. They're currently celebrating the grand opening with a ladybug hunt --
today's the last day, RUN!
— full of cute-sounding prizes of home and garden decor.
I say "cute-sounding" because I haven't yet examined the prizes: Two days ago I ventured over to Bug Tussle . . . and I've been
TRAPPED THERE
ever since.
I can't TP out. Forget teleporting; I can't even
GET
out. I can't even change my preferences to log in at home instead of "last location" and relog. Believe me, every day I try a few times. I'm
STUCK THERE
, possibly forever.
You're right, Thomas Wolfe -- you can't go home again!
Irritating. Irritating. Oh. So. Irritating.
As for this hair:
(Skin: Wichita in Violet, Pale.Casual from SINdecade. Those "stand back and watch me
NEVER MOD
tiny little prims
AGAIN!
" eyelashes are actually a
TATTOO LAYER
["Everyday Eyelash Face Tattoo for 2.0"] from Stellar. I love you, Lexi Morgan!)
Last month I devoted several days to the Crazy Arse Hair Hunt and
BY GOD,
I'm gonna wear some of it now. I'm sick and tired of hunt prizes rotting away in my inventory, unloved and neglected.
This hair is called Seiren by BC322 Skull & Bones.
Fashion tip:
If you plan on wearing hair with
BIG HONKIN' WINGS
coming out of it, you should probably dress appropriately. I suggest a monotone look, but with a dash of superhero. For instance, I like the barely-there top from the Bella Disastre outfit at League. It's so bad-ass, there's no room for it to be crude, in my humble opinion. Yeah, there's some nippage poking out from under one of the straps but whatever. Nipple pride is a good thing.
You know, along those lines: During the past couple of days, I've read some eye-opening blog posts about transgenders in Second Life. I appreciate the people who are brave enough to share the often painful and frustrated perspectives of being a man trapped in a woman's body, or a woman trapped in a man's body.
But no one ever talks about the dark, unfulfilled emptiness of being a big-breasted woman trapped in the body of a flat-chested chick.
That would be me.
So thank you, Second Life, for allowing me to unleash my inner boobs.
And that reminds me: Over the weekend I got really ticked off at a guy and — in the heat of an angry moment — reached in my bra, yanked out one of those huge "fooled ya!" silicone cutlets (hell yeah, I have a pair for every day of the week) and threw it at him.
I mean, we are talking harkening back to my softball days, winding up and just letting that thing fly. (What can I say? I really needed to throw something and it was the only thing within arm's reach.)
It pegged him smack-dab in the middle of his forehead and made this really satisfying thwacking sound. It probably was one of the most awesome moments ever in the history of push-up bras and fake boobs. I just wish someone would have captured it for YouTube.
Stay away from me when I'm PMSing. Naomi Campbell throws cellphones. I throw expensive illusions of cleavage. And my aim is still
EXCELLENT!
My God, where was I going with this post? :(
Oh yeah — um, so if you really want to be a smart ass, pardon the pun, pair your winged hair with these classic Wild Angel Leather Pants, also from League: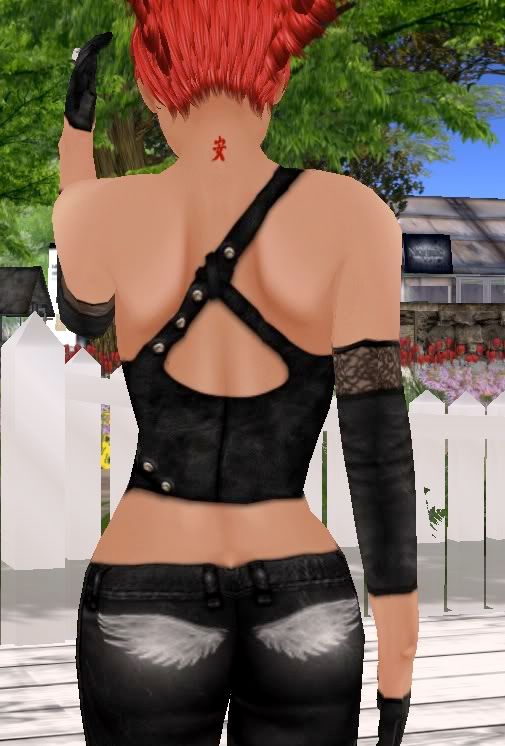 It just dawned on me that my waist is freakishly small. Oops. In my defense, I think I had to shrink it down that size to fit into a sculpted skirt.
That tattoo on my neck? Believe it or not, I got that during my first week as a little noob, in one of those obnoxious
"HUNDREDS OF FREE FULL-PERM TATTOOS BUSINESS IN A BOX
(es)
!"
It actually survived all my inventory purges over the past two years.
It says, "Second Life is Currently Being A Little Bitch" in Japanese.
VISIT IN-WORLD!
Bug Tussle presented by LVS & Co. and Sher's Garden
BC322 Skull & Bones
League
SINdecade
Stellar