Welcome to another edition of "What the hell is Emerald Wynn wearing now?"
I was pretty wiped out this weekend. I had a rough week last week, mainly because I rescued The Ugliest Kitten Known to Man:
[Insert big tired sigh here.] He was in the middle of traffic.
Even my camera screamed in protest and somehow took an upside-down picture of him. I didn't flip it, I swear.
I forgot how exhausting a kitten can be, let alone a little freaky one, so I was pretty worthless today. I spent a lot of time watching serial killer documentaries on MSNBC and staring in morbid fascination at
Things People Do With Dolls That Kinda Disturb Me.
Get those things away from me!
I'm still in "maybe one day I'll become a savvy doll wheeler-and-dealer" mode, so when I logged in to SL today, I set out to find a ball-jointed doll (BJD) skin. There are many fabulous stitched doll skins out there, but I rarely see a ball-jointed one.
I found this one at (Magic)(Burst)! It's called Honey Doll Skin, Pink, and I give it three out of five stars. There aren't enough joints and the lines are blurry - that's not my computer - but I appreciate the effort and the face is rather sweet.
I'm wearing Sn@tch's new Marie Corset dress (yet another purchase inspired
by this blog
), along with the matching Dauphine Socks (note that the blogger was too lazy to mod the cuffs) and Comtesse Heels. Um, and that
WILD AND WACKAY HAIR
is called Tokyo Doll in Wraith from Hairoin. Creepy Doll AO courtesy of Creative Insanity.
Here's what the skin looks like naked. Let's see if Photobucket will let a picture of a naked, nippleless cartoon doll slide:
And here's the doll butt:
That pose is called Pretty1 by !Bang. I'd never heard of this store before, but I really like the poses there. And I'm not in a dungeon. That's the inside of my Elven Treehouse and no, I'm not really feeling it but, yes, I'm too lazy to change it right now.
I haven't said "anyhoo" in a long time.
Anyhoo, continuing the quest for a cool BJD skin, I typed "BJD skin" in Search. It coughed up a place called The Doll Works.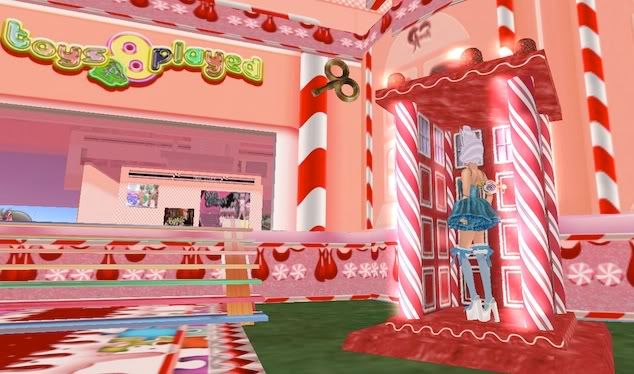 Looks fun, huh? I skipped in there like a kid in Candyland . . . only to discover that it's a kinky dollie sex store.
SOOOOOO
wrong in so many ways.
They have a 2300L My Little Pony AV . . .
. . . which you'll totally love if your favorite Little Pony was the greasy one with giant boobs.
Let's all pause for a moment and laugh at her hoof hands.
They also have a couple of Bratz AVs:
Each one comes with a round open mouth version. Just like the cartoon!
I could get all outraged about the fact that some of our most beloved and heroic female cartoon characters, like the selfless and inspirational Bratz gals, are being disgustingly sexualized — not to mention
USED ILLEGALLY
— here, but I'll let someone else do that.
They'd just better be glad they didn't mess with Strawberry Shortcake.
And now a word from our sponsor: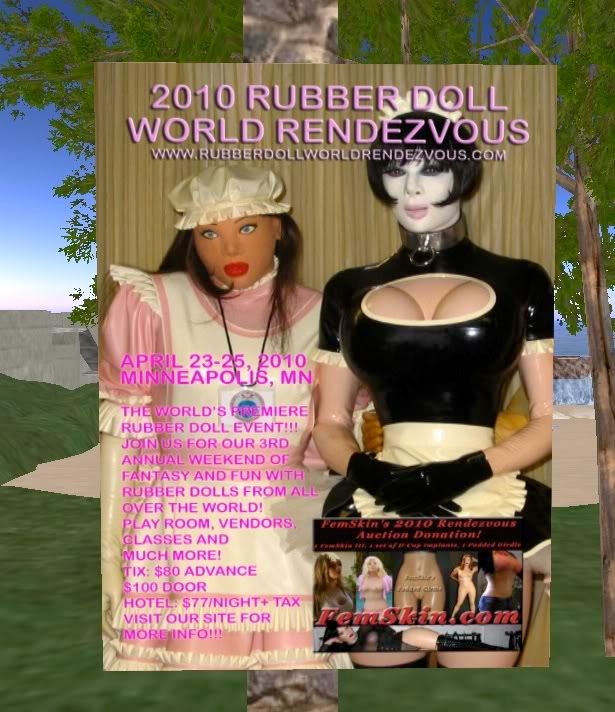 Damn, we missed it. ("Play Room"?)
*runs away*
Um, so then I tried XStreet. Dear XStreet, I already told you what I think about the Second Life marketplace experience. "Don't Bother Me Again!" I've clicked it about 20 times. Love, Emmy
I searched for "doll skin" and BINGO!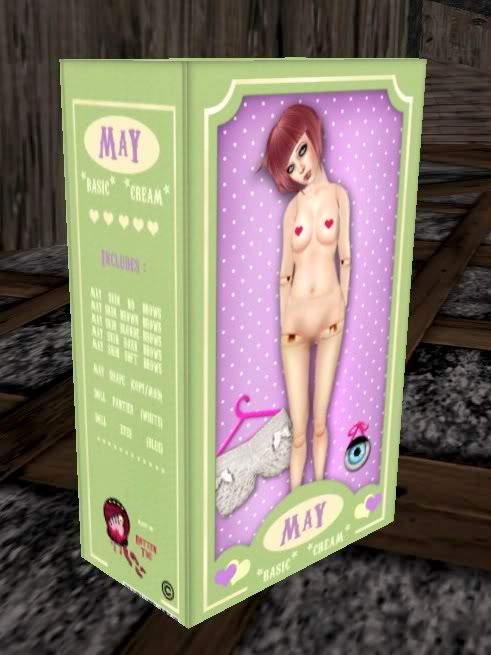 I love you, Rotten Toe! And that cute box!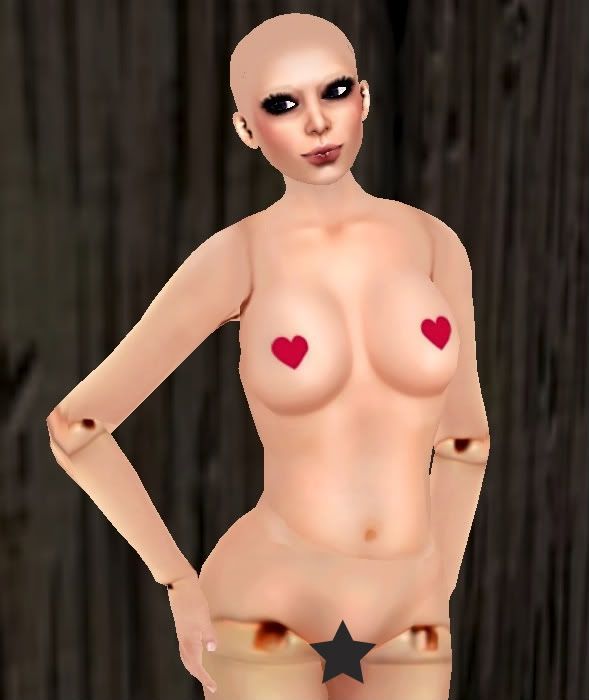 It's called May, Basic in Cream and looks
RIGHTEOUSLY
freaky! I messed it up a little by slapping on those huge eyelashes. Oops. And the chest really does have those hearts for nips. Because it's a
DOLL!
Don't be a perv. The glossing on those lips also mirrors a technique used by real BJD faceup artists. Bravo!
My AV looks weary and worried. She's probably tired of all this creative abuse and longs for the days of jeans and a Golden Girls T-shirt.
This skin also comes in May, Buried in Pus (LOL - EWWWW!) with three different versions of decay. The ball joints are still there but the skin is also cracked and, well, pretty awesome if you're into that kind of thing. I didn't buy it though. I'm watching my lindens these days.
I can't find the store Rotten Toe inworld anymore. Is it gone? My landmarks don't work either. I'm sure it's out there somewhere, but as usual, our really efficient Search tool isn't giving it to me. Meanwhile, if you want this skin, you can get it (and the demo) on XStreet. Be sure you have "Mature Content" enabled.
OK, so here's where we get to the part where I lost all the rest of my pictures. :-\
Well, except for this one: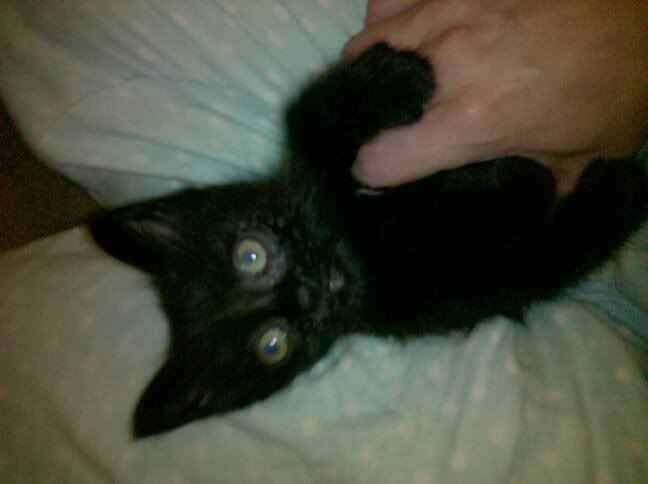 (oof)
[OMG, one day into it and I already screwed up and forgot about
BBBC Q1:

Why did you become a blogger? How has it enriched your life?
I became a blogger because it's in my nature to get overly excited and run my mouth about everything I do, regardless of whether anyone gives a damn. The many people I've met through this blog have enriched my life.]
VISIT INWORLD!
Rotten Toe on XStreet
(Magic)(Burst)!
Sn@tch
Hairoin
Creative Insanity
!Bang
The Doll Works