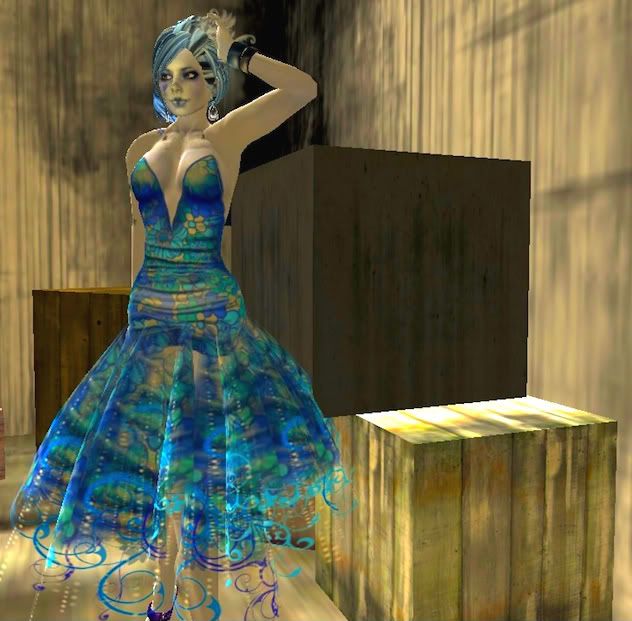 I logged in to some hate mail this morning.
Usually I wouldn't lower myself to publicly address a nasty notecard. A blog post about it makes it that much more fun for the person who sent it.
But something about it struck me as pretty ironic, so let's dish about it.
That photo above, BTW, was originally intended to show some of the stuff at the Black and Blue Fair. And sadly, I thought the beginnings of that post were pretty funny. However, I'd rather talk about haters now, and plus everyone's blogging about the Black and Blue Fair, so let's just forget it. It's just that I don't really have any art for this post now, so you'll have to suffer through a couple of blue pictures.
Like this one:
(That hair turned out to be no mod, with no resize script, so don't blame me for the fit.)
This Silo skin by Dilly Dolls (800L for the fatpack) is one of my favorite Black and Blue fair purchases. I'm always surprised by how awesome Dilly Dolls' skins are. No offense to Dilly Dolls, but I mean, that store isn't exactly the first one that comes to mind when someone says, "skins."
OK, so back to the hate mail.
I got a notecard from a newly made alt that basically just ranted about how annoying my blog is. Frankly, I agree. It annoys the bejeezus out of me about 75 percent of the time. But that's not the point. Here are my thoughts, in a neatly organized list (but if you happen to be a designer, you should just skip the little tantrum that is Nos. 1-3 and read No. 4):
1.
Seriously? If it annoys you, why don't you try a little dance move called
Stay Away from My Blog.
It's a pretty simple thing to do, actually. For example, I used to read the iHeartSL fashion feed religiously. However, during the past few months I'll admit that there are about three or four bloggers who not only dominate it now, but also
BUG THE SH*T
out of me. Do I send them hate mail? Do I rant about their cheesy writing and blatant designer ass-kissing? No. I've just stopped reading that feed as much. And you do wanna be just like me, right? Yes, you secretly do.
2.
If you're going to insult me or bash my writing, at least grow a pair and use your real (SL) name. Otherwise, you're just a childish, pathetic, cowardly bully hiding behind an alt. And you're not that bright either, because if you really wanted to hurt me, you'd use your real name.
For example, earlier this year I IMed Cajsa Lilliehook about something and she responded by basically calling me an immature jerk and chewing me out for something completely unrelated. It shocked the hell out of me and I still wholeheartedly disagree with her (except for the immature part), but at least she didn't use an
ALT
to speak her mind. To make matters worse, when I was a noob, I worshipped her, her blog, Gidge and that whole MDR clan. I didn't know how to dress way back then so I just bought everything they wrote about and blah, blah, blah -- so I seriously logged off and cried when that happened.
CRIED,
I tell you, which was stupid. So who knows, Mystery Writer. Maybe you could have made me cry too. That's what you were trying to do anyway, right?
(And see, even though I just ran the risk of
PISSING CAJSA OFF
all over again, I still put my real name behind it. So maybe you need an
"Emerald Wynn is my FREAKIN' ROLE MODEL"
tattoo on your forehead. Backwards. So you can read it
EVERY TIME
you look in the mirror.)
3.
Honestly, I hate to resort to childhood terms, but someone who takes the time to write a nasty letter to someone who isn't vicious (that would be me) and is pretty much just minding her own business most of the time (that would be me, too) is just . . .
MEAN!
STOP BEING MEAN!
Do you have any idea how
STRESSED THE HELL OUT
I am right now??? Stop
BOTHERING ME
about my stupid Second Life blog, I mean
REALLY???
Does it hold that much significance for you, that you have to use precious minutes of your life to write a stupid notecard that has no point other than to insult? Honestly, that makes me feel pretty powerful.
I CONTROL YOUR MIND!
My GOD,
I'm still reeling from the fact that last week someone essentially
BLEW UP
my parcel and sent my house, my furniture, my Bunny, everything flying into outer space. I'm living in a
MOTHER-EFFING TREEHOUSE
right now: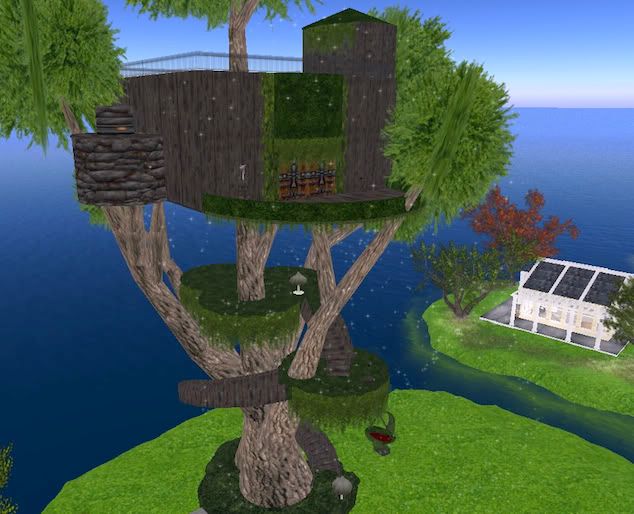 A MOTHER-EFFING TREEHOUSE!
According to the Black and Blue Fair (which serves to raise awareness of Mental Illness but FYI
IS NOT
a fundraiser, just to clear up any misunderstandings), I may be suffering from Post Traumatic Stress Syndrome right now, so
LEAVE ME ALONE!
(Wow, I feel so much better.)
4.
As to your ironic content, the sentence that knocked me off my prim feet was this one:
"I am good friends with a well-known designer and she told me she cringes whenever she sees what your bad photography does to her designs."
If that's true, that's hilarious. Because here's the thing. What the well-known designer probably means is that she cringes when she sees
what my bad photography DOES NOT do to her designs.
I don't have Photoshop. And if I did, honestly, I really wouldn't have the time or inclination to use it to screw around with my Second Life pictures, no offense to those who do. Instead I would use it on pictures of my real face and airbrush out my deep nostril grooves and make my nose look small and shapely and smooth out the worry lines on my forehead and plump up my lips a little and make my eyes a lighter shade of green and possibly give myself some elf ears for the hell of it since my ears are already huge and make my beauty mark a little darker unless that too is possibly cancerous in which case I guess I would smudge it out and . . . .
Sorry, I got carried away for a minute.
As for my "photography": If you call me anything, call me the Fashion Consumer Advocate Blogger because what you see on this blog is exactly what I see on my screen and, as such, pretty much what most readers will see on their screens. And I'm not even a Windlight wizard. I use
Caliah Lyon's Optimal Windlight settings,
snap a picture, save to my desktop, use my MacBook's Preview program to crop it to 8.8 inches (the biggest size this blog design will allow) and upload it to Photobucket. Wait - I sometimes use the "Adjust Color" tool and tap "Auto Levels" which
DRASTICALLY
. . . pretty much does nothing except take away some of the muddiness.
So I guess here's the fundamental question: If you're a consumer with hard-earned lindens trying to decide whether to buy something, would you rather see it real and in the raw here on my no-frills blog before you buy it? Or would you rather see it prettied up with gorgeous lighting, flattering poses and some possible Photoshop tweaks against a striking studio or scenic setting . . . and then be bummed when you end up with a possibly duller version inworld? It's happened to me before.
Please don't get me wrong: If you look over at my Blogroll From Hell -- which I need to thin out since some of those blogs haven't been updated in months -- you'll see that I'm a fan of several of those dedicated fashion bloggers. Everything those bloggers do, from assembling the outfits to choosing the setting to selecting the poses to taking perfectly composed photos, is an expression of artistic talent, in my opinion, not to mention a keen eye for styling.
But I never promised anyone that here. So if you're a designer and you're appalled that your creation doesn't look spectacular on this blog, maybe you really need to examine just how confident you are in your work. Because no -- I'm not going to beautify a shot of your clothes for you. I'm going to show people exactly how it looks out there in the (virtual) world, doing everyday things that we all do. And before you start taking shots at my possibly lame computer, don't. Embarrassingly, I spent thousands of dollars customizing this MacBook Pro for an "optimal gaming experience."
And if you're a designer and your stuff looks great on this blog,
BRAVO,
because that means we can pretty much guarantee that it's awesome.
OK, that was an epic tantrum. Sorry.
I'm gonna go find chocolate now.
VISIT INWORLD:
Black and Blue Fair