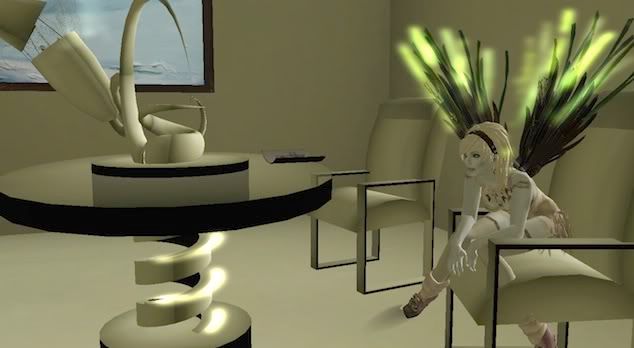 I like this picture, taken at Bryn Oh's
Utopia03
art installation, because it's pretty much devoid of color except for a flash of green, which is exactly how I would portray Emerald's codeine hangover, which is exactly what I have right now.
I'm trying not to get all grumpy and emo up in here, but my back is in stitches and
Fock My Life it hurts like a mo-fo,
so I'd like to thank
Chalice Carling
for lending me her list of cool places to take pictures — it's where I discovered Utopia, where there are a lot of
battered, lonely robots
who can totally empathize with the way I'm feeling. Or at least sympathize.
Oops. I've been running around with an ARC of 12,360 like the world's biggest asshole.
I guess I'd like to once again devote a portion of this post to this Public Service Announcement: If you've never gone to a dermatologist for acne/wrinkles/whatever and while you were there, said, "Hey BTW Doctor, could you please take a quick gander at my moles and freckles?" I suggest you do so, because that's what I did and that's why I'm now missing a significant panel of skin from my back . . . like a mecha from the movie "A.I." except I'm not having as much sex as they were.
One of my freckles apparently looked bad. My doctor snipped it out and sent it to a lab where some Very Educated People verified that it *was* in fact bad. "Bad freckle!" So I had to go back in and get
ALL THE SKIN
around it and under it carved out in an attempt to prevent the spread of evil. That skin is being biopsied now.
PLEASE GOD,
let it be OK because I am
WAY TOO MUCH
of a
BIG DAMN BABY
to get any more stitches. It's not even the pain — it's the sensation of having part of my back sewed up that makes me want to start slam-dancing all over the place in an attempt to get out of my skin, like a freaked-out, wailing crazy person.
But that's all I'm going to say about it. Except that I'm glad I had a talented doctor who was skilled enough to look at a small, average-looking (to me) freckle and recognize it for what it was — an abnormal thing that did not belong on my body.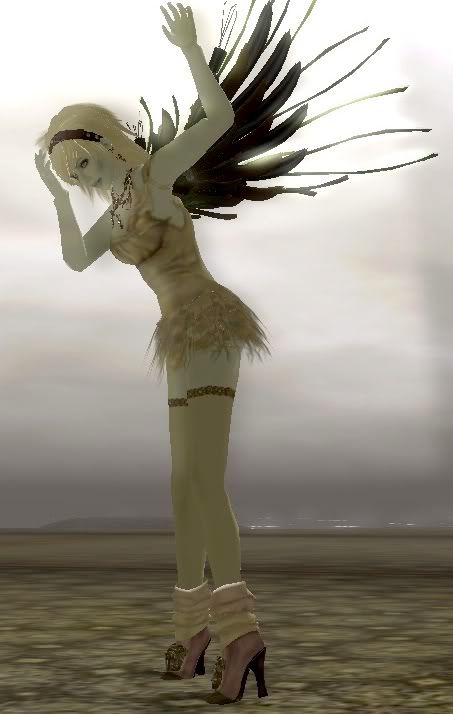 "Portrait of an Empty Codeine Bottle Refilled with Twitchy Pink Angst in High Heels"
I am available to name your artwork as well.
I named this post "Not much time left," not because the threat of skin cancer will get you thinking of your own mortality and all the things you have left to do on your Bucket List, like vacuum, but because today is the
LAST DAY
of entertainment events at SL7B. The gates officially close on July 3. The official Web site is here:
CLICK.
I've been to two Second Life birthday celebrations in my avatar existence, and I've decided they make me happy. I realize there's usually some sort of drama and lack of artistic justice going on behind the scenes — and no offense to those victims — but still, I love all the different exhibits. They always teach me about groups and places I never knew existed, and they remind me why I first fell in love with Second Life in the first place: because of all the people and their different voices.
It's invigorating to walk around the exhibits. They make me want to get out and SLocialize again. They make me want to ditch a couple of my fashion-fan groups and rejoin groups like Inksters. They make me want to add my own voice to the chorus. They make me want to
LIVE, I TELL YOU! LIVE!
Ugh. I can't write today. Sorry.
That's me on one of the art installations. Something to do with umbrellas (ellas, ellas), and you get one when you go there, along with a Rihanna song stuck in your head for the rest of the day. A better blogger would give you the name and the exact location of this exhibit. That's why I'm not one of the Top 25 Bloggers of Second Life. Or even one of the Top 800 for that matter. Oops.
UPDATE:
OK, it's the Capricious exhibit by Windyy Lane, and it's
HERE.
The guilt got to me. And I'm sure Windyy would appreciate the fact that I called this remarkable kinetic wind sculpture "something to do with umbrellas (ellas, ellas)." I'm a simpleton. Here's what it looks like:
Even with my awesome camera skills, I couldn't get the whole thing in the picture. Woo!
Grab some free stilts at "that one exhibit with the giant sheep." (
SL7B Stilt Beaches
) Props and AO included. DON'T forget to remove your shoes' alpha layer or you'll look like a weird, footless freak.
Just go. I used
Chic Aeon's blog posts
as a guide, as well as this
very official Second Life guide
.
[insert a smooth segue here]
I usually don't do a LOTD, but I like this outfit — it looks tres-fae fashionable and it reminds me to tell you that a couple of other events are ending soon -- the
Black and Blue Fair
(July 4) and the
Zombie Popcorn Carnival
(6/30?) — two places where I got most of this stuff.
(And yeah, yesterday I had to walk around with a Big Damn Box stuck to my hand. No matter what I did, it would not detach. Instead of allowing it to win and make me look like a clueless noob, I decided to
ROCK IT
like the awesome fashion accessory it apparently wanted to be.)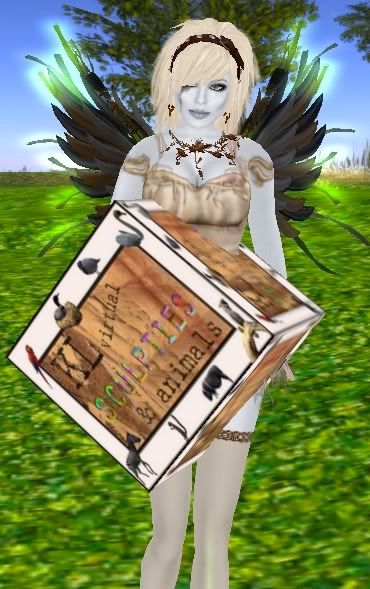 I'm gonna bullet it (the list, not the box), like your all-time favorite resume:
SLIGHTLY RADIOACTIVE, SHATTERED FAIRY: GET THE LOOK!
•
Hair:
Carli in Snow by
Truth
•
Skin:
Filthy Fae Believe Dream Guardian Sahani (hey, I just type it like I see it, and I left out "Cleave Shaved Tat") by
Filthy Gorgeous
[FG], purchased at the Black and Blue Fair
•
Eyelash Tattoo for V2:
Emo Eyelash Face Tattoo by
Stellar
(KISS MY LIGHT BLUE ASS, PRIM LASHES!)
•
Jewelry
: Fae set in Copper by
Dark Mouse,
hands down one of my favorite things in my Jewelry folder ATM, right next to Silver Debut, No Glow by Heidi Halberstadt;
(Caroline's)
Silver Ladybug Necklace - a gift from
Chiara
; and my Ode in Silver Lining set by Random Calliope, oh
WHOOPS
did I say
"set"
? I meant
"I only own the bracelet."
*cough*
•
Outfit:
Katie (130L) by
*dg*
(it has a pink outfit option and a beige option, and I'm wearing both colors of the top in different layers, because each one flashes a nipple, but thankfully on different sides, so if you wear both colors you can still look chaste). *dg* stands for "deviant girls." I stumbled across this outfit at the Zombie Popcorn Carnival, bought it, went over to the new-to-me-and-possibly-to-you store and proceeded to buy almost everything else there. I put it all in my "Blog This, Bitch" folder, where it will most likely live out a neglected existence until it finally perishes.
•
Wings:
Elda Wings by
Lazy Places
(300L). Steampunky and cool. I love them so much.
•
Stockings:
Some random ones I found in the 2008 folder in my inventory. Sorry. But
SEE
why I hate deleting things??
•
Box:
Courtesy of the KL Virtual Sculpties & Animals exhibit at SL7B :-\ (It's got a cool parrot in it though! Hit the Subscribo! But
DON'T
pay attention to the part of the name that say, "wear me.")
And finally, let me introduce you to some of my favorite shoes ever. You've seen them before, but they deserve a million encores, Mayne and then some:
•
Shoooooz!:
La Vivien shoes in PinkMix by
Courtisane
. Stiletto Moody used to be my go-to place for indulgent shoe therapy to battle the blues, but my feelings got sort of hurt when bloggers got invited to submit their names for review copies and mine got rejected
(WHAT?? Even with all the QUALITY photography here???),
but I'll get over it, it'll just take time to heal my broken heart . . . so lately I've pillaged Courtisane and Maitreya instead. I feel much better.
Um, can you tell why I rarely do a Look of the Day? It's exhausting for me because I feel the need to editorialize about every damn thing I'm wearing. *wonders if anyone is still reading*
Speaking of Courtisane, I hopped over there today and noticed that
all
the Prelude shoes have been marked down to 100L.
I love them because they're not just kicky little wedges; they're kicky little wedges with a message. They say, "Come here! Come to us! To a place where your toes are embraced and celebrated in all their exotic glory and we do not expect you to wear fake ones and spend hours tinting them. These shoes are so fabulous, no one will notice your stretched out, blocky tootsies anyway. Instead they will throw themselves down on the ground in front of you and beg you to let them lick your shoes. We are . . . a Prelude to a life of no toe-tinting."
. . . pixelated shoes are talking to me. I have to go lie down.