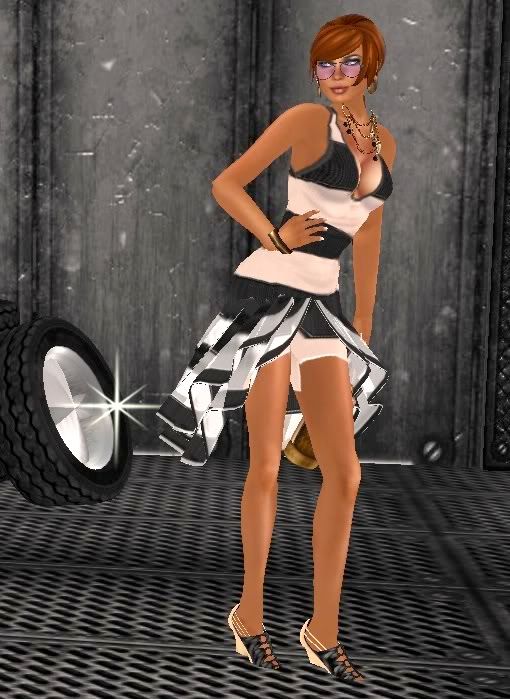 I asked my three-year-old niece to pick the lead picture for this post. This one - *points up* - or this one:
She picked the first one. She's smart. All that fake Linden grass in the second one is obnoxious. I should have at least surrounded myself with garden gnomes or something.
She insisted that I give her a credit here though.
Art direction courtesy of Isobel.
I'm proud to be instilling the meaningful habits of laptop vegging and pixel scrutiny in an impressionable young mind. In my defense, we were watching "Bolt." It was great watching that movie for the 25th time. In a row.
Anyway, It's been a while since I've been a real girl in SL and not decked out in a bunch of fantastical "why-are-you-always-wearing-that-weird" sh*t. And since people keep IMing me and asking me about this dress, I figured I'd share my fashion secrets with the 12 people who read this blog. I can do it without resorting to song lyrics, too. I'm awesome like that. Bow down and acknowledge me. *wink*
LAME-ASS BLOGGER WITH NO SUBSTANTIAL BLOG MATERIAL:
Dress:
Meanwhile in Black by
*deviant girls*,
meaning the dress is called "Meanwhile" in the color black — although with the right punctuation, it could be a transitionary sentence in a poetic short story about living in the bleakness that is not having a damn thing to write about.
"Meanwhile, in Black . . . ."
In my last post, I mentioned how overjoyed I was to discover the store
*dg*,
and this dress is yet another reason why. It's a steal for 150L. If you're not feeling the black-and-beige combo, it also comes in red, white and blue — as in three different dresses, not one giant patriotic monstrosity.
Shoes:
Prelude in Dot Black (100L) by
Courtisane.
*wiggles my non-cosmetically enhanced toes at you*
Stuff That Might Not Be Available Now I Hate It When Bloggers Do That Sorry:
Unfortunately I got the skin (Barbara, SummerTime, Breast
*
by
YS&YS
), Chains Aviator Glasses (
[glow]
) and the Summer Big Bag (
YS&YS
) from previous Dressing Room collections. I'm not sure if they're available at their respective stores now or not. If you haven't checked out The Dressing Room or The Dressing Room Blue, you really should zip over there, especially if you're on a budget. Beautiful things by talented creators, all for less than 100L.
*
Please note the comma between "SummerTime" and "Breast" in the skin name. I don't want to mislead you into thinking there's also a Winter Breast, Spring Breast and Fall Breast.
Poses and Props:
Glitterati's
current sale (runs through 7/15) is one of the most awesome sales I've been to this year — tons of pose packs and props for $100L. Being the dedicated professional photographer that I am, I bought every set of poses on sale, as well as the garage photo box in the top picture.
All Jewelry:
By
Zaara.
Because I'm exotic.
I'm pretty.
Wow, and busty.
But enough of this egotistical bullsh*t.
Oh yeah. . . .
Hair:
Egotistical in Carrot by
Posh
.
Let's get all Martha Stewart up in here for a minute:
HOME DECORATING TIP OF THE DAY
Get this Ghostly Kraken by Noctis
HERE
on XStreet.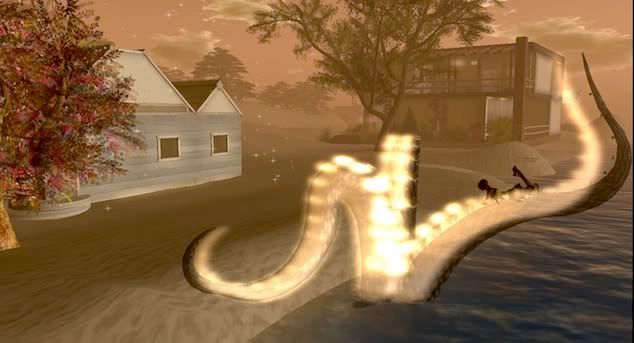 It's got menu-driven animated poses and costs a mere 95L. You get two versions, one that rises up out of the ground (or preferably the sea), shown above, and one that can attach to the side of something, like a boat. Or your house. Or your pet.
Creator
Yelena Istmal
specializes in furniture and lighting in Victorian, gothic, steampunk and vampire themes. A main store is in the works. In the meantime her complete Noctis collection can be found on XStreet.
Anyone who wakes up one morning and proclaims, "Stand back, everyone! Today I'm making a ghostly kraken!" is beyond awesome in my book.
RELEASE THE KRAKEN!!
VISIT INWORLD
*dg*
Courtisane
The Dressing Room
The Dressing Room Blue
Glitterati
Zaara
Noctis on XStreet