Wait! I have to put this code here for a few days: 9G6U48FN4V76
OK, thanks for your patience. Let's begin:
You only have a few hours left to visit the Alphabet Soup Bazaar!
The Alphabet Soup Bazaar is an extremely meaningful event, in which a group of dedicated creators have joined forces in order to raise awareness of the alphabet. And soup.
THIS EVENT IS NOT TO RAISE MONEY FOR CHARITY. IT IS TO RAISE AWARENESS. ALL PROFITS GO TO THE DESIGNERS.
One of my favorite creators in Second Life is Jemima Clowes. For a while I had this problem with craving pancakes and Aunt Jemima maple syrup every time I saw her name but I think I've gotten over it.
If you've never been over to her Tuft Mainstore, you should hustle over there. It's brimming with FUN pose props and other stuff at ridiculously low prices that'll barely put a dent in your linden balance.
She's selling this alphabet prop at the Bazaar for a mere 10L.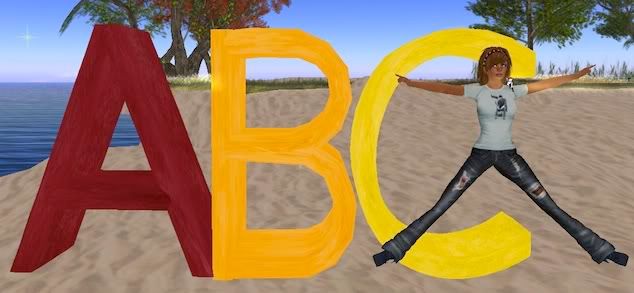 I got
SO DAMN EXCITED
when I read the notecard about it. It said this prop had six poses for 33 avatars.
33 AVATARS, Y'ALL!!!!
I immediately started fantasizing about rounding up 33 people and taking the
MOST AWESOME ALPHABET ORGY PHOTO EVER!!
I sent Jemima an IM in the hopes that she could help. But alas, she had accidentally titillated me with a
TYPE-O!
She meant to write "6 poses for 3 avatars."
The laughter was worth it though. And she kindly gave me permission to write about my alphabet orgy fantasy here.
I want to show you some favorite things — all in one picture — before I wrap up the blogging for the week.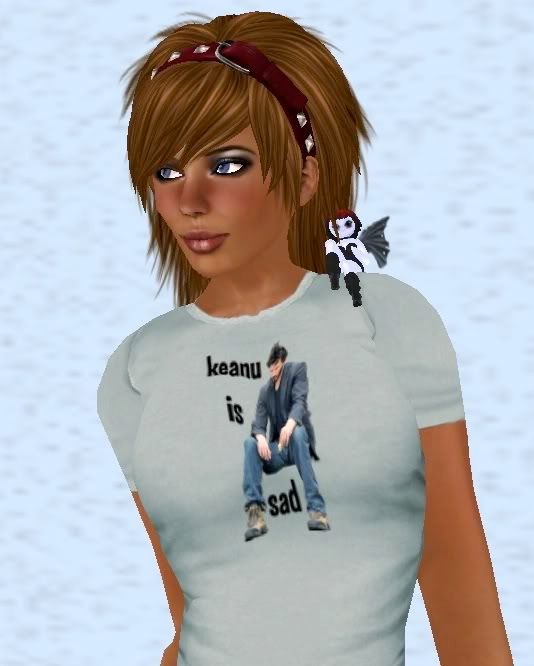 Keanu is sad.
So I smashed him between my boobs.
He's probably still sad, if not even more sad now.
My friends had to explain the whole Sad Keanu thing to me. If you're as clueless as I was, please visit this
Know Your Meme page
that explains the Sad Keanu meme and
this page
(one of several out there) for some Sad Keanu awesomeness. I read that a DMCA has been filed to get all of these things removed from the Web, so you might wanna hurry!
But anyway, back to the world we (sometimes) live in, leave it to terri.tees to immortalize Sad Keanu on a T-shirt. He can be yours for a mere 35L.
And I know we're, like, two new-release weeks later or something, but I'm still way back there loving the Carli hair (shown in Almond) by Truth. I think it's my second favorite style of his. My first favorite is a really cool style named after a really cool chick named Emerald.
That sexy little vampire on my shoulder is from one of My 10 Favorite Second Life Stores: LittleGirl. I would write more, except I'm working on a post called "My 10 Favorite Second Life Stores." It'll all be there. So check back soon! But the gist of LittleGirl is a fun store with cool little Japanese dolls that fly around you or sit on various body parts. I like stuff like that. You might not, though.
Speaking of Truth and Japanese fabulosity, I'm still going through my
Japanese Super Dollfie
phase — and maybe it's not a phase; maybe it's a long-term love affair! So I want to ask Truth to make a trippy style like this:
Choco-Purple!!
Except I'm pretty sure he'd say, "Emerald, take that anime sh*t somewhere else. Like Japan."
But nicely, of course.
OK, my work is done here!
*blows a kiss and runs to go jump in the RL pool*
VISIT IN-WORLD!
Alphabet Soup Bazaar
Tuft Mainstore
terri.tees
Truth