Sooooooooooooo, kind of an awkward time to be named Emerald.
I feel like I need to do something scandalous, just to live up to the damn name now.
Um. Anyway.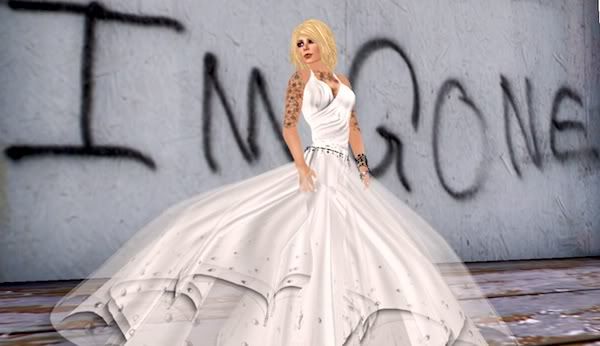 I made up a song while I was shooting the pics for this post. It's called, "I Left Your Punk Ass at the Altar But Not Before I Kicked It With One of Those Stiletto Moodys You Were Always Too Broke to Buy Me And Oh Yeah I Also Spray-Painted 'I'm Gone' on Your Wall . . . Bitch."
I haven't gotten very far on the lyrics. But yeah, this ensemble got me feeling all romantic like that.
When new designer Aradia Jameson dropped this dress in my inventory, she said, "I know it's not your style."
Not true!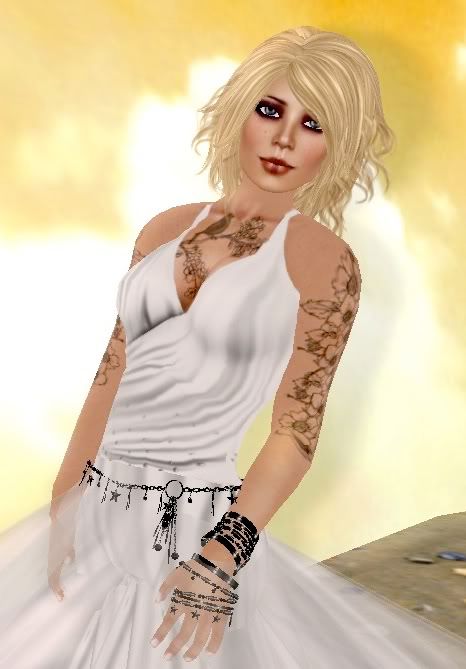 If you give me a big foofy white gown and let me rough it up a little with some full-of-fabulous LOULOU & CO. accessories (Asteroid belt and bracelet) and tats (Springtime 1 by The Habitat), then hell yeah it's my style! It might even inspire me to break out the blond hair!
(
Hair
: Josephine in Champagne by Truth;
eyes:
Stars in Your Eyes (divine) in Cybele by A:S:S;
skin:
Cynthia Rose by Mynerva WITH
tattoo layer:
Smoky Hot Makeup in Pink, Just Eyes by Perfection )
It's true - I haven't been much of a girly girl lately. And I usually do shy away from big white dresses in any world because they remind me of the three sort of hellish times I've been engaged in RL. Oops.
<----- runaway bride
However, for every fashion "never," there's almost always an exception. I like this MaiyaWHITE by VrangWay collection for three main reasons:
1.
It's only 75L on XStreet - click
HERE.
2.
It's not just one dress; it's several looks in one folder. There are eight — count 'em! eight! — ways to wear this outfit - long, short, babydoll, sexy, mermaid, ballroom style, weddingish and . . . shoot, I lose. I can't name them all.
3.
All textures are hand drawn by Aradia:
Awesome. This is Aradia's debut outfit under her new brand VrangWay. When are you making more, Aradia? I want.
Next, I wanted to look exotic, so I found a place with a couple of pillars. Then I made some big funky Egyptian bellbottoms by slapping a couple of the swishy prims on the long glitch pants (there are several versions of glitch pants, as well as a glitch skirt . . . and some veils! . . . and a tiara! . . . in the folder):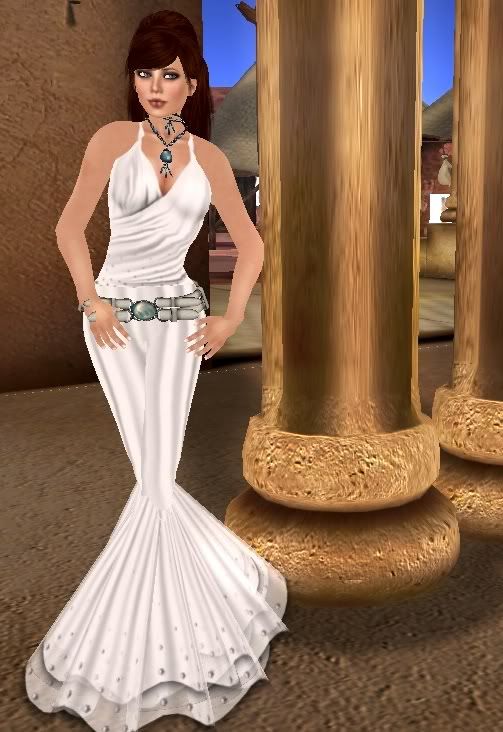 As far as that look goes, I'm not even sure I was supposed to
DO
that! I don't even know if my swishy Egyptian bellbottoms are one of the eight approved styles of MaiyaWHITE. That's
LIVIN' ON THE EDGE,
folks!
Anyway.
A white outfit is a great canvas for stunning jewelry. Yep, I just said "canvas" in a really pretentious way.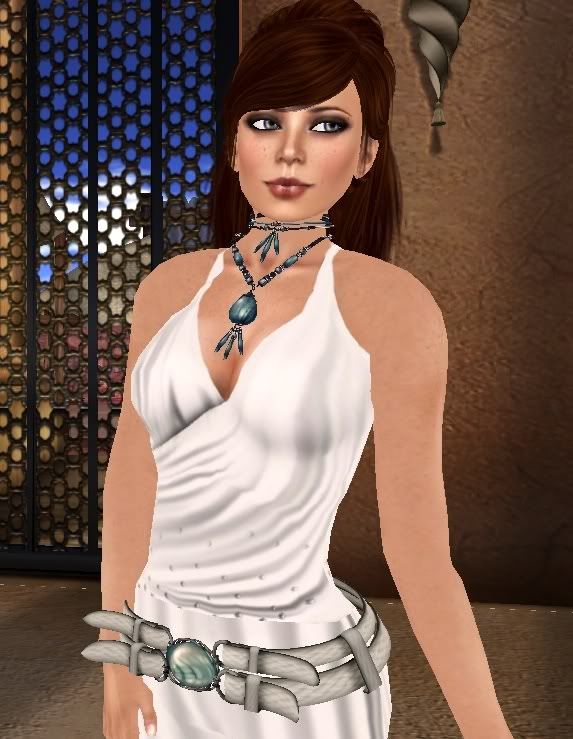 My AV looks constipated.
(
Accessories:
Soul Necklace in Blue and Saicho Belt by Mandala;
hair:
Kami in Auburn by Truth)
And then I donned this version so I could say "little slip of a dress" (and "donned"):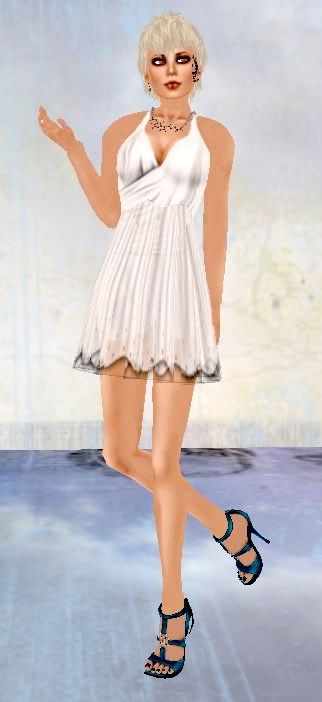 Look at that cute little slip of a dress!
(
Shoes
: Dante by Kalnins;
hair:
Eric in Ivory by Truth)
Not bad for a mere 75L.
That's not a spider on the side of my face up there, BTW. It's this Tour of Ears - Willow piece by LouLou & Co: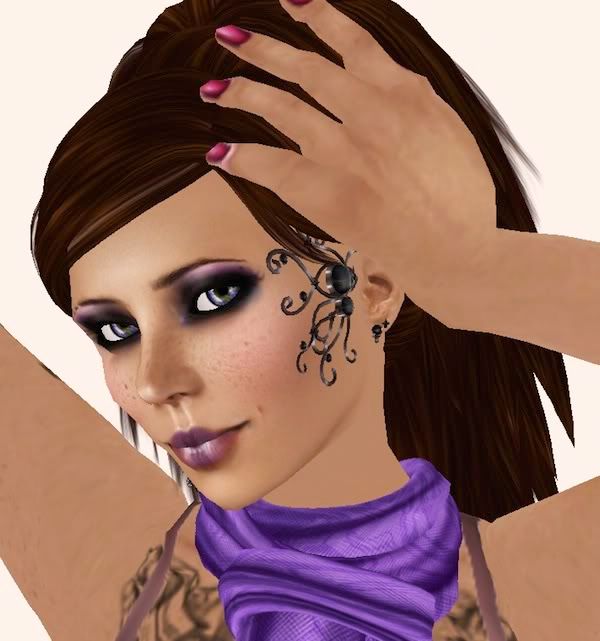 Photo courtesy of another blog post I was writing that sucked worse than this one so I totally abandoned it. It was called, "Hey, look at all my accessories, Coco Chanel!"
(
Eyes:
Stars in Your Eyes (divine) in Cybele by A:S:S;
skin:
Cynthia in Purple Rain by Mynerva WITH
tattoo layer:
LesMakeups_Smokey01 by Miamai;
scarf:
Purple People Eater scarf
[FREE!]
at Zeery's Color Couture; hair: Keeley in Auburn by Truth;
manicure
[in Punch] by sinDecade)
OK, I'm exhausted now. Speaking of exhausting,
I'm the guest fashion blogger today over on the Second Style blog.
It is the most caffeinated thing I've ever written, and reading it would probably wear you out. I'm not very thrilled with it, but it was nice of them to ask me to (attempt to) write it.
I like to take you full circle over here. So let's wrap up this post with more spray paint: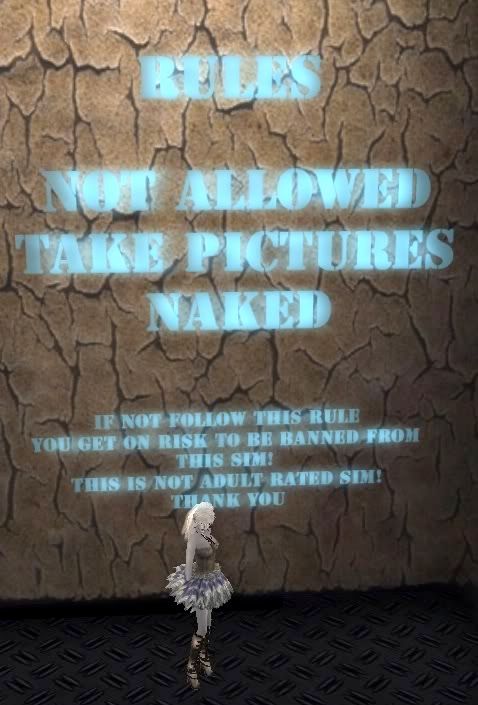 NOT ALLOWED TAKE PICTURES NAKED!
("If not follow this rule you get on risk to be banned from this sim!")
Wow.
Those poor store owners. I mean, how many freaky naked people with cameras have to be running around your business establishment before you finally snap and paint a gian
t

"GET YOUR NAKED ASSES OUT OF HERE!"
on your
WALL?
In
BLUE,
nonetheless?
VISIT IN WORLD!
LOULOU & CO
Truth
A:S:S
Mynerva
Perfection
Mandala
Kalnins
Miamai
Zeery's Color Couture
sinDecade
MaiyaWHITE by VrangWay on XStreet