For all those people out there who've been wailing, "Oh Emerald! We yearn for another big damn picture of your face!"
O.K. let's rock this post at warp speed because on I'm my lunch break at work.
Yeah, I'm a little drowish these days. I drank the Mynerva Kool-Aid a while back and now I get into
"GIMME GIMME GIMME"
mode whenever I prance my AV into that store. That skin (two makeups, each with a separate cleavage option), matching ears and eyes (not pictured) are Mynerva's 10L Platinum Hunt prize. (Hair: Frankie in Almond by Truth)
But you probably know that already.
So let's talk about the eyes.
A few blog posts ago, before things kind of fell apart in my family life, I expressed my deep burning desire to become the most fabulous eye blogger ever known in the history of all the virtual realms smashed together. (I'm coming for you next, WoW.) (not really)
The next day, A:S:S's tasty creator Photos Nikolaidis dropped a folder in my inventory. Unfortunately it didn't contain a note that said, "Hey Emerald, I feel like temporarily ditching my equally attractive partner and taking a walk on the wild side so please be my wife-for-a-day, please please please." But it did say something like, "Eye blogger - hell yes." And it was full of eyes.
GLORIOUS GLORIOUS EYES!
I didn't realize A:S:S sold eyes. (When you go buy some - and yes, you're gonna want to go buy some - they're upstairs.) Frankly, I get distracted whenever I walk in that store because a lot of the vendors look like
ADAM LAMBERT, Y'ALL!!
("If I had yooooou. Do-do-d-d-d-doo.")
OK, that's not the picture I took.
To my horror, I'm realizing that I forgot to upload quite a few pictures before I left for work. So this post is quite possibly going to suck. (Those skins are free on XStreet though, in case you missed that giant
"FREE!"
Click
HERE
.)
Back to the eyes.

Love, love, love, love, crazy love - possibly more than any other eyes I have. These are called "Blue bay" from the Sparkles in Your Eyes II collection. Actually, these weren't even in the review pack. After I checked out the eyes in the folder, I jaunted (is that a verb?) over to A:S:S and bought a boatload more. Including these. (50L for pair; $400L for a fatpack of 12; all eyes include light reflex prims).
Let's all celebrate my total blog fail together and click this
LINK
to see the whole line, instead of looking at my originally intended award-winning photography.
And these:
Fairy, from the first Sparkles in Your Eyes collection.
*sighs heavily because
NO,
that isn't the pic I took to show off these eyes. But
HEY,
you are impressed with my improvisational skills, yes?*
Click
HERE, BABY
to see the first Sparkles in Your Eyes collection. These are lighter than Sparkles in Your Eyes II.
I'm digging all the eyes at A:S:S because the colors are rich like Paris Hilton, and all the glints in their various incarnations (heart-shaped in the Love in Your Eyes collection; star-shaped in the Stars in Your Eyes collection - but in a subtle way, not an "are you kidding me?" kind of way) give my eyes the perfect amount of depth and personality to match my witty, life-altering prose.
I like my eyes wet and shiny.
And the Neko eyes don't blind me with too much neko: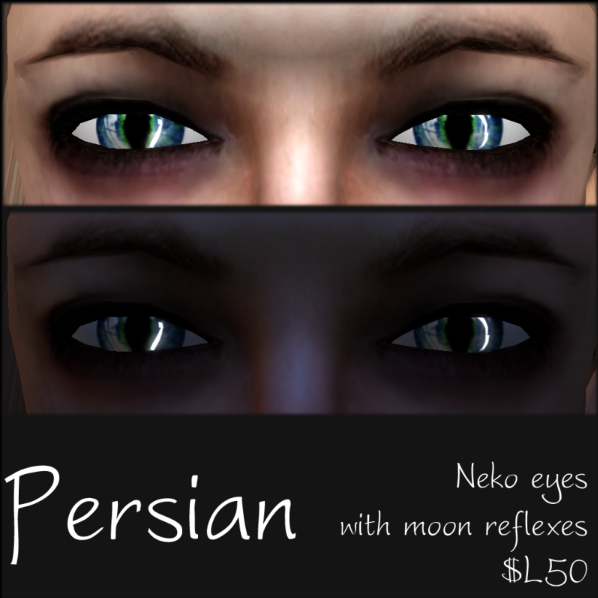 (Don't mind me. I'm just raping and pillaging the pictures on your blog in total desperation and then running them
AS LARGE AS I POSSIBLY CAN.)
Those eyes are sexy. Some nekos make me feel guilty - they remind me that I probably need to clean my cats' litter box and possibly even feed them. These eyes are feline, but not so feline that I feel like I need to run to the store and buy a case of Fancy Feast.
OK, so *bleep* I'm off to a really fantastic start on the whole eye-blogger thing. Just you watch though! Every magical beanstalk starts with a little sprout. (tries to type that sentence with a straight face; fails)
Perhaps when I get home I'll rework this post to include all my original photography. Or perhaps I'll leave it as is as an amusing testament to why I should win the Bumbling Blogger of the Year Award. Regardless, watch for more A:S:S in upcoming posts.
<
("Do-do-d-d-d-doo.")
CrapherecomesmybossIgottagobye!
[Vendor photos unfortunately swiped from the
A:S:S blog
.]
VISIT INWORLD!
A:S:S
Mynerva
Truth