So, it's the last day of the Crazy Arse Hair Hunt 2.
Let's jam. Let's jam radioactive.
That Alien Ceremonial Headpiece is the prize at Psyberia, which is worth checking out anyway. Put your settings on Midnight when you get there and enjoy your trip.
Speaking of, I never realized my yard was such a hot glowy mess until I took this picture. Woooo! (But awesome?)
And I laughed so hard I cried when I put this look together:
The Fire Hair in Blonde is the Crazy Arse hunt prize at Omega Point. It leaves a big damn trail of fire when you walk, and as you may know, I'm all about big damn stuff over here. And that joyous, LOL-worthy Summer Dots dress is the Sixty Linden Weekends sale item at Lillou's Design. It's a billowing battleship of a dress -- I couldn't even fit it all in one frame. I absolutely had to buy it because it made me
smile
. And isn't that why we're in SL in the first place? (Jewelry: Arizona Jewelry Set by Ganked)
And yeah, sometimes on Saturday mornings, I like to relax with a giant pot of coffee and check out the 9,000 pictures on the Sixty Linden Weekends notecards. It takes three notecards now to list all the generous creators who offer 60L sale items each weekend. Most of the stuff isn't my particular style, but occasionally I find a few gems that I must have. Like this
TOY BOX, Y'ALL!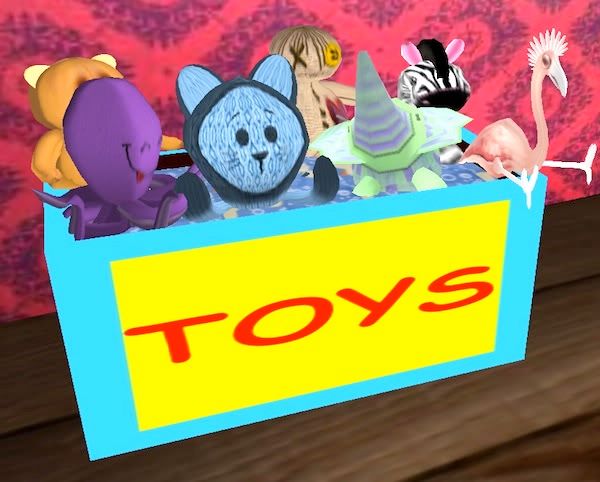 NOW WAIT!
Before you look at that pic, shrug and say, "I don't have any prim kids. Next," you need to know that this isn't just any toy box. It's
MAGIC.
This 60L box-o-fun from Felicious is stuffed with
212 toys
with trans permissions. OK, so they're not going to win any gridwide toy awards, but
WHO CARES?
Your friends can click the box and get toys. Or you can rez all the toys, spread them all over your parcel and roll around in them naked. Your choice. I plan to go the naked-roll route when I run out of blog material.
The box itself is 10 prims.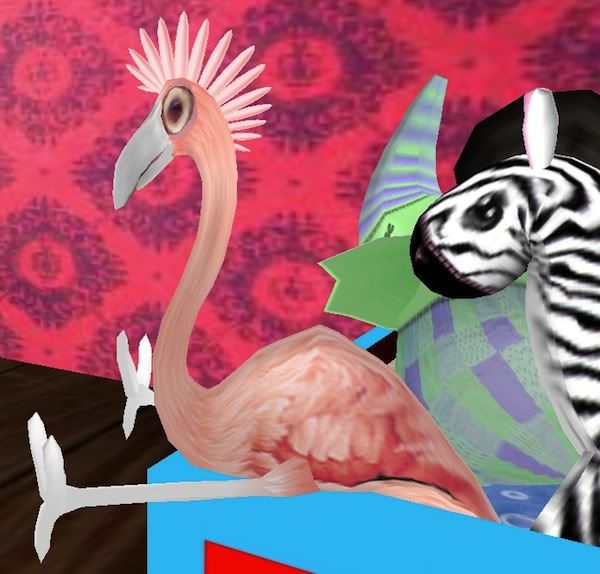 I will not rest until I get this flamingo. Will. Not. Rest.
And now for a few words of gratitude.
I wanted to write a post thanking everyone for the outpouring of love after my last post. I tried and tried and tried to write it, but it just kept sounding emo-cheesy.
Finally I realized there is nothing I can write that can truly express my gratitude for the IMs, notecards and e-mails I've received from both friends and then-strangers.
You will never hear me mocking Second Life -- or myself, for being part of this community -- again. I've seen the beautiful side of Second Life during the past two weeks — people from all over the world who will not hesitate to embrace and support someone in pain, even if they only know that person as words on a computer screen.
I believe now that this is a place where people can learn to love and to receive love. I believe now that this is place that can restore our faith, not only in spirit but also in the awe-inspiring force of good that powers the human race. (I used to be one of those jaded people who believed that we have devolved into a mass of selfish jerks.) Ironically, I talked about the search for spiritual rejuvenation in my last post, but then I ended up finding it in the kindness of virtual strangers.
Thanks to that post, I met a remarkable woman who founded what is now an international support group for families of kids with craniosynostosis. (Yes, WOW, she's in Second Life!) She sent me before and after surgery pictures of her own child, and I now have hope. I met other people who touched me in various ways -- from fellow Virgin Mary aficionados to readers of this blog expressing support. They all deserve a lengthy public thank-you, but unfortunately all I can muster are these few rambling (and still slightly emo-cheesy) paragraphs.
Thank you.
VISIT INWORLD
Crazy Arse Hair Hunt 2 Starting Point
Psyberia
Omega Point
Lillou's Design
Ganked
Felicious