Am I the only one who looks at this screen all the time and wonders who the hell these people are:
They don't even look like SL avatars. They look like clip art. That chick has, what - a white banana sticking out of her ear? Is it a horn? A hair tie? A headset? And we won't even talk about the "Don't mind me, I'm just on my way to The Gap" guy.
To be honest, all I really see when I look at that pic is that girl's "I just got done getting lip injections and drinking your blood" mouth anyway.
(I like to beat up cartoons.)
Plus, I love the whole "Join Now, it's free!" sales tactic there too. Because if I were just some random person who accidentally landed on one of these SL maps pages, I would totally look at those two hipsters and say, "Hell yeah! Where do I sign up?"
. . . God, I'm going to feel horrible if those are actual people in SL. The next post will be titled, "Backpedal."
------------------------------------------------------------------------
[
UPDATE:
I just added this clarification in Comments and now I'm going to edit it in here: Even though I just took out my frustrations on the poor "adventurous-looking line drawings, and BTW we need to make them multicultural too!" (sorry, I'm a cynic. I work in a marketing agency), the real point is I miss the old SLURLs. Some of my friends who don't use V2 are having a hard time with these new Second Life maps. Plus, if you're gonna go for the "If you join and teleport here, you could meet these fascinating people!" angle, at least use a realistic depiction of our SL diversity - like an elf, a Furry, a glamour gal, a guy with a Freenis stuck to the outside of his pants, a couple of RPers, a gothy AV, an average Joe and Jill - and put them in, like, a cheerleader pyramid or something. Or on a hayride. You can hire me any day now, Linden Lab.]
------------------------------------------------------------------------
Hey, can I get a "Wow, is she
REALLY
blogging about the
TELEPORT
Web page??" award?
I'm in the throes of insomnia agony right now - doing that clock-watching thing, that whole "If I fall asleep now, I can still get four hours of sleep before I have to get up for work" routine. I thought maybe I'd make up for my recent lack of blogging, but I don't even have anything to write about. (No, really?)
So here's a picture of my yard:
Whenever I get a new house, I swear to myself that I'm gonna keep it classy this time. And yet somehow it always ends up looking like . . . Dollywood. Or like somebody blew up a box of 64 crayons. Oops.
No wonder everyone around me keeps moving.
Speaking of my house, I love it when friends come in while I'm not there and leave things that scare the
BEEJEEZUS
out of me when I log in.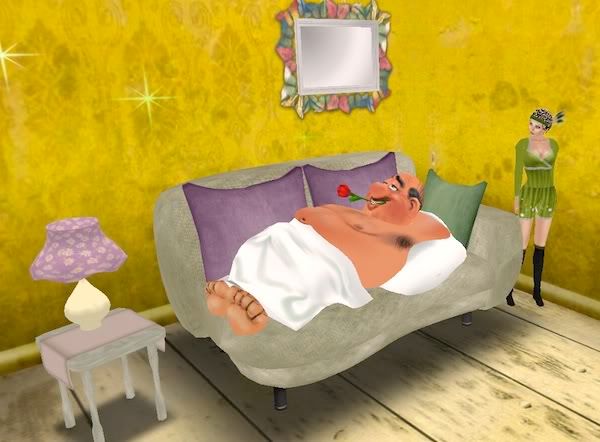 Thank you, Heidi! It's scary enough to log in and find myself in socks and glitch pants.
At first I honestly thought that was a
REAL AV
who was just hangin' out on my couch. When I log in, I'm facing in the other direction. So that thing got the horror-movie jump out of me and everything when I turned around.
Damn, I meant to take a close-up pic of his underarm hair.
I don't really have a segue here, but thank you to everyone who's been asking about my niece. She had her first MRI this past Friday - we'll get the results on Thursday. Then we'll know if there's any brain damage and we'll be able to schedule her surgery. I'm reluctant to talk about it very much. This situation is defining my family's lives right now. Second Life is a rare escape from all of it.
But I don't really feel like myself these days. I laugh and it feels like a crime.
And on that cheery note, I guess I'll go make a midnight sandwich.
Good night, lovely people!