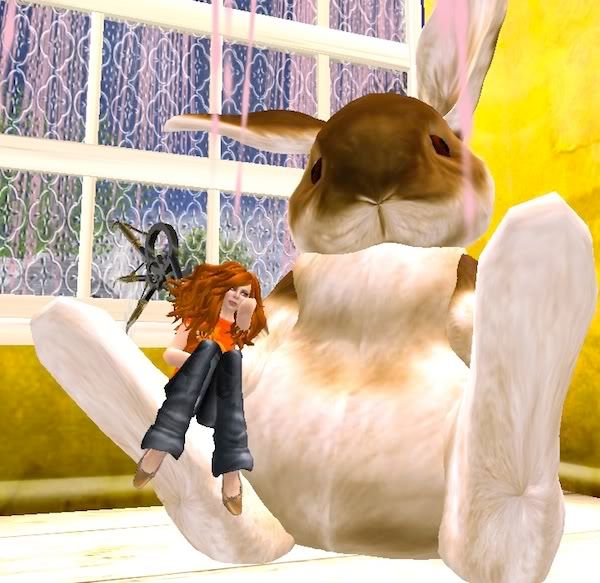 Yesterday I had to listen to the news that about 85 percent of my niece's brain is damaged — that even if she survives this first year, there's a good chance she won't be able to walk, talk, comprehend much or eat solid foods — and suddenly the world tilts and I feel sort of outside my body and trapped at the same time, like I'm watching a horrible movie that's going to last for hours, for days, for years, and no matter how hard I try, I can't leave the theater.
You hear the doctors say things like, "usually the mother will miscarry a child with this type of defect during the first trimester" and you have no clue what you're supposed to do with that information. They tell you, in so many words, that this baby is a biological mistake. They tell you the next step is genetic counseling, and you kind of want to say, "Isn't it too late for that?" They tell you the blinding truth and you want to close your eyes and beg them to lie.
This is not even my child, but hey, hey, hey, it takes a village and all that, so I watch my baby brother try to look strong as he hears that his daughter will need special care for the rest of her life, that he may never really know her mind, that eventually she will need cosmetic surgery to save her face. I watch my father crumble like a defeated giant and cry tears I never knew he had. I watch my mother storm the Internet to hunt down multisyllabic words like holoprosencephaly and microcephaly and then print and print and print everything she can find, as if she can print it all away, print it out of the universe, hunt it down and smear it with ink and rip it to shreds and throw it away and start all over with a fresh sheet of paper. Our kitchen has suddenly become a medical library. Our kitchen is sinking into an ocean of rotten syllables.
And meanwhile you shift from first to second to third person. You can't find a place and you can't find a voice and you can't find a perspective and you're thinking, "After this day, nothing is ever going to be the same." You will look back on this day and mark it with red ink and call it "The Day Everything Changed."
I want to do something but I can't. There's a selfish part of me that wants to say, "This does not have to be my life this does not have to touch my life this does not have to shape my life" and get in my car and drive and drive and drive far away from here. Instead I wait in the suffocating darkness and watch the clock as the night slides by and wonder what the hell we're all supposed to do when the sun comes up.
I log in because I need to do something with my hands and I get a message telling me that I need to download a new version of the viewer, that I cannot enter until I download a new viewer, that nothing will work until I download a new viewer, like the whole damn universe is suddenly saying, "No."
When I finally get in, my Windlight settings are all jacked up and it's so piercingly bright that the light hurts my eyes.
I can't see.