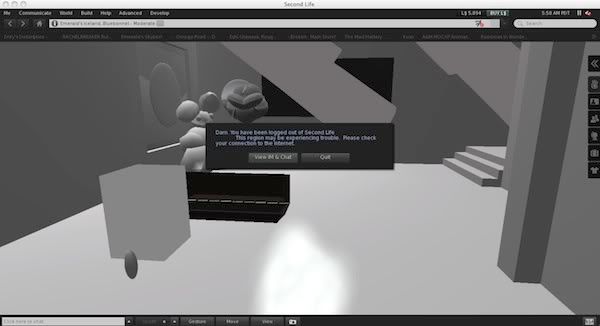 Soooo, I can't log in anymore.
Every time I log in, I log in to this gray, depressing "Darn. You have been logged out of Second Life" screen.
Really, Second Life? "Darn"? At least put an exclamation point after it and act like you give a damn. In fact, in this instance I'm totally giving you permission to drop the F bomb.
This has been going on for a week. I tried downloading different viewers, older viewers, beta viewers - nothing fixes it. I need to get on chat support, but they're never online before I have to go to work and blah blah blah blah wah wah wah wah.
I ran a systems scan/repair disk thingy on my computer and everything's fine, according to the thingy.
So anyway, whine and all that.
The horrifying thing is that I dug up my dusty old alt Unsung Afterthought -- created in a bored "Can I make a kick-ass avatar using absolutely no lindens?" moment -- and she can log in JUST FINE!
:-O
Maybe Emerald Wynn has been corrupted. I don't know if that can happen. But I was thinking this morning, "Wow, what if when I finally get a hold of Support, they tell me my avatar is broken and I have to start all over with a new one??"
Maybe my 110K inventory has
FINALLY AND OFFICIALLY KICKED MY ASS!
What if they tell me in order for Emerald Wynn to survive, I'd have to dump my whole inventory? Wow. That would be . . . not cool.
If I'm ever able to log back in, I swear I'm going to get rid of more than half my inventory. I'm not even going to sort it. I'll put my 100 favorite things in a folder and get rid of the rest. Well OK, I mean 500. OK, no more than 1,000, I swear.
I'm also going to write down my body and face dimensions. (Gee, what a concept.)
Maybe I've been banned or my account has been suspended or something? I haven't been griefing anyone, I swear!! And wouldn't I get an email about it?
The horrifying possibilities are endless!!
I'm bummed because I really wanted to do the Snow White Hunt. The prizes looked cool. I was psyched the moment I heard about it, actually. That bitch Alice gets all the damn attention. It's about time we started idolizing some other cartoon character.
I have to go to work now. When I find out what's wrong, I'll let you know, if only so Emerald Wynn can be a brave and admirable role model for other malfunctioning AVs.
Somebody tell my landlady that I'll pay my rent as soon as I can, I swear!