Hey, it's the last day of Jewelry Fair, so let's crank out some jewelry posts. I'm aiming to post a plethora today, but I'll be lucky if I make it through two. If you're over jewelry, there's a
cool free skin
in this post. Scroll down toward the end.
I noticed that whenever anyone blogs about Violator, they go out of their way to make their pictures dark and edgy. "I'm not doing that," I told a friend of mine. "I'm going to shoot it with unicorns and rainbows!"
Oops.
This necklace and earrings set is called All the Forbidden Things (in Antique Gold) by Violator (Soraya Vaher and Minx Glaz). It's 1500L and it can bring a whole sim to its knees. I know because I crashed several times when I was taking these pictures. Finally when I logged in, I got a script error message that said, "Unable to create the item that is causing problems in this region." And the necklace was gone!
IT WAS GONE!!
(Fortunately not from my life -- just from my neck.)
So wear it and feel genuinely rich
and
powerful.
The Edge [eye] Shadow makeup tattoo layer is from L.Fauna. The hair is Tilly by Truth in Streaked Auburn. The Henna Beauty arm sleeves tattoo is by Para Designs.
I won't lead you astray: The Violator store is pretty pricey. I often go over there, look longingly at the trippy hair, then glance at my linden balance and wander sadly away. It has several gift terminals though, which are always awesome, particularly now that the holidays are coming. It also has a little MonkeyStation:
Monkey!
The most realistic Apes in SecondLife. Your search is over!
I'm pretty proud of myself for refraining from buying one.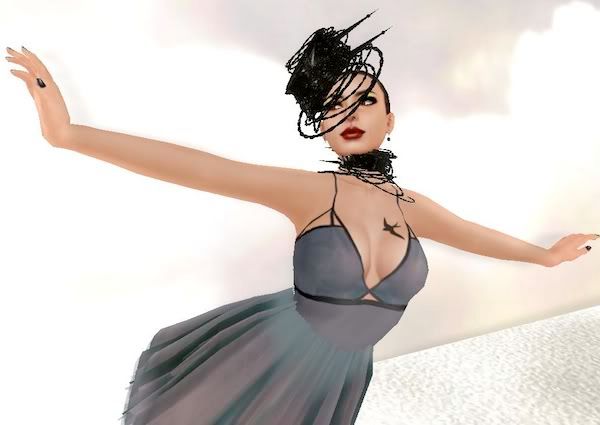 HELP! DEATH BY AVANT GARDE HAT!
Violator's The Dark Note (hat and choker), 950L. I showed up to flip a lucky chair while wearing this outfit and some chick said, "Gosh, I didn't know this was a diva party." I yanked off my hat and stabbed her with it. Sorry if you can't handle it, honey. Now feel the wrath of my spiky accessories.
(Bow down before that Fall for Me dress in Ocean by The Seahole. Chest Swallow tattoo by The Habitat.)
Hey, this is a really great time to pick up some fabulous and inexpensive skins. I'm not usually a fan of huge red lips, so bravo to Tyranny Designs (rebranding to Grixdale) for changing my mind. The Teagan in Fall (Autumn & Junk) skin by Grixdale in that pic is 75L during Project Themeory this weekend.
And this skin is free:
Ayame skin in Crimson Kiss, 0L for three shades at Heartsick.
HOWEVER,
the designs on the cheeks are the Fairy Kiss eyeshadow tattoo layer in Pink by PixelDolls (120L for a set of eight colors). So don't put on that skin and yell,
"Where the hell are the swirly things!??"
(Looking Glass Eyes in Light Blue by Admittedly Absent. Rock.)
In case you haven't already seen that choker and bracelet all over the feeds, here it is again. It's Violator's The Punk, The Ruff and The Beast set (1500L) in platinum and black. I wore it with a bunch of pink stuff. That's as close as I got to girlying it up.
Hair: Nadine 2 in Streaked Bubblegum by Truth (new). Pink foofy dress: Nina Dress in Hibiscus (70L) by Mimikri, currently at The Dressing Room Blue. When I'm done wearing it, I'm gonna put it on a stick and eat it.
"Hey what the hell is that word in your headline?"
It's from the song "Vivrant Thing," by Q-Tip, on the 2009 Violator album. Download it!
The beat is infectious and the video is HORRIBLE, JUST HORRIBLE!!
(The head bopping in the car is so priceless though — wait for it!!)
I've been stuck on this song ever since I got these pieces by Violator. It's turning out to be a pretty musical Jewelry Fair for me.
Proudly bringing you obscure song references since 2008,
Em
VISIT IN WORLD
Violator, Jewelry Fair Booth
(through Oct. 17)
Violator, main store
Tyranny Designs
The Dressing Room Blue
Heartsick
PixelDolls
Truth Hair
The jewelry and hair in this post were provided by the creators for possible blog inclusion. Everything else was purchased by me.
I tried to count the parentheses in this post and gave up.