Um,
iheartSL
used to only run a pic and a couple of paragraphs from each of these posts and then link to the rest of it here.
Unfortunately, I just realized that
a BUTTLOAD of past posts
have been running in their entirety over there, which must be agony for the people reading that feed.
WOW
and
LOL
because
oh LORDY,
these posts can get long!
(No, really?)
The good news is, I just figured out how to insert page breaks in them. So hopefully that fixed it? Maybe not. :-\
I've been kissing many lindens goodbye at Bliensen + MaiTai ever since I discovered that store more than a year ago. As usual, they didn't disappoint at this year's Jewelry Fair (which ends in a few hours *sniff*). I'm wearing the Beauty + The Beast necklace and earrings here, and I particularly love this set because the colors are perfect for the season. (Wow, that sentence sounds like my grandmother wrote it. Sorry.)
Close up of the necklace (250L). Pardon my heaving bosom. Wait, you know what? Don't pardon it! It's awesome.
Those are small pictures of Beauty and The Beast, respectively, and I'd absolutely wear this piece in RL for its conversation-starter value alone. ("Hey, is that your dad?")
Close up of one of the earrings (230L):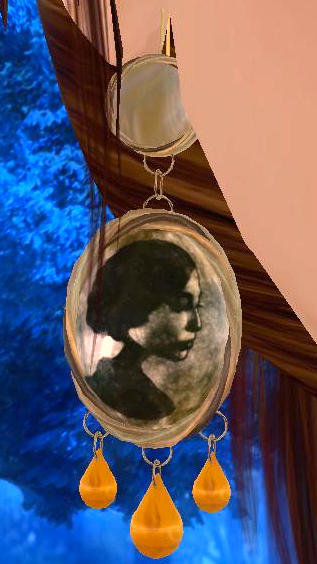 Cool.
VISIT IN WORLD
Bliensen + MaiTai Jewelry Fair booth
(through Oct. 17)
Bliensen + MaiTai Main Store
In case you're wondering, I grabbed that top from the Madiera outfit by PixelDolls; the hair is Truth's new Nadine2 in auburn; the skin is Sophie by Mynerva with Wild Eye Makeup in Tiger (tattoo layer) by Glamorize; and the eyes are a former hunt prize from Beloved Custom Designs.
Jewelry and hair were provided for blog consideration by the creators. Everything else was purchased by me.