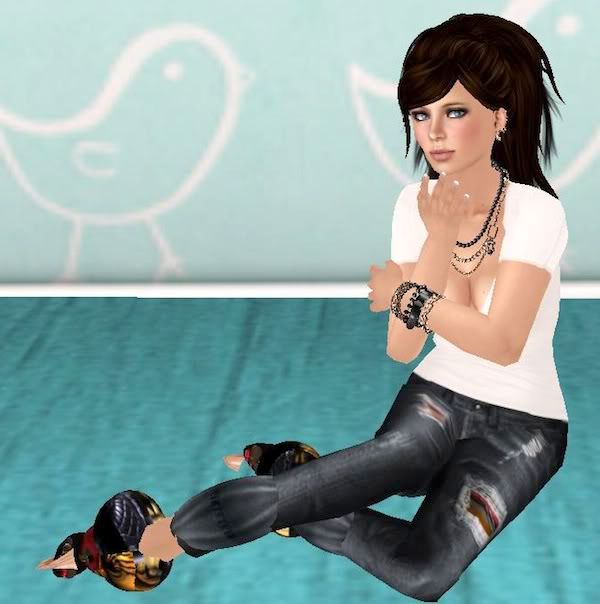 I thought you guys might want to see what my shoes usually look like (at least to me) in SL these days.
AWESOME,
no? Honestly, I've been thinking about starting a "Guess what these shoes are!" contest on this blog. That would be fun.
Sigh. Let's talk about jewelry instead.
Tale as oldddddd as tiiiiiiime,
True as it can beeeeeeeeee-eeee-eeeeee,
Barely even friends,
blah blah blah blah blah
unnnnnnnnnnexpectedly
Circle as the sun
doo do doo do dooooo
. . . Lots of other lyriccccccs
. . . Insert a few more li-i-innnnnes!
Tale as old as time
Songs with words that rhyme
Beautyyyyyyyyyyyyy and the Beeeeeeeeeast
I'd like to thank Jewelry Fair 2010 and its Beauty and the Beast theme for getting that mother-effing song stuck in my head for what feels like the rest of eternity. I say that with
LOVE
though! I like Jewelry Fair because I'm really not a big jewelry shopper and this annual event always expands my accessory horizons.
(
WOO HOO!
Now that I've added my blog to
iheartSL
, I can share the cleavage joy with sooooo many more people! I recently heard that these push-up boob skins are so yesterday. Never! At least not when you're a 32 negative-A in real life.)
I got so excited about this necklace that I didn't have the clarity of mind to click Edit and scoot it down a little. Just so you know, it does
NOT
defy gravity. So don't let the picture fool you. This is the Curio Forest jewelry set (200L) by Elemental Earth Designs. It's also available in other color combinations. Creator Sirena Penucca is fairly new on the jewelry scene and describes her style as "Earth-inspired and eclectic." I love! I'm a casual, colorful gal and these are casual, colorful pieces, so bravo, Sirena!
The set I'm wearing is EED's Jewelry Fair-exclusive charity piece -- 50 percent of the proceeds will go to Oxfam International, an international confederation of 14 charitable organizations that works to provide solutions to poverty and injustice. It does
NOT
provide families with oxen. So don't let the name fool you. To read more about Oxfam, click
HERE.
VISIT:
Elemental Earth Designs' Jewelry Fair Booth
Let's look at some more boobs . . . OOPS, I mean jewelry:
I love it when SL jewelers go bronze. This set screamed my name when I walked by it. It yelled, "EMMYYYYY! LET'S HANG OUT!" It's Fusion's Bronze Pearl Charm Necklace (185L) and matching earrings (135L). The bracelet that completes the set (175L) is in the pic up top with the hot mess that's supposed to be my feet and shoes.
Close up of the earrings (and my face, YAY for you!!):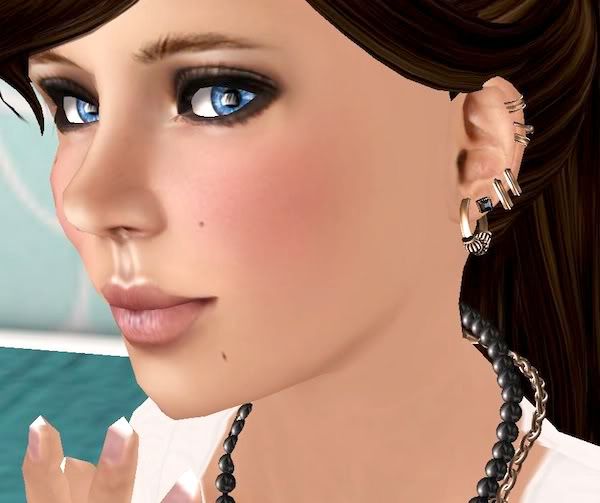 "My, what creepy fingers you have!"
The multi-pierce earrings are one linked piece. I'm actually going to have to go back and buy these all over again because I made the noobish mistake of not making copies of them before I started to mod and ended up totally screwing up the one on my right ear. The left earring fit perfectly. The right one was a little off. Now it's a monstrosity. I should have just stuck with "a little off."
VISIT:
Fusion's Jewelry Fair booth
Jewelry Fair lasts through Oct. 17, so you'll be subjected to my jewelry-junkie joy for a few more posts.
Although I have a Jewelry Fair Media group tag, the pieces in this post were all purchased by me and are not free
review copies
(although I did receive a
review copy
of the Curio necklace in blue shades). I do appreciate
review copies,
and I particularly try to support new or little-known creators and designers as much as I can. It's my policy to gratefully accept
review copies
and blog the things that inspire the deep, poetic thoughts frequently expressed in this blog; and I'll always note when something is a
review copy.
. . . MY GOD WHAT A BUNCH OF BABBLING,
but I guess this information is important to some people. I just said
"review copy"
FIVE times in this paragraph! Actually, make it six now! Let's throw in four more and make it an even 10:
review copy, review copy, review copy, review copy.
Wow.
If jewelry isn't your thing, here's a picture of my yard: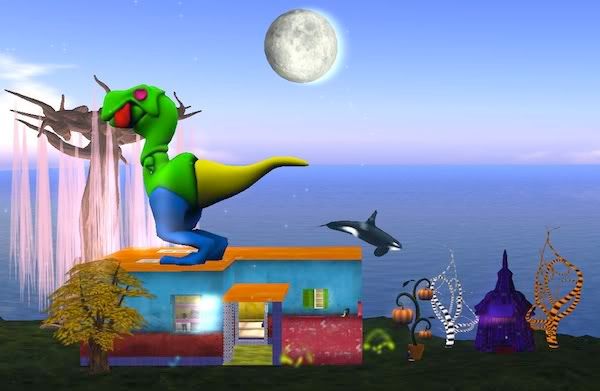 Shoot, I have to get back to work.
Other things in this post:
Hair
- Truth - Anya in Treacle and Leighton in Almond (middle pic)
Eyes
- Beloved Custom Designs - Opal in regular (middle pic) and Aquamarine in regular (buy the fatpack and add them to your "Eyes That Rock" folder)
Skin
- Mynerva - Sophie, nude, cleavage version
:D
Poses
by Tea
Background
texture
from Made by Moo
Clothes:
V-neck white T by Medley, Hobo Jeans by Moonshine (and yes, usually the cuffs rez and look fab)
All the stuff in my yard:
Um . . . just IM me if you see something you like and have a deep burning desire to go buy your own.