I noticed nobody's been writing any blog posts about Halloween, so I thought I'd be a trailblazer.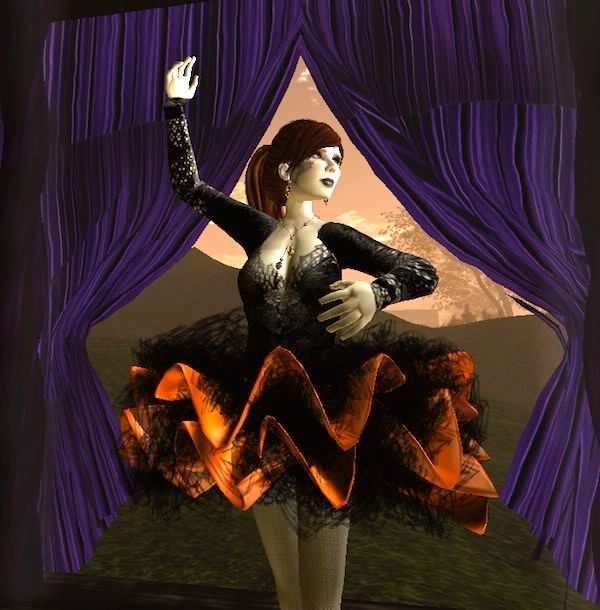 Welcome to another episode of "Hey, look at this stuff I like!" (Ewwwwww! Look at my weird, puffy man hand!! What the hell??)
Several people have asked me about this outfit, as in, "Hey, where'd you get that dress?" It makes me feel a little triumphant because during my past two years here, the only thing I've really mastered is the fine art of being a total SL Fashion Fail. *takes a bow* So wearing something that actually inspires strangers to IM me about it, well hell, that's like [insert your own triumphant metaphor here].
Here's the thing about this look:
(Let's pretend the necklace rezzed all the way. :-\ )
It's actually not a dress; it's a mix-and-match — something else I usually screw up royally. So
YAYYY ME!
(sorry) And the skin! Did you know every Friday, Skinthesis sets one female and one male skin to 50L? (Follow the blue arrows.) And Cane Sutter is so generous, she usually leaves them out all weekend. This weekend she has some ghastly skeleton skins out. I got this Mindi - Carnival of Souls skin two weekends ago.
OK, back to the "Hey, where'd you get that?" outfit: The skirt is from Ribbon, a groovy little Japanese store that I really think you'd like —
everything
there is insanely affordable. For
a whopping 20L
you can grab the Limited Halloween Lace Dress, which includes a hat, net top, glitch pants, this skirt and some fluffy, um,
boob pom poms
that
there's no way in hell I'm ever wearing.
And if the whole black-and-orange thing is starting to make you nauseous, you can grab a black version and/or a white version for the same price.
For your reference, here's what the whole thing looks like: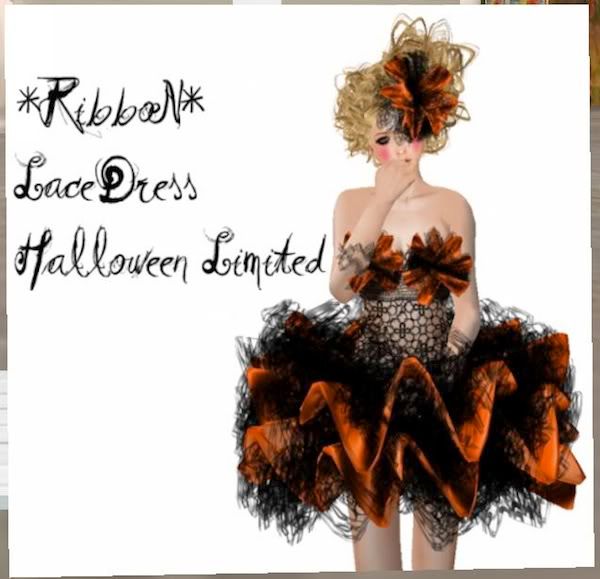 ("Did your pasties explode or are you just really happy to see me?")
As for the top:
(Yeah, you've seen this pic before. Sorry.)
I have
Celebrity Trollop
to thank for it. One day I got an IM from her that said, "You need to go grab this PixelDolls outfit." So I did. I buy everything Celebrity tells me to buy because who could ask for a better fashion mentor?
It's from the PD outfit Madiera in Black. It's tough for me to help you find it because I can't remember at which PD location I bought it. However, there are some great 10L tops that have the same texture and intricate laser-cut detailing at the current 10L Clearance Sale at the PixelDolls <3 Lobby (see SLURL below.)
Let's wrap this up with a hat. I'll take your ho-hum witch hat and raise you the Most Awesome Witch Hat Ever:
OK, maybe not "ever," but definitely this year. It's the Glamora Witch Hat from Couture Chapeau. For 199L, you get two versions: black and gold (shown) and all black. (We'll get to that fabulous outfit in the next post.)
I have a couple more Halloween posts in the works.
I'm
SKATING IN WITH THEM at the last minute,
as always.
But right now I have to go dress up like a fairy (in RL) for a (RL) Halloween pub crawl. Woo hoo!
Love and Halloween hugs!!
Em
VISIT IN WORLD
Ribbon
Skinthesis
PixelDolls <3 Lobby
Couture Chapeau