I guess I need to apologize to several people who saw my "Why I'm Not a Fashion Writer" headline on other blog rolls and came scooting over here anticipating lotsa juicy, smack-talking reasons why I'm not a fashion writer.
Whoops. That's really not my thing. I try to keep it all peaceful and lovely over here (which is probably why I only have eight readers). Unless you're in public without a shirt or pants on, the only person getting mocked here usually is me.
I'll break form just this once though, just for the people who made the foreign trek over here again: 
"Damn, you glamazon divas have so much drama flying in all directions, I don't know how you find the time or energy to fuel my fashion fantasies with your lust-inducing threads and the enticing words you write about them."
("Threads": Hell yeah, I just took you all the way back back 
BACK
to the to the '70s, babies. Live it. Love it. And bask in the warmth of that long-ass sentence.)
I've got
NOTHING
going on in SL and I still can't even adjust a skirt prim.
Even though I don't know a lot of the backstories, or even the front stories, of most of the beautiful people, I did spend some time today living vicariously through them by scoping out about about two months of posts on
Shopping Cart Disco
,
SL Revolution
,
Mayne Line Expose
(WTF -- I didn't make the LIST!?),
Go Fug YourSL
and
Are You F!@#ING Serious?
, among other Sites I Visit When I Really Should Be Looking for a Job and/or a Rich Man.
ZOMG, the shocking shite that's been going down. I was exhausted when I finally digested all of it.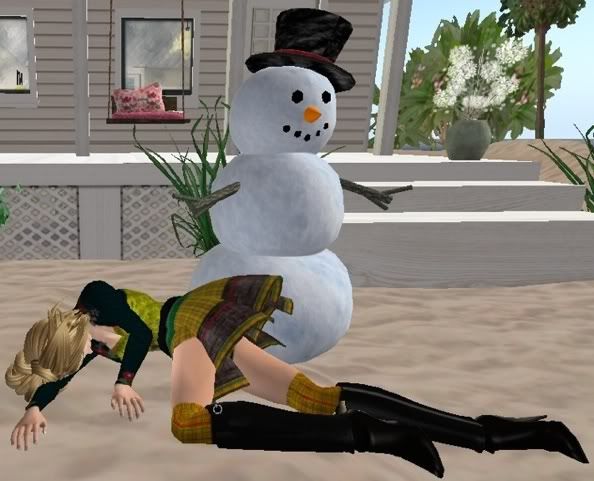 (In SL, you too can build a snowman on the beach!)
Speaking from the perspective of someone who also has
(ACCIDENTALLY!)
 kissed a girl posing as a guy in world (and did not like it, Kate Perry), I originally wanted to turn the rest of this post into a PSA begging people 
FOR GOD'S SAKE
 to
STOP DOING THAT
. . . but I think I'll save it for another time.
Heyyyyy, time to change subjects! :D
Here's why one of my New Year's resolutions is NOT to jack around with my face anymore while I'm waiting for the Ambien to kick in: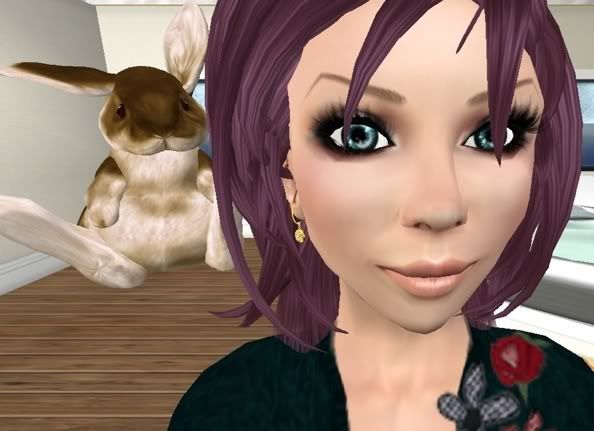 (The bunny and I are watching you.)
I also somehow turned my legs into puffy sausages squeezed in at the knees. I don't know how to fix this, actually. There isn't a "knees" slider, as far as I can tell: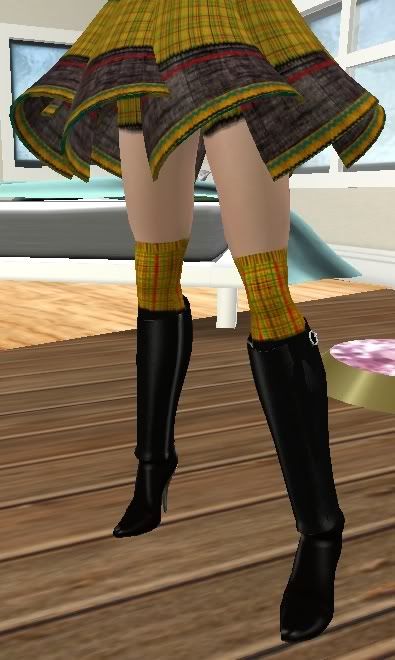 If you too are having problems with your shape, I suggest you head over to the most excellent
Shapes Tutorial (Part 1!)
 post by the lovely Meara Deschanel on the What the Fug? blog. Thanks, Meara! I tried following your guidelines. I look a little meatier now, which is a good thing, and I don't have a martian head anymore.
Unfortunately, I'll still always shrink the booty slider way the hell down to almost nothing when wearing skirts, particularly system skirts. 
We're dealing with enough stress in both worlds without the added threat of my badonka-donk-donk in all of our faces.
Now I just need an SL nose job and a chin that won't slice through glass, and I'm all good.
And finally, I never intended for this blog to be a "freebie alert!" kind of thing, particularly since there are so many blogs out there that are doing it oh-so right, but I'm loving this gift from Stitch by Stitch right now. I'm a huge Stitch By Stitch fan. The quirky, fun clothes make me feel yippy-skippy.
That outfit is called Ramona, but for some reason I renamed it "Little Monkey Dress" in my Stitch By Stitch inventory folder. As mentioned in my previous post, get it
HERE
in the gift bags at the Mantova International Arts & Fashion Festival runway, available through Friday.
Stitch by Stitch's Mantova runway show is at noon SLT on Friday (1/16).
Those boots are called Florence (in black!) from
Kitties Lair.
I got them as a noob, I think, and I did have to use a "scrubber" script to de-bling them. The hair is Roughup in Blonde from
Junwave.
Skin is the lovely Megan A Light from
Rockberry.
That stupid look on my face is courtesy of me.
Hey, look at my fish tank!
(Fish tank available for your own photo backdrops -- just give me a holler.)