I have a not-so-fond memory right now of myself at an Apple store a little more than a year ago, gainfully employed, credit card in hand and ready to buy a MacBook Pro.
The Mac Expert (or whatever they're called) asked me if I was a graphics artist. I said no.
Then he said, "Well, do you play any online games, like Second Life or World of Warcraft?"
Back then, I didn't know what the "online game" of Second Life was, so I said no.
Once he figured out that I primarily wanted a laptop for writing articles that now barely pay my bills, he said, "Well, why would you want to spend $3K on a MacBook Pro when all you really need is a MacBook?"
He actually "downsold" me on this tiny laptop. And I sort of curse that moment now, particularly when I'm squinting at fashion shows and seeing stuff like this:
RAWWWWWK
that red bracelet and those big gray eyelashes, baby!!
Yep, I logged on today (after a two-month "detox/reality check" in the real world) and decided to get back in the SL groove by checking out a runway show. But not until after I gleefully dug through a bunch of yummy group gifts.
Baiastice's
January gift is called Purpless. And
[the oBscene]'s
"Happy New Year!" gift is some groovy hair called Meggie in Midnight.
Put them together and they look like this (and BTW, I included that girl in the blurry green dress in this pic because
MY GAWD,
that dress is
CUTE!
Well played, honey! And I think the
WIDE EXPANSE
of cobblestone street between us, the blurry "WTF?" look on that chick's face as she checks out my outfit, my own space-case facial expression, and that hipster gray dude in the back really
ENHANCE
 the shot. **bows and accepts photography award**):
Yeahhhhhh, um, it's a little purple. The generosity of Sissy Pessoa is unmatched, though. This outfit comes with soooooo many pieces (and options), I forgot to write them all down. Shoes are included. So is the purse:
I have a feeling the "What Not to Wear" duo on TLC would grab me and tell me not to wear this whole outfit at the same time (matchy matchy!!), but whatever. Once I got it all on, I didn't feel like changing. Plus, I really think the hair catapults the whole ensemble into bad-ass avant gardeville! I just need some big damn Posh Spice sunglasses to polish it all off. 
**runs from the
What the Fug
girls**
So anyhoo, today I went to the Haute Style & Co. and Gracie's combined runway show at the Mantova International Art & Fashion Festival, which runs through Friday.
TP in
HERE.
And
GRAB
the fun goodie bags waiting near the TP point. You'll get a folder with great gifts from Stitch By Stitch, ALB Dream Fashion,
Runway
magazine and SLCN.TV (specifically, wall and standing TV sets, yip yip!) -- as well as a complete schedule of events and shows.
The festival is a weeklong celebration of art and fashion from the international design community, featured at the Mantova sims and sponsored by the Mantova Group. There are fashion shows every day at noon and 4 p.m., various forms of art and entertainment all day, and "dancing with DJs" every night from 6 to 8 p.m. (And you know, I don't think you get to actually dance
with
the DJs -- but if so, I'm so
THERE,
baby -- I just write it like I see it.)
Here's a Web site about it, actually:
CLICKIE!
It's in Italian, so I don't understand a
WORD
of it! The pictures are great though!
Anyway, I loved the fashion show today. This outfit was particularly stunning:
"Ralph, shown by Olyvia, is a brilliant blend of color and style, with a replicating pattern that spans from the top of the bodice to the hem of the skirt."
YEAH!
This one actually looked like a gown I would really like . . . if I could see it:
(Kaits Doll by Gracie's. 
I could be spelling the name of the outfit wrong -- I don't think it's out yet. I couldn't find it in her

store

or on her

blog.

)
LOVE THE FEET!
**kicks computer across the room**

Hey, why do people feel the need to scream out the models' names during fashion shows? 
Or scream out each other's names, for that matter? 
Or just blatantly open-chat about stupid things while the poor announcer is up at the podium trying to read detailed descriptions of all the pretty gray outfits I can't see?
"You look so CUUUUUUUTE!"

"So do YOUUUUUUU!"

"OOOH, PAYTON, PAYTON, PAYYYYYYTON!!!!!!!"
We get it: You know the models, you know the fashion crowd, you look cute, she looks cute, he looks cute, everything is so damn cute, now shut the hell up.
Meanwhile, all I want to do is yell,
"WOULD EVERYONE PLEASE HIT 'REBAKE'?"
Actually, the coolest thing I've ever seen at a runway show was a guy who ran naked up onto the runway and set himself on fire. It was oh-so bad of him but oh-so awesome. If you can make me laugh, then I guess you are allowed to act obnoxious. Otherwise, zip it -- your mouth
and
your pants.
And to my friends, here's why I always turn to you and say, "Hey, do I have little gray balls revolving around me -- or floppy gray blotches around my eyes?"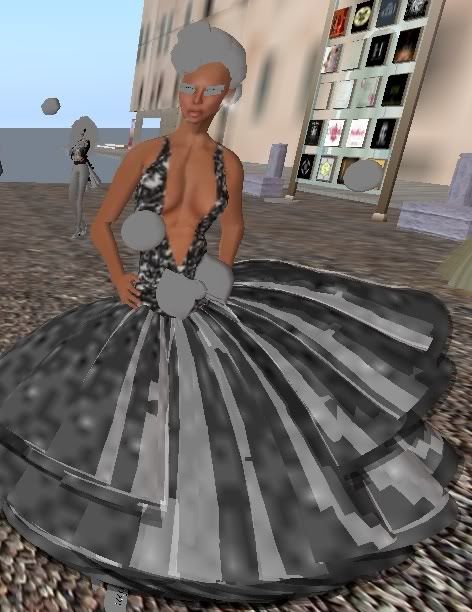 Yeah, yeah, yeah -- I know she's a big deal. I'm not mocking her. I'm mocking my stupid computer. Her J-Lo dress was cool, actually. Even when she was standing still, it floated all around her. How do I get these leather pants to do that?
And woooooo, girl, you have gotta be working that nipple tape!!! That is impressive. I felt really . . . covered up . . . standing next to her in my puffy purple ski vest/turtleneck sweater combo.
Um, so I can only take so many gray shapes in one day, so I left the fashion show early and went to a great hair store called
House of Munster.
I thought I rocked for "discovering" it, but now I see it's all over the blogs. Oh well.
HoM is on a sim called Twilight, and if I sound like a noob for not knowing about this sim before, well, whatever -- I've been on vacation. 
But
DAMN,
everything is so cool and snowy everywhere right now!!! Joy! It's my first winter in SL and I love the ice. It mirrors my soul and my current frosty outlook on life:
My foot is so excited to be there, it's glowing.
I bought this hair called Fluffeh . . . in Pinks . . . so I could look even more obnoxious in purple:
But . . . but . . . Santa promised me a facial expression for Christmas. :(
Yeah, yeah, yeah - I know you hate my taste in hair. Shut up.
Hey, lookit my fish tank!!!