Hello! Welcome to the
BIGGEST PICTURE OF MY FACE EVER!
I wish I could make you a T-shirt now!
"I Saw A Big Damn Picture of Emerald's Face and SURVIVED!"
U.S. fashion guru
Tim Gunn
would probably say that if you have holly, candy canes, Christmas bells, ornaments, stars, snowflakes, and God knows what else crammed in your eyelashes, you should probably remove your earrings, as they'll steal the spotlight from all the
CHRISTMAS CRAP
dangling off your face.
Consider it done, Timmy!
Tongue in cheek aside, I actually got
A LITTLE GIGGLE
from these Christmas Cheer Eyelashes (200L) from
Talon Faire.
(Other style notes —
Eyes:
I'm loyal to only a select few brands of eyes.
Bodyline
is one of them. The eyes are
FABULOUS
there. At top, I'm wearing Purple Line, 130L. Eventually I will own all the Bodyline eyes. Consider it a goal.
Skin:
Tuli's
Bella/Fair in the makeup called "I Have No Lindens Now"—
JOKE!
The makeup is Sunset in the For Your Eyes Only pack, 2000L. There's also a For Your Lips Only pack. I want it so badly, it hurts. But I need to rein in my spending. *on hearing this, my spending whinnies and rears up on its hind legs*)
OK, so being an occasional Catholic, I'm now feeling a little guilty for using the phrase "Christmas crap." Don't repeat that, kids!
And just so you know, I usually can't stand it when people say stupid things like "a little giggle." Irritating. And I also usually can't stand prim eyelashes. They're hell to mod, and unless you're using a decent computer, chances are good they're just gonna look like a couple of smushed bugs on my face anyway.
But these lashes have a sense of humor. These lashes amuse me. And when I'm wearing them, I require no other festive accessories except . . .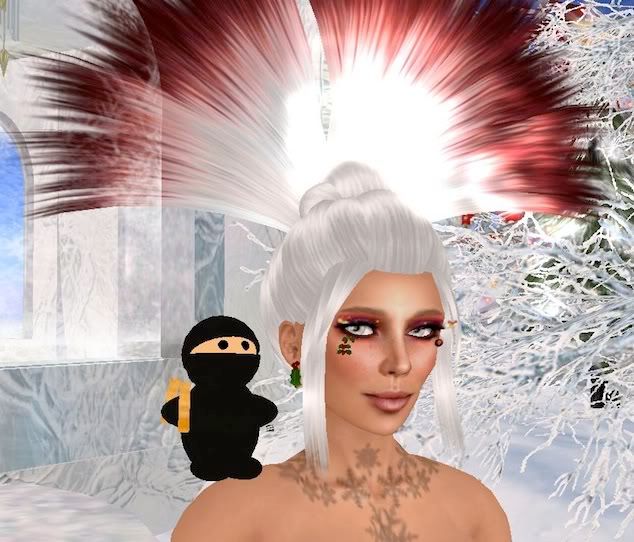 (Eyes in Platinum/Large from
Beloved Custom Designs
.
)
NINJA!
HA HA! My friend
Kareem Glas
made these Ninja Shoulder Pets carrying various weapons (some of them move!) and gave some to me. She doesn't sell them either! She just makes cool stuff
FOR THE HELL OF IT!
Can you imagine? But if you're yearning for your own, maybe she'll hook you up if you ask her nicely.
BUT WAIT!
I just hopped over to Kareem's blog and
it appears that she's a hot guy now!
She chronicles her gender-bending
HERE.
I met Kareem when she was a female. But hey, a hot guy is even better in my book. So rock on with that, man!
(BUT DAMN KAREEM, I GOT YOU A HUGE PINK FOOFY DRESS FOR CHRISTMAS!)
The cool thing is, she —
OOPS, I mean HE!
— packaged them in this giant ninja box, which recently got its 15 minutes of blog fame over on the
Ch'Know
blog: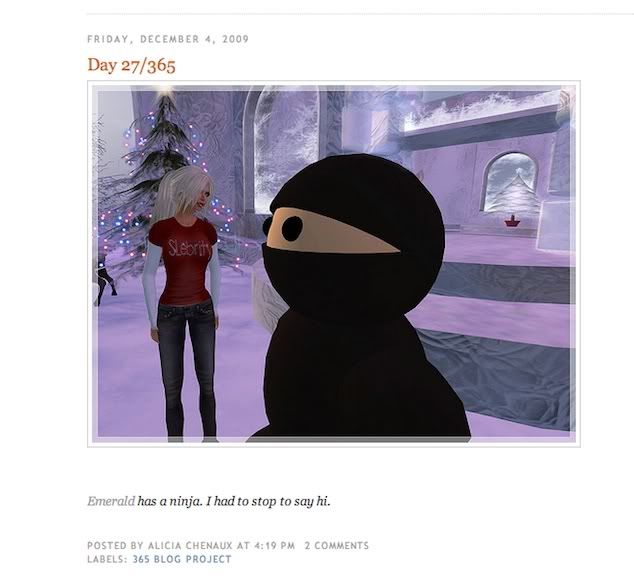 ("What? Only two comments?" Love, Emerald "Queen of the Screen Shot" Wynn)
So many shenanigans going on in my yard these days.
So speaking of "cool stuff my friends made," my friend Estevan Preiss is getting ready to launch a jewelry line called Rising Star. He gave me some preview items. From what I can see, the line is big, bold, glammy stuff, so I'm excited for him! I'm not gonna really show it until he officially launches, but in the meantime I'm wearing his holly earrings — they're lined in gold with a gold back and I love them:
They match the holly
THAT'S
HANGING OFF MY EYE.
If you look closely, you can see that my eyelashes are actually floating about 1/4 of a centimeter away from my eyes. Yeah, I gave up. If you see me on the SL streets, just don't get too close to my face please. Particularly because on any given day, you will see some sad thing — a random strand of hair, an earring, eyelashes, a prim tattoo, vampire bites — orbiting my head, making a silent-but-tragic statement of total mod fail.
So anyway, my friend Eva introduced me to the eyelash-and-nail store Talon Faire. I suggest you check it out, because it's full of amusing eyelash awesome sauce. She also TPed me to the Stiletto Moody sale today, checked out my outfit and said, "Haha, I can see your @ss when you walk!"
AND YOU LIKE IT, EVA!
I'm giving you a huge framed picture of it for Christmas!
But yeah, my current outfit: Winter fashion masterpiece or Las Vegas showgirl on crack?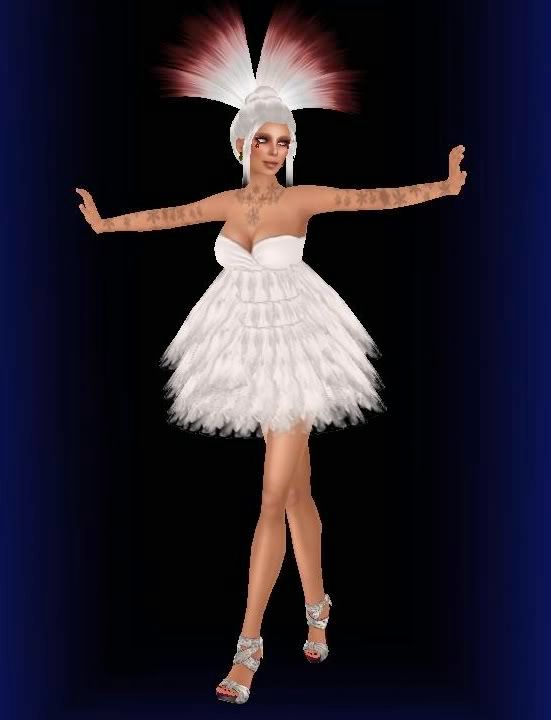 Who cares! I love it. I love the flirty little Feather Dress from
So Many Styles
(available in other colors for 200L), the snowflake tattoo (50L) from
Otaku Designs
, those shoes everyone's talking about (I matched my skin, I matched my skin!) and the
HAIR!
HAIRGASM ALERT!
I wandered over to the hair store
Tukinowaguma
for the first time yesterday and now my life will never be the same. So many fabulous, fabulous avant-garde hairstyles! The one I'm wearing is Brooke (300L). You can change the color to a more common shade if you like. But this time of year, my favorite hue is wintery white, baby.
Someday I will own every hair on that new "2009 Hair Collection Version" wall. Consider it a goal.
I think that's all my useless information right now. The only other thing I've got going on is SL Secret Santas. In a burst of holiday optimism, I signed up for three of them: Celebrity Trollop's, the Fashion Bloggers' group's, and the Lucky Chair Stalkers' group's. (*checks that punctuation again . . . OK*)
Now I'm sort of wandering around the grid wondering why the hell I haven't been making notes about what stores have cool gifts with trans perms. Because on top of Secret Santas, I also have my friends to think of.
And on top of that, ever since I signed up for Secret Santas, I've got that old-skool Atlantic Starr "Secret Lovers" song stuck in my head. Sort of . . .
"SECRET SANTAAAAAAAAS!
THAT'S WHAT WE AARE!
TRYIN' SO HARD TO HIIIIIDE
THE WAY WE FEEEEEL!
BECAUSE WE BOTH BELONG TO SOMEONE ELSE,
BUT WE CAN'T LET GO
'CUZ WHAT WE FEEEEEEEL
IS OH SO REAL!
(Background singers: SO REEEEEAL, SO REEEEAL, SOOOO-OOO REAL!)"
*falls on ground laughing*
I'm so glad I'm around to crack myself up.
Probably time for me to stop drinking hot toddies for my sore throat. Or maybe not!
Cha cha cha, y'all!
♥