Hi from the land of Bored Off My Ass at Work. I'm in kind of a bad mood because I'm groggy, not feeling so hot and I have to take my client out to dinner tonight, which is always fun. *cough*
So unfortunately you probably won't see me in world today, but toss back a shot or do something wild without me in celebration of my
REZ DAY!
And yours too,
EVA BONNER!!
Woo
HOOOOO!
(Eva and I both got up early today to log in and wish each other a happy rez day. Awwwww!)
I thought I'd post the very first pic I ever took at . . . um, I think it was called Orientation Island back then, and you had to walk around a big ugly castle and complete tutorials and stuff.
The final step was to sit in that chair and get your profile picture taken. Back then, SL gave you your first profile pic for free. Mine is so damn sexy up there!
I made that hairstyle
ALL BY MYSELF!
Here's how I dressed the next day, on St. Patrick's Day:
THAT IS SO HOT!
Get it? Green is for Emerald!!!
And this was my first attempt at being fashionable: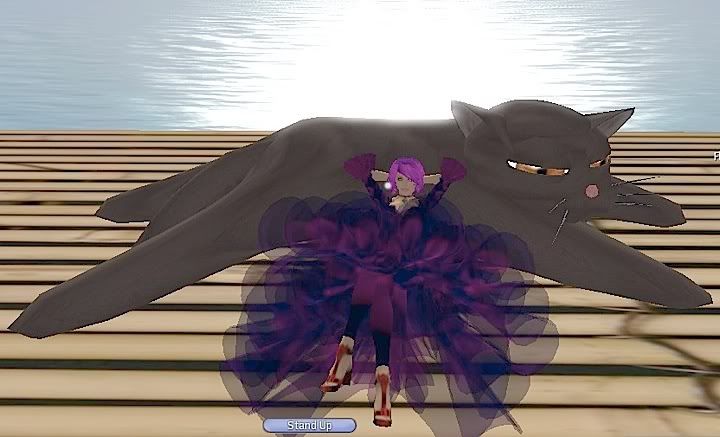 Hell yeah, my hair matched my dress. (I'm pretty sure that pic's gonna turn out to be too big for this blog, and I'm SO NOT editing it on my work computer -- sorry.) Nice system shoes!! ("Stand Up!")
I still have that outfit in my 2008 noob folders and it's totally in the "My High Fashion/Couture" folder. Bwahahaha!
This is my first attempt at being hot
AND
using a pose:
HAHAHA:
belly piercing -- I didn't realize you could move jewelry around back then. And you bet your skinny legs it was
BLANGIN'!
And uh, I used to earn lindens by winning "best of" contests at clubs. Like "Best Tattoos." I guess I decided that
ABSOLUTELY NO CLOTHES
was the way to go. Note that I hadn't really grasped the whole "hey, you can actually mod your hair to fit your head" concept yet: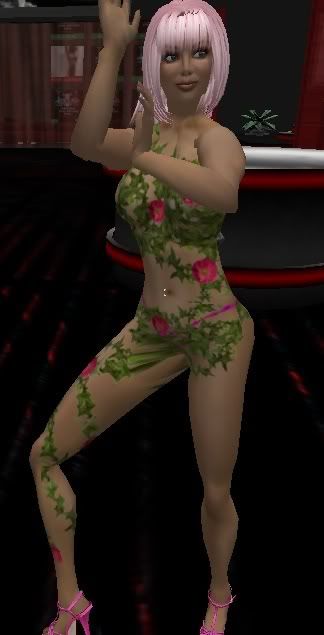 Oh Lord, those shoes. There used to be a place called Club Serena that included a shopping center with a giant sandbox and places to camp and earn money. They had a space set aside for noobs, with those "100 Free Shoes!" and "Free Business in a Box Sunglasses!" and "Free Ronja Wear!" boxes stacked up in huge piles. I can't really mock it because if it weren't for that place, I wouldn't have had any clothes or hair or a place to unpack boxes or even friends. As cheesy as it was, the people at Club Serena were really nice and I eventually rented a Club Serena skybox -- my first rental and I felt so into the SL scene after I got it.
:D
On a nostalgic whim, I looked for Club Serena the other day -- I found Club Serena Rentals but it's not the same anymore.
Then I found a blog called SLFix (now
Moonletters
), thought it was totally cool (I still do) and started doing everything that Shauna Skye and Paypabak Writer told me to do. (Their posts are still so kind to new people -- check out that blog and you'll see that they're still bending over backward with their totally hip yet instructional posts to help new residents.) Then I found
New World Notes
and got the newsy, intellectual side of things from the full-of-win Hamlet Au, and that's when it started to dawn on me that Second Life could be so much more than just making your avatar fly around and buy things.
And then I started reading
What The Fug
and
SL Fashion Police
and realized that everything I was doing fashionwise was sort of wrong. So I started paying more attention to my clothes.

Um, well kind of.
Honestly, I didn't think of clothes that much when I was new -- I just spent a lot of time wandering around in wonder, talking to people and hanging out with my one friend Jon, who didn't give a damn what my AV looked like (*sniff*).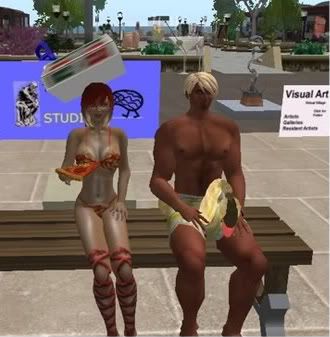 (I liked weird bikinis back then.)
My very first favorite stores were Callie Cline's Calliefornia, House of Nyla and UK Couture. They all have a special place in my heart even now.
I met a woman named Hermit Barber who told me about a group called Ode Butterfly Hunters (or something like that -- wow, I've been a member for so long, I don't think about the name) and there I met some lovely people and fell into fondness with jewelry designer Random Calliope and his touching generosity. I don't know where he is these days. I miss him.
(This chronology of my SLife is
SO DAMN EXCITING,
huh? Don't worry - it's almost over.)
I believe I was truly rescued the day that
Alicia Chenaux
and her friend CeN stumbled upon the first incarnation of the Emerald's Eyes blog (that v1 was deleted in 2008 in a spontaneous combustion of SLangst), took pity on me and introduced me to their circle of friends, almost all of whom I still love dearly to this day. About that time I also met this lovely girl
Laleeta
through her
Baking Cupcakes
freebie blog. She gave me a hot air balloon and taught me that I could get cute free stuff from generous designers and lucky chairs, not boxes for noobs.
Then I discovered the blog of the highly hot and insightful
Prad
and got my first avatar crush.
(Hahahahahahahaha - I swear I'm just messing with you, Prad. Kind of.)
(Prad thinks I'm a stalker.)
And meanwhile, I was making friends, real friends, not that the people at the clubs weren't cool and nice, but you know,
REAL
friends.
And then my Second Life got really happy.
And
OH MY GAWD,
now I'm totally sitting at my desk at work getting
TEARY
. (Thank God I have my own office, even though closing the door is considered rude.) "Oh gosh, these allergies are kicking my ass today!"
And here's a picture of the Kool-Aid man:
So looking back and particularly after writing this blog post, I guess after two years, if I could give
only one piece of advice to new residents
, it would be to read the blogs by other SL residents. And when you find some blogs you really like, let those bloggers know, particularly if they've helped you or made you laugh or touched your life in some way. I was so scared to do it at first (I'm still painfully shy around certain bloggers, actually), but when I did manage to get up the nerve to reach out to them, some of those bloggers became some of my best friends.
Oops, I forgot that a couple of Lindens read this blog
(you poor things),
so um, don't get me wrong, the official SL Wiki and Second Life blogs are
GREAT,
but I got my SL street smarts by learning about things through the words of other residents, sharing their explorations through their stories, discovering writers who spoke to my heart or made me laugh
,
looking at pictures they took of great sims and
LOOKOUT HERE COMES MY BOSS!!!