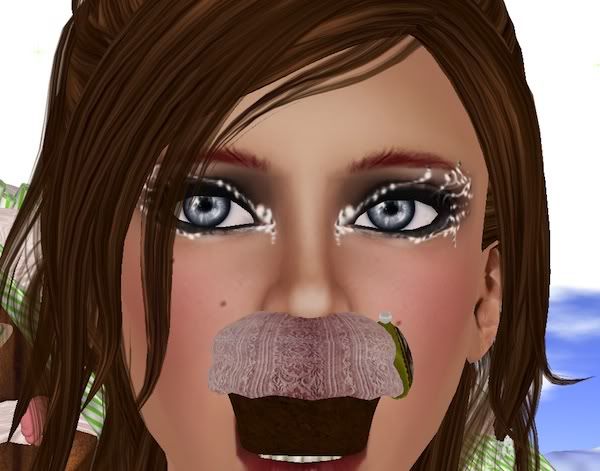 I know you're looking at this pic and thinking, "What the holy hell??" but in a few minutes you'll understand. I promise.
Here are just a few things I collect in Second Life:
-
Virgin Mary kitsch
(and the sacred too)
-
Unicorns
(I liked them waaaaay before they went mainstream, as in, when I was 8)
-
Last Call outfits
(how original of me)
-
Anything by Random Calliope
(even though I've given up on trying to complete his rare and ultra-rare Ode sets)
-
Neon Frog's menagerie
-
Dia de Los Muertos stuff
-
Illegal Hello Kitty paraphernalia
(even though I'm resigned to the sad reality that one day LL probably will yank it all from my inventory)
- And CAKES!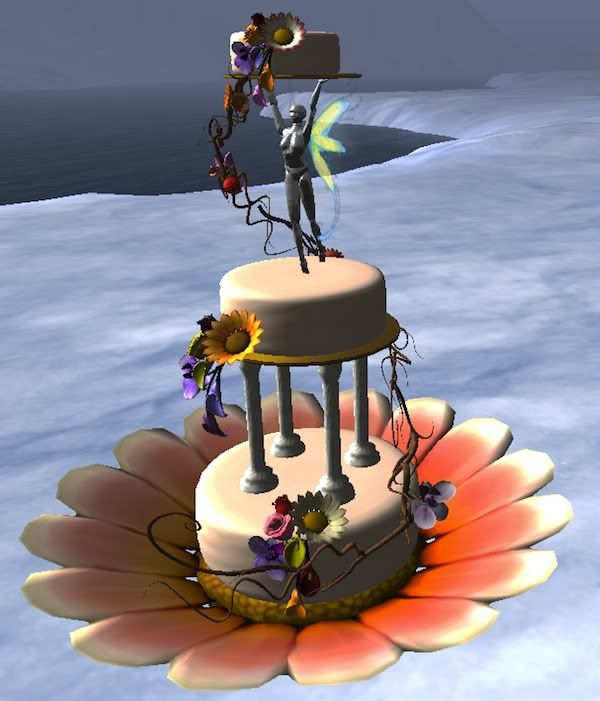 (Lady Jaquelene, 650L, from the Eat Me Bakery and Cupcakery. GORGEOUS!)
When I spot a Second Life cake that turns me on, people around me get frightened. Why? Because there's a pretty good chance that I'm going to snatch it, jump up and down for a minute, and then run around screaming,
"LOOK AT MY CAKE! OH MY GAHHHHHHHH, LOOK AT THIS AWESOME CAKE!! LOOK AT IT!
. . . . Oh, would you like a piece? . . .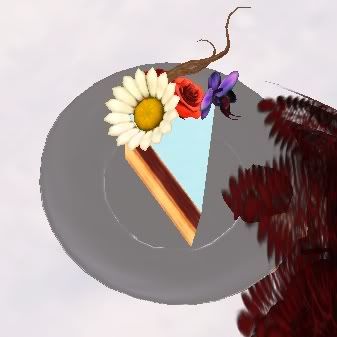 "WELL THAT'S TOO FREAKIN' BAD — GET YOUR OWN! THIS ONE IS MINE. MINE MINE MINE!"
(And you thought my bold all-caps days were over. Occasionally I break them out for special occasions.)
So I'm sure you can imagine the multiple cakegasms I had when I discovered creator Ambrose Steampunk's Eat Me Bakery and Cupcakery.
(So much for my attempt to photograph several of his cakes. Oops.)
I discovered this bakery during The Silk Road Hunt. Because Ambrose is a man of many cakes (actually he's a fawn/fae of many cakes), and as such, an Emerald Wynn magnet, I chased him down and grilled him about his life.
Ambrose has mad culinary (and artistic) skills in RL. Upon arriving in SL almost two years ago, he was disappointed by the quality of much of the food. Instead of bitching about it — which sadly is what I would probably do — he decided to
do
something about it and create cuisine that's more up to his standards. I'm so glad he did.
NOW LET'S TALK ABOUT YOU:
Specifically, let's talk about why you need to boogie on over to the bakery's Armada Breakaway location and slap this MM board. Don't do it for me. Do it for you. And if you don't make it over there today, no worries. This prize will be in this board through the holidays.
(This picture is exciting.)
The item in the board
(only 75 slaps needed - ARE YOU KIDDING ME???)
is called A Holiday Feast.
I paid the full price of 950L for it
. . . and the next day it became an MM board giveaway. Before you express condolences, WAIT! In the old days, I'd be sobbing and facepalming right now, but my attitude has evolved. I'm glad I paid for it.
We need to support our creators as much as we can.
It hurts that so many awesome ones have recently closed shop.
(The Armada Breakaway location also has lucky gifts under the tree. The above Lady Jaquelene cake is a prize in one of them.)
This Holiday Feast is not just a table adorned with attractive food; it's a magical menu-driven dining experience for you and your friends. So join me, won't you, as I randomly pop up in some of my friends' chat windows and sweet talk them away from dance clubs, photo shoots, and much more exciting lives than mine. Thank you Saranac,
Sophia
and
Joonie
for agreeing to be the latest victims of my horrible photography skills.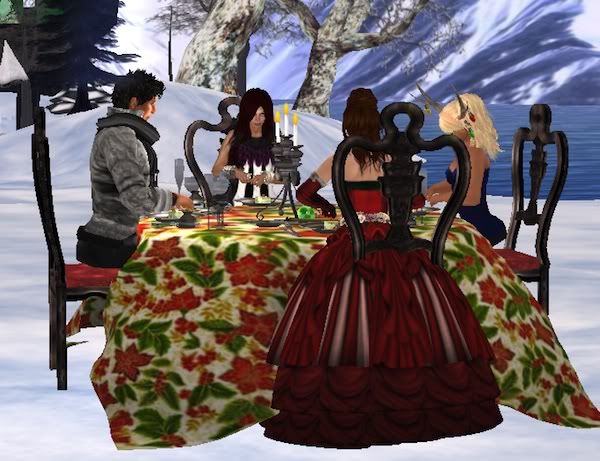 The table cloth is texture change. And depending on the setting/course, it's 36 to 177 prims. The chairs are by Yelena Istmal of Noctis, another one of my favorite creators/stores.
Click the centerpiece candelabra to access the menu and begin your meal. Select "First Course" and before your eyes, plates of Stilton cheese drizzled with wildflower honey and accented with fresh strawberries appears. The sweetness of the honey nicely cuts through the sharpness of the cheese and blends harmoniously with the berries: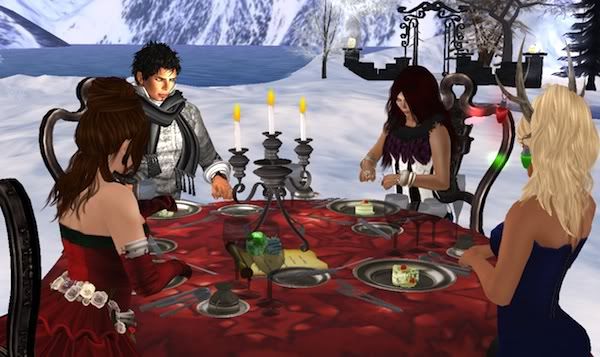 Laughter. If you were impressed by my culinary knowledge up there, don't be. The table told me all that. It tells you and your guests what it's serving, why, and how each of its five courses has been prepared.
I thought about showing you pics of us eating every course, like this fourth entree course of plump, roasted Cornish game hen, accented with a rosemary and mission fig glaze. It's served with a hunter sauce alongside roasted garlic whipped potatoes and pan-steamed asparagus:
(We all look sullen and slightly annoyed with each other for some reason. "Don't talk to me! I'm eating!")
Or the dessert course — a red velvet Napoleon, featuring stacks of airy red velvet cake and decadent cream cheese icing, presented with fondant holly sprigs and topped with a traditional herringbone chip. A piping-hot latte offers a relaxing way to end this flavorful journey.
(Joonie the Christmas Reindeer explains to us why she has a cute little band-aid on her nose.)
But damn, that would be a lot of similar and, as such, tedious (not to mention bad) pictures in a row.
So I'm glad I didn't do that.
(All meal descriptions courtesy of the table.)
So YES — a 950L feast can be all yours for a mere slap on a board. Get out your slapping hand and start flexing it! If you do want to purchase this table as a holiday gift for the foodie in your life, it has trans perms.
I'm still trying to stick to my gift guide theme, so here's one of the Eat Me Bakery's 100L trans items in the 200-store Twisted Krissmuss gift tour:
Cake in a snowglobe!!!! And you know what? This time I'll let you have a slice because -
Oh my GAAAAAAWWWWWWWWW!
Each slice is in its own snowglobe!! *faints with ecstasy*
And finally, as for the picture at the top of this post, that's one of several cupcakes (75L to 100L) at Eat Me, which actually has "Bakery
and
Cupcakery" in its name, but I'm pushing 40 and I work 14-hour days and frankly I'm too damn tired to type "Cupcakery" over and over. Sorry.
I tried to get the key turning at just the right angle in this Clockwork Cupcake photo (100L, trans), but I couldn't coordinate it with the leaping of the magical killer Christmas whale in the background. And unfortunately, whale trumps cupcake key.
Um, I absolutely love the artistic value in these cupcakes, but they look a little bit like S&M ball gags for kinky bakers. ("You've been a BAD BOY, Adam Lambert. I'm going to tie you up with Twizzlers, shove this cupcake in your mouth, drizzle hot simple syrup all over your thighs and beat you with my whisk until you beg for mercy and my sweet, sweet muffin. THAT'S what I want from you, you glittery biz-atch. But first . . . let me put my apron on.")
I think I would kind of suck as a dominatrix. I don't even remember what we were talking about now. OH YEAH! Cupcakes. Here are a few when they're not shoved in someone's mouth: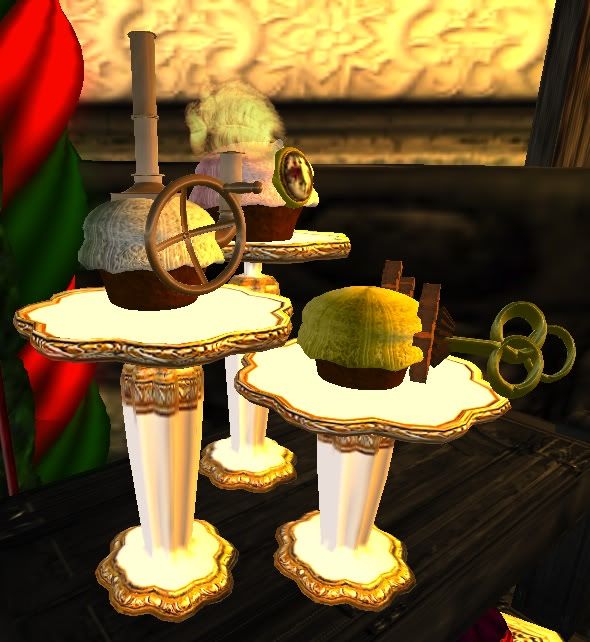 When you've got one in your mouth and someone else touches it, it emotes:
"Leaning in, Emerald Wynn takes a bite of the Steamuffin just as Emerald Wynn does the same! A sweet cloud envelops the two in sweet bliss."
:-\
Well, yeah. Two people actually have to be involved in the flirty cupcake dialogue. Although that solo Steamuffin romance sounds about right these days. Yes, I'm single ATM. Go ahead, rub it in while you can, Cupcake. Soon you'll be moving through my digestive tract, and trust me there are no 'sweet clouds' to envelop you in there.
This post seems long. I bet if I removed a few bad pictures, it wouldn't be that bad. But I don't want to. In fact, let's end this post with a parade of
"OMG LOOK AT THESE CAKES!!!":
The Tell Tale Heart Cake, 550L. Inspired by Poe. (The author, not the hunt.) I think that heart actually beats.
Created for the grand opening of the Nevermoor sim, where Eat Me's other location lives.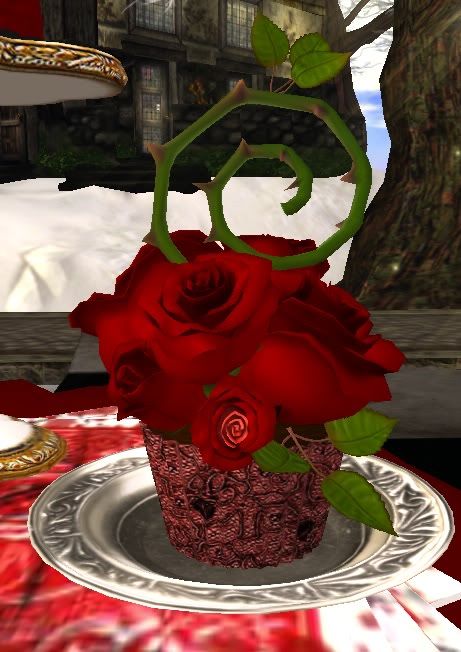 This one is gorgeous and also on display at Nevermoor's landing point. Actually . . . I really hope it's a cake. If it's a plant, I'm going to feel pretty stupid.
I'm waiting for Ambrose to make a unicorn.
Speaking of cake fantasies, the Eat Me Bakery and Cupcakery takes custom cake orders, starting at 700L. Just contact Ambrose Steampunk in world.
GET YOUR CAKE ON:
Eat Me Bakery and Cupcakery at Armada Breakaway
(Midnight Mania board and Lucky Presents are located here.)
Eat Me Bakery and Cupcakery at Nevermoor
Eat Me Bakery on Marketplace
(Lag-free browsing through pictures of cakes that are way the hell better than my pictures)
ALSO FEATURED
Skin:
Mynerva's Sophie in Smokey Red
Icy eye makeup tattoo layer:
Miamai_LesMakeups in Yuki01
Eyes:
Daydream Eyes in Cauldron Grey (bought on Marketplace)
Hair:
Truth - Leighton in Caramel
Gown:
League - Burlesque Rose, Yuletide Edition