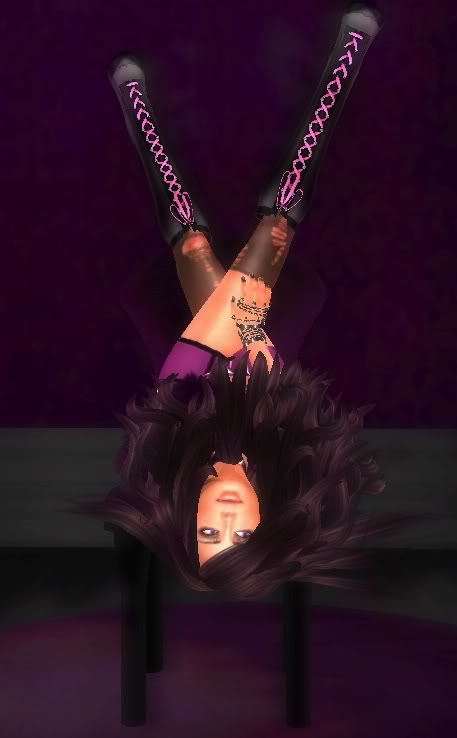 I think this Peep Show Prop from Soulless Productions is one of my favorite pose props ever.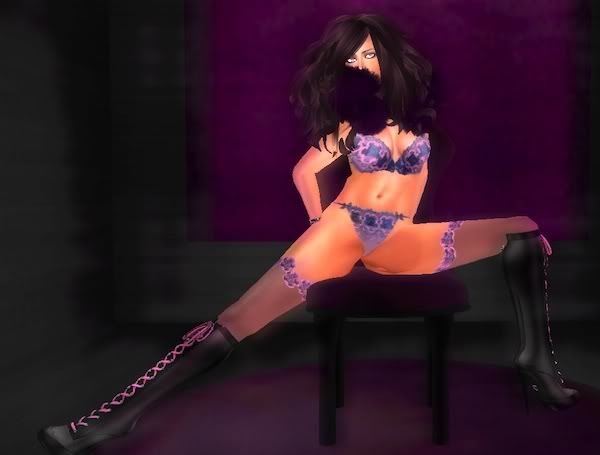 Emerald Wynn runs her hands seductively up the jagged edges of her distorted inner thighs as she peers coyly over the carcass of a slaughtered plum teddy bear. Her plum Breath Me hair by Shag blends into the plum-ish background of your own private peep show until all you see are her piercing Violet Eyes by Cupcakes. Even though her not-that-plum burlesque boots by [Gos] are slicing into her calves, she is oblivious to everything but you. All. She. Cares. About. Is. You. (And your lindens.)
She slides her hands up her stomach until she reaches her heaving plum-clad bosom, where she slowly peels back the lace of her Divine Plum Lingerie by Rock Me Amadeus and flashes you a ripe and perky pink nipple:
Oops. That's a reindeer by Minke Bailey.
(Bondage top from the Vida Metallic outfit in Plum by VoguE. Skin: Autumn in . . . Cinnamon, maybe? - sorry - by Curio.)
She flips upside-down and runs her tongue along her moist Autumn in Fatpack Bonus Makeup 1 lips by Curio while she gives you a look that's filled with lust, longing, heartbreak and a slight migraine from all the oppressive shades of purple that hold her captive.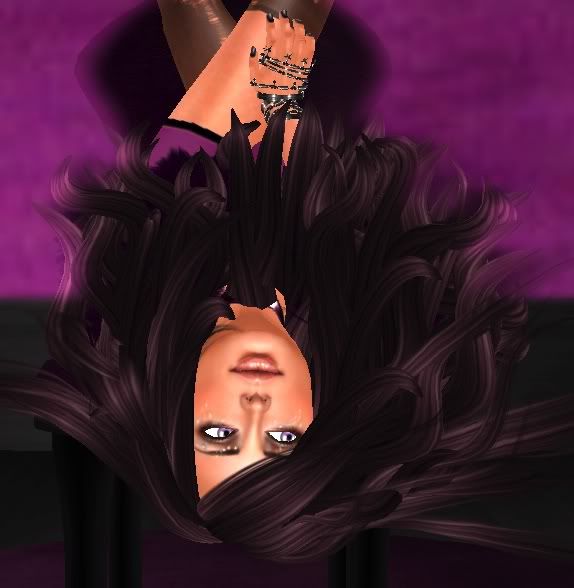 As you tip her $500 lindens, she leans forward and whispers,
"This blog post is horrible. Run."
UNLEASH YOUR INNER EXHIBITIONIST
Soulless Productions
Rock Me Amadeus
(on Marketplace, 80L)
Shag
[Gos]
Curio
MB-CreationZ by Minke Bailey
(Marketplace store)
VoguE
(fur and Vida Metallic top)
Violet Eyes by
Cupcakes
Also pictured:
Winter makeup by Concrete Flowers (check back in three days for the SLURL — oops.)
Asteroid bracelet (awesome) by
LOULOU&CO.
Get Colorful:
Luna Jubilee's 52 Weeks of Color Challenge
Sorry — if the links take you to Marketplace, it's because I bought that item there. Wow. I'm becoming just as lazy in SL as I am in RL. But why waste time teleporting-slash-crashing when I can just grab it online?
I have to run and catch a plane to Oklahoma City.
My life is so exciting, I can hardly stand it.
Muah!